J-K: Panchayat Elections Voting For Fifth Phase Concludes; 71 Per Cent Voter Turnout Recorded
The entire poll process would be completed by December 17.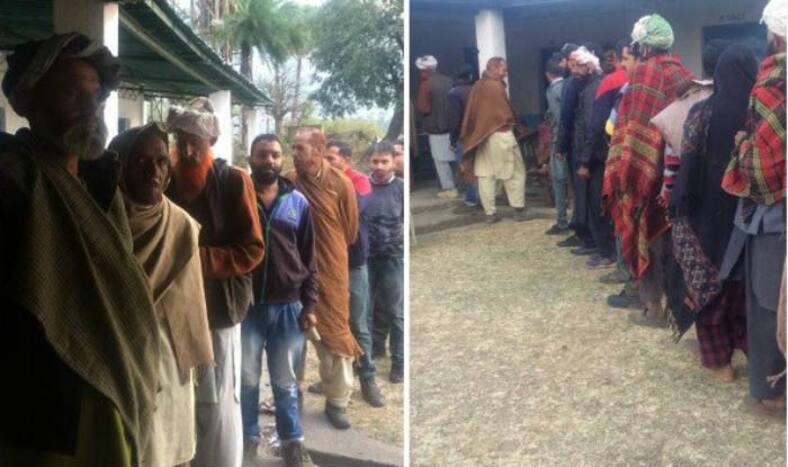 Srinagar: Voting for the fifth phase of the Jammu and Kashmir (J&K) panchayat election ended at 2 PM. 71.1 per cent voter turnout has been recorded for the 5th phase of polling for Panchayat elections. At least 85.2 per cent voters cast their vote in Jammu division and 33.7 per cent cast in Kashmir division.
Poonch district in Jammu region recorded the highest polling of 72 per cent, while Pulwama district in central Kashmir recorded the lowest at 0.2 per cent, the officials said.
#JammuAndKashmir: 71.1% voter turnout recorded for the 5th phase of polling for Panchayat elections; 85.2% voters cast vote in Jammu division & 33.7% in Kashmir division. pic.twitter.com/cO0dXrjeRP

— ANI (@ANI) November 29, 2018
Among other districts of Jammu division, Ramban, Rajouri and Udhampur witnessed 63.9, 60.4 and 60.3 per cent polling, respectively. It was followed by Jammu 59.1, Reasi 56.2 and Doda 55.9.
In Kashmir division, Kupwara district topped the turnout chart with 30.7 per cent, followed by Bandipora with 30 per cent, Badgam 29.8 per cent, Baramulla 26.1 per cent, Ganderbal 13.2 per cent and Anantnag with 6.7 per cent, they said.
The polling started at 8 AM in 2,512 polling stations, including 769 in Kashmir division and 1,743 in Jammu division, said an official. Among the 2, 512 polling stations, at least 848 polling stations have been categorised as hypersensitive, with 755 in Kashmir division and 93 in Jammu division. Meanwhile, 118 sarpanches and 1, 046 panchs have been elected unopposed.
Voting was held on 37 blocks of which 19 were in Jammu region while the remaining 18 were in the Kashmir Valley. (Also read: J-K Assembly Dissolution: Ram Madhav Says NC, PDP Working on Pak Instructions, Omar Seeks Proof)
The overall turnout for the fourth phase of panchayat body elections, which ended on November 27, was 71.3 per cent. J-K Chief Electoral Officer Shaleen Kabra said over 82 per cent polling was registered in Jammu division and 32.3 per cent in Kashmir division in the fourth phase.
The panchayat elections are being held in nine phases in the state. The sixth phase of panchayat polling is scheduled to take place on December 1 and the counting of votes will take place on the same day. The last panchayat polls in the state took place in 2001.
The entire poll process would be completed by December 17. The polls are being held through ballot and migrant Kashmiri Pandits can vote through postal ballots, the CEO said.
Both the NC and the PDP boycotted the panchayat polls, demanding that the Center cleared its stand on Article 35 (A). Governor Satyapal Malik reportedly spoke to the two parties that it wasn't the "right time" to take this position vis-a-vis Article 35A or Article 370, said a report. Malik, who took over the reins of the state in August after the BJP pulled out of its alliance with the PDP, held discussions with political leaders to "ease concern and address the issue," sources told a leading daily.
The Joint Resistance Leadership has called for a shutdown in the poll-bound areas and asked people to boycott the elections. Apart from magistrates, general observer, expenditure observer and micro observer have been appointed for the free and fair elections.