Kabir Showed us the Way to Communal Harmony, Says Prime Minister Modi at 500th Anniversary of Saint-poet
Modi laid the foundation stone of Sant Kabir Academy.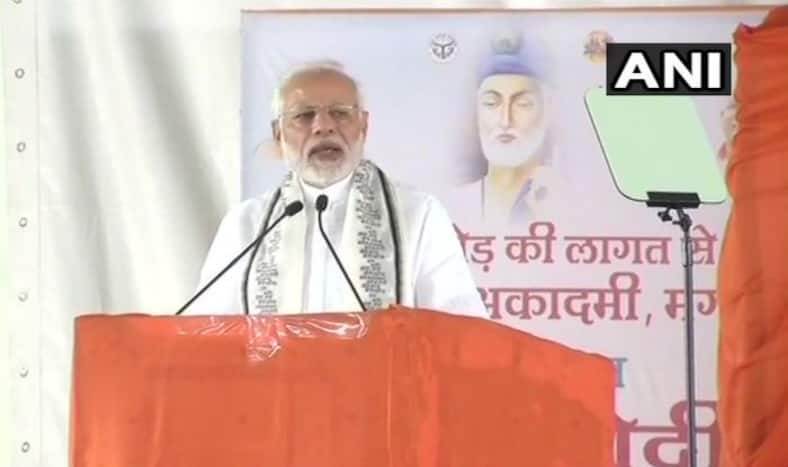 Maghar (UP), June 28: Playing to the gallery, Prime Minister Narendra Modi began his address in Bhojpuri as he addressed the crowd after laying the foundation stone of the Sant Kabir Academy in Sant Kabir Nagar here on Thursday. Inaugurating the Sant Kabir Festival on the occasion of the 500th anniversary of the poet-saint, he said by getting to offer a chadar at Sant Kabir's mazar, he had been able to fulfill a lifelong wish. (Modi in Maghar Live)
He said, "Kabir is revered for his deeds. He left a great treasure of humanity for the whole mankind. He came as a thought and became a way of life." About the academy, he said it would house a dance, music training centre, a research centre and an art gallery. He said one could learn what Kabir stood for not just by believing in him but by understanding him.
कबीर की साधना 'मानने' से नहीं, 'जानने' से आरम्भ होती है..
वो सिर से पैर तक मस्तमौला, स्वभाव के फक्कड़
आदत में अक्खड़
भक्त के सामने सेवक
बादशाह के सामने प्रचंड दिलेर
दिल के साफ
दिमाग के दुरुस्त
भीतर से कोमल
बाहर से कठोर थे।
वो जन्म के धन्य से नहीं, कर्म से वंदनीय हो गए: PM

— PMO India (@PMOIndia) June 28, 2018
He said the saint-poet spent his life in the search of truth. "Kabir had humble beginnings but he grew to be revered; from an individual, he became an expression. Kabir achieved the task of not just giving us the vision but also awakened us." He said Kabir showed us the way to communal harmony and got to be revered by both Hindus and Muslims.
"Kabir did not believe in the caste system and he showed us the way to equality," said Modi. He said such saints helped India progress despite the problems the nation faced. In contrast, in a dig at former UP Chief Minister Akhilesh Yadav, Modi said leaders today were more concerned about their own bungalows than about providing shelter to the poor.
Attacking the united Opposition, Modi said, "Those who couldn't stand the sight of the other are now standing shoulder to shoulder, not for your benefit, but for their personal gains. He said some political parties don't want peace, harmony in society. Such entities are cut off from ground realities. They never took Kabir seriously and don't know that Mahatma Gandhi and Kabir have shown us the right way. He said, "Those who imposed and those who opposed Emergency have come together today for their personal gains."
समाजवाद और बहुजन की बात करने वालों का सत्ता के प्रति लालच आप देख रहे हैं

2 दिन पहले देश में आपातकाल को 43 साल हुए हैं। सत्ता का लालच ऐसा है कि आपातकाल लगाने वाले और उस समय आपातकाल का विरोध करने वाले एक साथ आ गए हैं।

ये समाज नहीं, सिर्फ अपने और अपने परिवार का हित देखते हैं: PM

— PMO India (@PMOIndia) June 28, 2018
Continuing in the same vein, Modi said, "You all have seen that these people are creating hurdles in the passage of Triple Talaq Bill in Parliament. They don't want the society to progress, they are insensitive towards the pain of our mothers and sisters."
Enumerating his government's progress, Modi said, "Kabir said 'Kaal kare, so aaj kar' (Do now what you want to do tomorrow). In the past four years, we have worked for everyone, be it poor or rich, be it farmers or soldiers. We have taken everyone along, be it with Jan Dhan accounts or the Ayushman Bharat scheme of the Ujjwala Yojana. We have been true to our 'Sabka Saath Sabka Vikas' pledge."