Karnataka Cabinet: 12 Congress, Nine JD(S) MLAs to Take Oath as Ministers Today
The swearing-in ceremony of new ministers is scheduled for 2 PM at Raj Bhavan.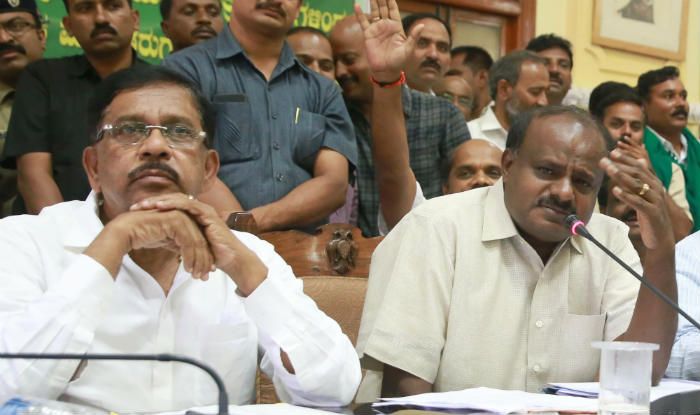 Bengaluru, Jun 6: Over 12 Congress MLAs in Karnataka are likely to take oath as ministers in the first expansion of Chief Minister HD Kumaraswamy's Cabinet on Wednesday, a fortnight after he was sworn in as chief minister. Apart from it, nine MLAs of the JD(S) are likely to be administered the oath of office by Governor Vajubhai Vala. The swearing-in ceremony of new ministers is scheduled for 2 PM at Raj Bhavan. The list of Congress MLAs was finalised in a meeting between Rahul Gandhi and its senior state leaders.
As per the power sharing arrangement, the Congress would have a total of 22 ministers while the JD(S) will have 12, including the chief minister. Some portfolios are expected to remain vacant on both sides to douse any discord in the two parties, sources asserted.
If sources are to be believed, Rahul Gandhi held long deliberations with former chief minister Siddharamaiah, deputy chief minister G Parameswara and senior party leaders DK Shivakumar and Dinesh Gundu Rao, along with AICC general secretary in-charge of Karnataka affairs KC Venugopal, before giving his nod to the list, which likely includes Shivakumar.
As per the agreement between the alliance partners, the Congress will have besides Home, Irrigation, Bengaluru City Development, Industries, Health, Revenue, Urban Development, Rural Development, Agriculture, Medical Education, Housing, Labour, Women & Child Welfare, Forest & Environment, Mines & Geology, Social Welfare, Food & Civil Supplies, Law & Parliamentary Affairs, IT, BT and Science & Technology, Kannada Culture, Sports & Youth Affairs, Haj & Wakf and Minority Affairs, and Ports & Inland Transport Development departments.
Besides Finance, the JD-S will have Excise, Information, Intelligence, General Administration, Planning & Statistics, Public Works Department (PWD), Power, Cooperation, Tourism, General Education, Animal Husbandry & Fisheries, Horticulture & Sericulture, Small-Scale Industries, Transport and Minor Irrigation.
The lone BSP legislator in Karnataka, N Mahesh, will be a part of the cabinet expansion and will be given a key portfolio. JD(S) secretary general Danish Ali told news agency PTI, "We will give due importance to our pre-poll ally, the BSP by giving its lone MLA a ministerial berth."
He also disclosed that BSP supremo Mayawati has deputed its senior leader Satish Chandra Misra to attend the cabinet expansion function. This is the first time that the BSP will be a part of the government outside of Uttar Pradesh. Danish Ali was the key pointsman in negotiating an alliance with both the BSP and then the Congress.
JD(S) leader HD Kumaraswamy and Congress state unit president G Parameshwara were sworn-in on May 23 as Chief Minister and Deputy Chief Minister. Congress and JD(S) recently reached an agreement that the post of chief minister will not be shared between them and H D Kumaraswamy will complete five years.
The JD(S)-Congress coalition government won the floor test as 116 members voiced their favour for the confidence motion with none against as all the 104 Bharatiya Janata Party (BJP) legislators walked out before the trust vote.
(With PTI inputs)