Karnataka Crisis Deepens: Speaker Disqualifies 14 Rebel MLAs, BJP Moves Its MLAs to Resort Ahead of Trust Vote
Speaker Ramesh Kumar disqualified 14 rebel MLAs including Roshan Baig, Anand Singh, H Vishwanath, ST Somashekhar among others.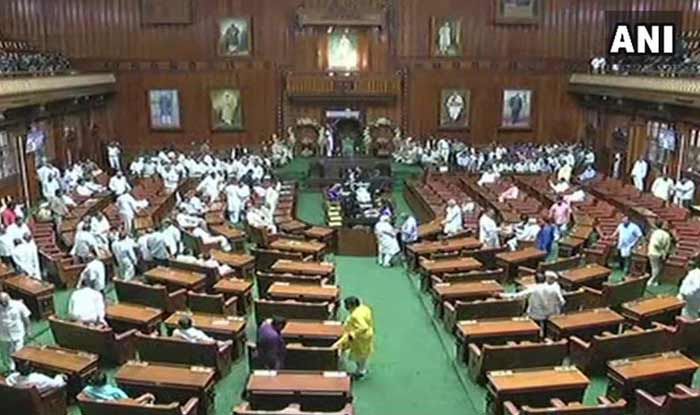 New Delhi: In a turn of events, the Bharatiya Janata Party (BJP) on Sunday has made the decision to move its MLAs to a resort ahead of the Karnataka trust vote to prove majority.
Just a day before the motion of confidence, Speaker KR Ramesh Kumar on Sunday disqualified 14 MLAs from the rebel Congress-Janata Dal (Secular) (JDS) MLAs under the anti-defection law, raising the total disqualified to 17 MLAs. The disqualified legislators include Roshan Baig, Anand Singh, H Vishwanath, ST Somashekhar among others.
In the meeting, Kumar said, "The disqualified MLAs cannot fight elections until the expiry of the term of the 15th assembly."
As a result, they have been disqualified with immediate effect until the term of this House is complete, i.e., till May 2023. Kumar added that they would be barred from contesting even if there is a by-election on these seats.
The Karnataka Assembly Speaker during his announcement also broke down speaking about senior Congress leader and former Union Minister Jaipal Reddy, who passed away at the age of 77 earlier today.
In the Thursday meeting, the Speaker had disqualified three MLAs – two Congress MLAs, Ramesh Jarkiholi, Mahesh Kumatalli, and one Independent, R Shankar – following the fall of the coalition government in the state. Kumar had further stated that he did not find their resignations "voluntary and genuine".
Meanwhile, BJP's BS Yediyurappa who recently claimed the chief ministerial seat in the state said that he will prove majority by Monday, July 29, and pass the Finance Bill. The Chief Minister had been given time till July 31 for the same.
The newly formed BJP government will face a trust vote in Karnataka's Vidhan Soudha on Monday to prove majority in the state.