Karnataka Elections 2018: Amit Shah Slams Siddaramaiah, Says BJP Will Win Over 130 Seats, Won't Need Alliance
Press conference in Bengaluru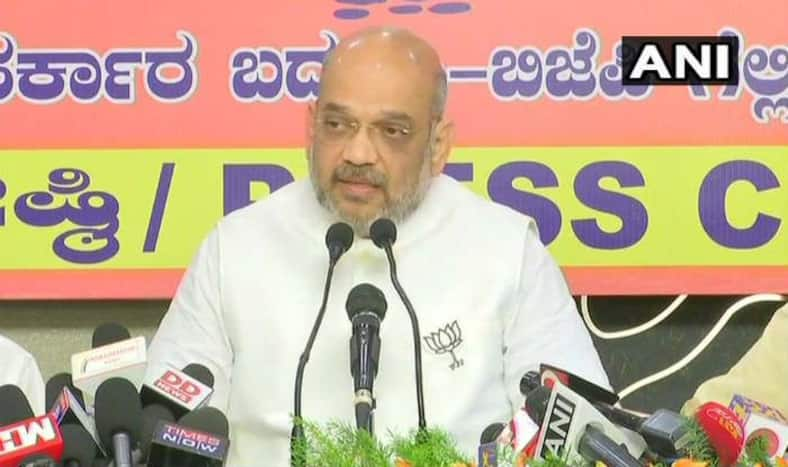 Bengaluru, May 10: BJP chief Amit Shah on Thursday dubbed the incumbent Siddaramaiah government as the most unsuccessful government since Independence. Addressing a press conference here, he said,"I would request the people of Karnataka to give us a chance to serve them and to work for the betterment of the state." Shah exuded confidence as he said the BJP would form the next state government with a comfortable majority. "The BJP will win more than 130 seats & form the government. There is no question of seeking or giving support to anyone."
Highlights
Voter ID card scandal showed Congress was desperate.
BJP would rather sit in the Opposition than side with SDPI or PFI.
Shah, who also held a roadshow in the Chief Minister's constituency of Badami, went on to enumerate on what counts the Congress government had failed in the poll-bound state. He said, "The state government did nothing for the farmers and wasn't willing to explain why they failed." He said farmer suicides had risen by 173 percent under the Congress rule. He alleged that the law and order system had derailed, as, he said had been seen by the number of officers killing themselves. He said that more than 24 workers of BJP & RSS were killed in the state and for Congress, it must have been just politics as nothing was done to catch the culprits. (Catch live action on last day of campaigning here).
On the voter ID cards scandal, Shah said that it only went on to show the Congress' desperation to somehow win these elections. "They are resorting to undemocratic ways to win elections…I would like to appeal to those who have fake voter ID cards to not fall in the trap laid by the Congress and stay away from filthy election tactics adopted by them."
The BJP chief went on to say what he thought set his party apart from the Congress. He said, "We can lose elections but can't sit with Social Democratic Party of India & Popular Front of India. Congress takes the support of SDPI & PFI to win elections and that's the difference between them and the BJP. The Congress doesn't refrain from taking the support of traitors." Karnataka goes to polls on May 12 and counting of votes for 224 constituencies would be held on May 15.