KC Arora on Navigating the World of Comedy as an Indian-American
As a South Asian trying to break into stand-up comedy is tough but Arora doesn't let his identity become a barrier.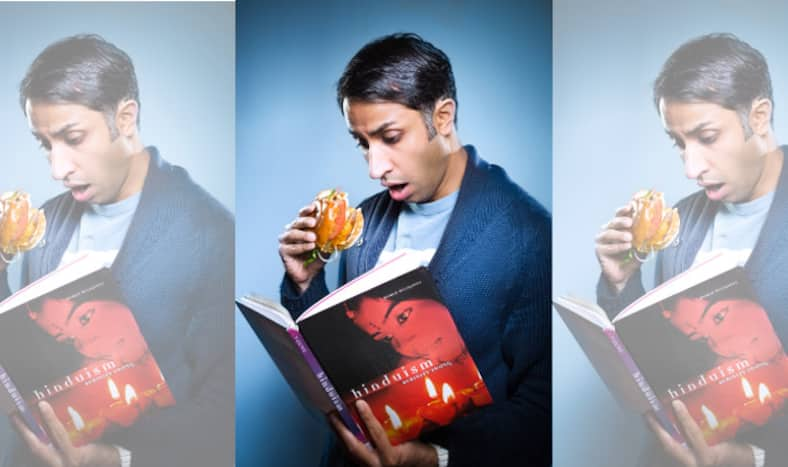 If you think being a stand-up comedian is no easy feat, imagine being an Indian stand-up comedian in the United States. Luckily, for KC Arora, his talent lets him soar high.
Kunal Chand Arora was born in Queens, New York to immigrant parents. His mom, Sunita, was the first one to instil a love for humor within him—and he still believes she is the funniest person in their family.
"Ask anyone who knows her, she's a riot," he declared.
Arora was inspired to pursue comedy professionally when he saw a standup show at Comic Strip Live in NYC at the age of 18—he was hooked immediately.
"I realized how difficult it was after it trying it a couple times," he said, "but working a dead end job for several years, I knew I had to follow my dream and give it a shot."
Today, Arora is no stranger to the NYC comedy scene—and even more so since his recent performance at the prestigious Caroline's on Broadway, fulfilling a long-time dream. He has definitely come a long since his very first open mic, which Arora recalled as going so poorly that he cried in his car after.
What can motivate someone to perform comedy for a living, though? For Arora, it's as simple as the joy he gets from making people laugh.
As a South Asian, trying to break into stand-up comedy is tough—but Arora doesn't let his identity become a barrier. In fact, he uses it as his driving force. According to the comedian, it's not just about being different. It's about speaking on that difference—and that is what his comedy does.
To navigate through this field as an Indian-American while believing that you will not face racism in some form or the other is naïve. Instead, it becomes about how you react to it.
"Racism is everywhere in America. Sometimes it's overt and sometimes it's in the way people expect you to be in spite of or because of your race. You can't let that get you down. There are so many instances where I've been asked to audition in the role of a cab driver. Fortunately, my agent now knows that isn't the type of role I'm going for," Arora said.
Indian-Americans are going a long way in mainstream American media, but most of it is seen on television and in movies. Arora believes comedy to be insanely difficult in this regard because stand-up comedy is not an ensemble act.
"There aren't writers, a director, production, etc. It's me and a microphone looking out to a various number of people," he said. Fortunately, for most audiences, humor is simply humor. "People are excited to see a show and don't care where you're from as long as you're funny."
Arora has been a semi-finalist in NBC's "Standup for Diversity" and "NY's Funniest," and these experiences have been great for him. "I got to see a lot of great comedians and make new friends. It made me realize the level of talent that is out there in the US. It's really solid," he said.  
And on his wish list for the solid talent in America? A tour with Russell Peters (because who wouldn't enjoy that), picking the massive brain of "The Mindy Project" creator and star, Mindy Kaling, and talking shop with Jay Chandrashekhar.
Like his peers and successors, Arora is solidifying his stature as a stand-up comic. It's only an added bonus that his identity and culture thrust him forward instead of pushing him back. His first advice for anyone who wants to follow their dreams in this industry? Hydrate. Second, he wishes to pass on the same thing he was told when he first started years ago: don't take anything personally.