K'taka Bypoll Results: BJP Fails Key test as Congress Wins Reddy Brothers' Bastion Ballari Lok Sabha Seat
Ballari, which has voted the BJP since 2004 and is considered a stronghold of Reddy brothers – the mining barons – dumped the saffron party this time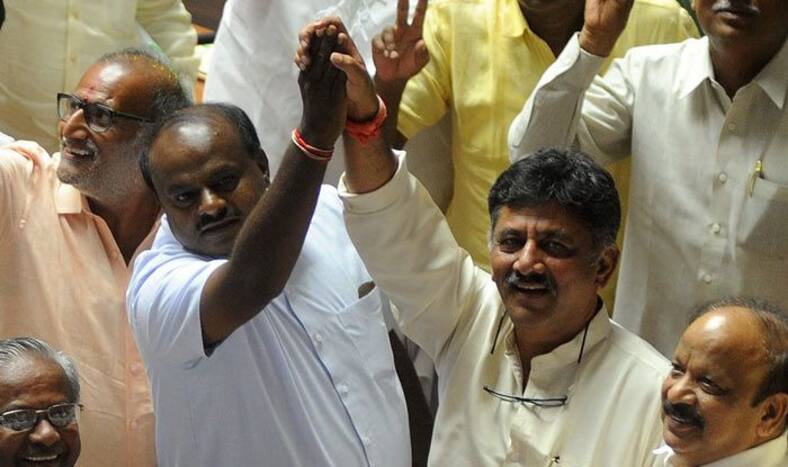 Bengaluru: The by-poll on Karnataka's Bellary Lok Sabha constituency came as a major setback for the BJP as counting of votes for five seats – three Lok Sabha and two Assembly – was taken up this morning and the Congress-JD(S) alliance dominated on four of them.
As per latest reports, Congress candidate VS Ugrappa was ahead of BJP's V Shantha by over 2 lakh votes in Ballari constituency.
V Shantha, a former parliamentarian, is the sister of BJP leader B Sriramulu, who vacated the constituency to contest the assembly elections in May.
On the other hand, Ugrappa got the backing of Congress leaders Siddaramaiah and KD Shivamkumar – who played a key role in the formation of Congress-JD(S) post-poll alliance in May elections to stop the BJP from forming a government in the state.
Bellary, which has voted the BJP since 2004 and is considered a stronghold of Reddy brothers – the mining barons – dumped the saffron party this time and voted in favour of the Congress-JD(S) alliance.
The byelection was necessitated to the Bellary constituency after its sitting MP, BJP's B Sriramulu, vacated his seat following his election to the Karnataka Assembly in the polls held this May. The
Meanwhile, the allies Congress and JD(S) are set to win three other seats – the two Assembly seats of Ramanagara and Jamkhandi and the Mandya Lok Sabha constituency.
The by-election victories come as a major boost for the Congress-JD(S) alliance ahead of the 2019 Lok Sabha elections, particularly when the BJP has been questioning the longevity of the alliance.
The BJP and the Congress-JD(S) combine launched an all out offensive to break into each other's bastions to gain advantage before the 2019 Lok Sabha polls.
The terms for the Ballari, Shivamogga and Mandya seats will be extremely short with the Lok Sabha elections due early next year.
Prior to the bypolls, the JD-S held Ramanagara and Mandya seats, while the Congress Jamakhandi and the BJP Bellary and Shimoga.