live
Manipur Assembly Election Result 2022: BJP Surges To Power, Biren Singh Set To Return As CM
The counting of votes for 60 assembly constituencies in Manipur has begun. According to the latest update, Chief Minister N Biren Singh has registered a landslide victory from the Heingang seat.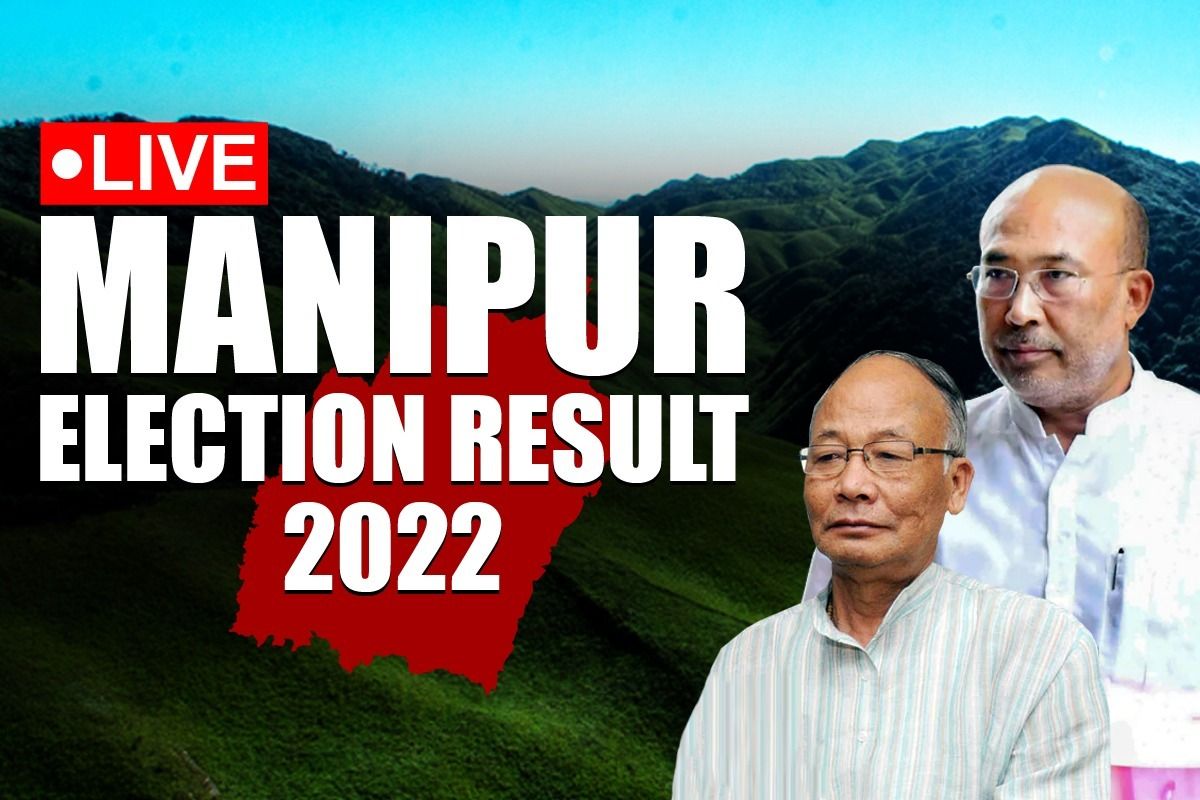 Manipur Assembly Election Result 2022 : The Bharatiya Janata Party on Wednesday used back to power in Manipur, with the party bagging 32 seats in the 60-member Assembly, according to the Election Commission website.
NPP, which is a part of the incumbent government, won seven seats and Nitish Kumar's JD(U) won six seats. The Congress, on the other hand, decimated in its once-bastion. From being the single-largest party with 27 seats in 2017, the party managed to win only five seats. The Naga People's Front and the Kuki People's Alliance won five and two seats respectively.
After BJP registered a landslide victory in the state, Prime Minister Narendra Modi took to Twitter and thanked the people of the state for reimposing faith in BJP. "I would like to thank our voters, specially our mothers and sisters, and first-time voters, for ensuring our victory.  Partyworkers had promised me Holi celebrations would begin from March 10. Now, with this win, they have met the promise," PM Modi said during victory speech.
Reacting to BJP's stunning victory, Incumbent Manipur CM Biren Singh said that BJP's victory is a testament of people's faith in Narendra Modi's leadership. Thanking Manipur for the victory, he also congratulated BJP workers of the state.
Live Updates
Manipur Assembly Elections 2022: INC candidate Nameirakpam Loken Singh loses from Singjamei Assembly Constituency

Manipur Assembly Elections 2022: Formal Manipur Chief Minister Okram Ibobi Singh Leads from Thoubal

Manipur Assembly Election Result 2022 Live: NPP candidate leads from Senpati

Manipur Assembly Election Result 2022 Live: N Sanate leads from Tipaimukh

Manipur Assembly Election Result LIVE: BJP's candidate Hangkhanlian leads from Churachandpur

Manipur Assembly Election Result LIVE: BJP's N Biren Singh leads from Heingang Seat with over 14,000 votes

Manipur Assembly Election Result LIVE: NPP Leads from Imphal West's Konthoujam

Manipur Assembly Election Result LIVE: BJP's N. Haokip leads from Kangpokpi with 1077 votes

Manipur Assembly Election Result LIVE: BJP leads from Bishnupur

Manipur Assembly Election Result LIVE:

BJP takes lead in Chandel