Live Narendra Modi Mann Ki Baat Updates: 125 crore Indians will take my exam during Budget presentation tomorrow, PM tells students
This time, the popular radio show, will also have legendary cricketer Sachin Tendulakar and Chess champion Vishwanathan Anand addressing people along with Prime Minister Narendra Modi.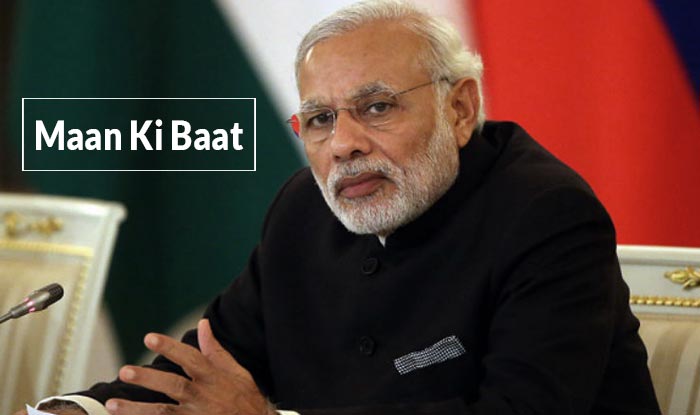 Last Update: The 17th edition of Prime Minister Narendra Modi's Mann Ki Baat, he addressed students who are going to appear for important board examinsations in the upcoming months. Modi invited Master Blaster Sachin Tendulkar and Chess maestro Vishwanathan Anand to give advice to students and share their experiences in dealing with stress. While Tendulkar stressed on the need to set targets for oneself and not getting bowed down by expectations, Anand stressed on the need to keep a calm mind, get good sleep and be well nourished before exams.
Comparing the annual budget statement that is going to be presented in the Parliament by Finance Minister Arun jaitely, Modi said that it is like an examination for him too. "125 crore citizens are going to take my examination tomorrow as Union budget will be presented in Parliament. But I'm confident", said the PM, ending the address, on a happy note.
11: 35 am: Narrating the advice of a science professor to students, on how to stay stress free during the upcoming board examinations, PM Narendra Modi said, "Curiosity is the mother of science. Innovation is not possible without science & technology. Innovation is not possible without science and technology." He introduced the theme of National Science day, which incidentally falls on Feb 28 itself. The theme, he sad, was "Make in India, science and technology driven innovations".
11: 25 am: PM Narendra Modi advised students to stay well connected with friends and family during exams and also spend some time with them to relax. He also stressed on the need to practice Yoga during exams as it helps in keeping mind and body stress free. "I'm not telling you to start practising Yoga suddenly during exams. But for those, who are regualr Yoga practitioners, you shouldn't stop Yoga giving exams as an excuse", he said.
11:20 am: Chess maestro Vishwananthan Anand gives advice to students who are going to appear for important exams in upcoming months. He said that exams are very much like any other problems you face later in life. He advised students to stay calm, sleep well and stay well nourished. He also advised them to not keep their expectations too high and to not be over confident. He also said that one shouldn't be pessimistic either and should maintain a balance.  Go over things and topics that you know that you are especially weak in.
11:15 am: PM Narendra Modi stressed on the need for a good sleep during the period of examinations. He also stressed on the need to follow a strict schedule and being disciplined in life. Modi said that following a routine is very important for being stress free and is imperative during the examinations especially.
11: 10 am: Sachin Tendulkar addresses people on Mann Ki Baat. He said that students should set targets for themselves and they should be realistic and that they should not get scared by others' expectations. He said that it's very important to set targets for self as that is the way forward to achieve goals in a systematic way. He also stressed on a positive mentality and wished students all the best for the exams.
11:03 am: Prime Minister begins address with talking about students who are going to appear for important board examinations. Modi expressed support for parents and students who are going to appear for exams in the coming months. He hailed the suggestions sent in by students and teachers from across the country on how to make exams stress free.
Feb 28: Prime Minister Narendra Modi is here with the 17th edition of his popular radio show Mann Ki Baat, which will be aired at 11 am today. Today the PM will be addressing the nation, with two of the greatest sport persons that India has seen- Master blaster Sachin Tendulkar and Chess maestro Vishwanathan Anand- and there is palpable excitement and curiosity about what they are going to talk about.
You can hear the Mann Ki Baat programme live on your phones through the Narendra Modi app, or by giving a missed call to 8190881908, anytime and anywhere. The service is only available in Hindi right now, but efforts are on to make it available in other languages as well. The show will be aired on All India Radio and will also be braodcast on  DD National, DD News, DD Bharti and DD India. We at India.com also provide you with minute to minute updates of the speech, right here in the Live Updates post. Also Watch: Live Streaming of Narendra Modi Mann Ki Baat: Listen to PM speech live on All India Radio (AIR) at 11 am IST
Tune in at 11 AM. You can also hear it on the Mobile App. #MannKiBaat https://t.co/TYuxNNJfIf pic.twitter.com/jKnMs4Udal

— Narendra Modi (@narendramodi) February 28, 2016
Last time the PM had hailed various initiatives towards making their surroundings cleaner and more beautiful. Modi had also announced a new and more inclusive crop insurance scheme for farmers and had asked for the people's cooperation in implementing it. Modi had also hailed the success of the Start up India campaign, saying that he was thrilled with the response. He had also invited suggestion from students all across the country, to make the period of examinations a less stressful one for those who will appearing for important exams in the coming months.