Madhya Pradesh Election Results 2018 Complete Winners List, Party and Constituency Wise Results: Congress Takes Lead Again
While Madhya Pradesh and Mizoram went to polls on November 28, Rajasthan and Telangana went to polls on December 7. Meanwhile, Chhattisgarh went on to polls in two phases—November 12 and November 20.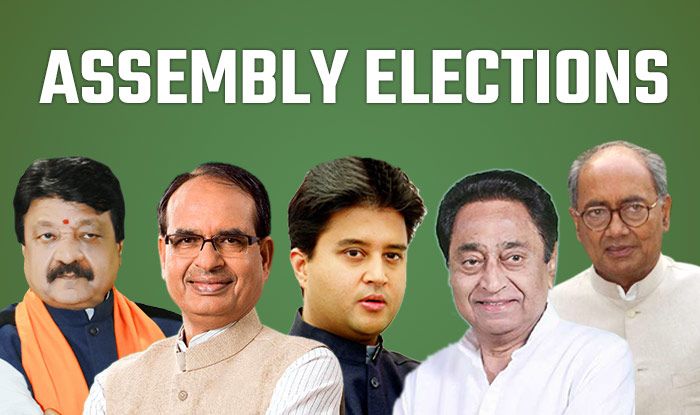 Counting of votes for the Assembly Election 2018 is underway in 5 states. While Madhya Pradesh and Mizoram went to polls on November 28, Rajasthan and Telangana went to polls on December 7. Meanwhile, Chhattisgarh went on to polls in two phases—November 12 and November 20.
The BJP and the Congress will face head-on in Madhya Pradesh (230), Rajasthan (200) and Chhattisgarh (90), where the saffron is in power while in Telangana (119) the ruling TRS is seeking a second term. In Mizoram (40) Congress is the ruling party.
The BJP is in power in Madhya Pradesh and Chhattisgarh for three consecutive terms while in Rajasthan power alternates between the two parties every election.
The Model Code of Conduct came into force with immediate effect in four states while in Telangana it was in force from the date of dissolution of the Assembly last month.
While the term of the Assembly in Madhya Pradesh expires on January 7, the tenure 40-member Assembly in Mizoram expires on December 15.
Rana Vikram Singh (IND)- Won
S. No.
AC No.
Name of Assembly Constituency
Name of BJP Candidate
Name of Congress Candidate
Winning/
Trailing
1
1
Sheopur
Shri Durgalal Vijay
Babu Jandel
Babu- Leading
2
2
Vijaypur
Shri Sitaram Aadiwasi
Ram Niwas Rawat
Ram Niwas- Leading
3
3
Sabalgarh
Smt. Sarla Rawat
Baijnath Kushwaha
4
4
Joura
Shri Subedar Singh
Banwarilal Sharma
5
5
Sumawali
Shri Ajab Singh Kushwaha
Adal Singh Kasana
6
6
Morena
Shri Rushtam Singh
Raghurajsingh Kasana
7
7
Dimani
Shri Shivmangal Singh Tomar
Girraj Dandotia
8
8
Ambah (SC)
Shri Gabbar Sakarwar
Kamlesh Jatav
Kamlesh Jatav- Leading
9
9
Ater
Shri Arvind Singh Bhadiriya
Hemant Katare
Hemant Katare- Leading
10
10
Bhind
Shri Rakesh Choudhary
Ramesh Dubey
11
11
Lahar
Shri Rashal Singh
Dr Govind Singh
Govind Singh- Leading
12
12
Mehgaon
Shri Rakesh Shukla
O.P.S. Bhadoria
13
13
Gohad (SC)
Shri Lalsingh Arya
Ranvir Jatav
14
14
Gwalior Rural
Shri Bharat Singh Kushwah
Madan Kushwaha
Bharat Singh Kushwah- Leading
15
15
Gwalior
Shri Jaibhan Singh Pawaiya
Pradyuman Singh Tomar
16
16
Gwalior East
Shri Satish Sikarwar
Munna Lal Goyal
Munna Lal Goyal- Leading
17
17
Gwalior South
Shri Narayan Singh Kushwah
Prawn Pathak
Narayan Singh Kushwah- Leading
18
18
Bhitarwar
Shri Anoop Mishra
Lakhan Singh Yadav
19
19
Dabra (SC)
Shri Kaptan Singh Sahsari
Srnt. Imarti Devi Suman
20
20
Sewda
Shri Radhelal Baghel
Ghanshyam Singh
Ghanshyam Singh- Leading
21
21
Bhander (SC)
Smt. Rajni Prajapati
Mrs. Raksha Santram Saroniya
22
22
Datia
Shri Narottam Mishra
Rajendra Bharti
23
23
Karera (SC)
Shri Rajkumar Khatik
Jaswant Jatav
Jaswant Jatav- Leading
24
24
Pohari
Shri Prahlad Bharti
Suresh Rathkheda
25
25
Shivpuri
Smt. Yashodhara Raje Scindia
Sidhharth Lada
Yashodhara Raje Scindia- Leading
26
26
Pichhore
Shri Pritam Lodhi
K.P. Singh
27
27
Kolaras
Shri Virendra Raghuvanshi
Mahendra Singh Yadav
Virendra Raghuvanshi- Leading
28
28
Bamori
Shri Brijmohan Azad
Mahendra Singh Sisodiya
Mahendra Singh- Leading
29
29
Guna (SC)
Shri Gopilal Jatav
Chandra Prakash Ahirwar
Gopilal Jatav- Leading
30
30
Chachoura
Smt. Mamta Meena
Laxman Singh
31
31
Raghogarh
Shri Bhupendra Raghuvanshi
Jaiwardhan Singh
32
32
Ashok Nagar (SC)
Shri Ladduram Kori
Jajpal Singh Jajji
 Jajpal Singh Jajji- Leading
33
33
Chanderi
Shri Bhupendra Dwivedi
Gopal Singh Chauhan
Gopal Singh Chauhan- Won
34
34
Mungaoli
Shri K.P. Yadav
Brajendra Singh Yadav
35
35
Bina (SC)
Shri Mahesh Rai
Shashi Kumar Kaithuria
Mahesh Rai- Won
36
36
Khurai
Shri Bhuepndra Singh
Anmoday Choubey
37
37
Surkhi
Shri Sudhir Yadav
Govind Singh Rajput
Govind Singh Rajput- Leading
38
38
Deori
Shri Teji Singh Rajput
Harsh Yadav
39
39
Rehli
Shri Gopal Bhargav
Kamlesh Sahu
40
40
Naryoli (SC)
Shri Pradeep Lariya
Surendra Choudhary
Pradeep Lariya- Won
41
41
Sagar
Shri Shailendra Jain
Nevi Jain
Shailendra Jain- Won
42
42
Banda
Shri Harvansh Rathore
Tarwar Singh Lodhi
Tarwar Singh Lodhi- Leading
43
43
Tikamgarh
Shri Rakesh Giri
Yadvendra Singh
Yadvendra Singh- Leading
44
44
Jatara (SC)
Shri Harishankar Khatik
Left for Loktantrik Janata Dal
Harishankar Khatik- Leading
45
45
Prithvipur
Shri Abhay Yadav
Brajendra Singh Rathore
46
46
Niwari
Shri Anil Jain
Capt. Surendra Singh Yadav
47
47
Khargapur
Shri Rahul Lodhi
Smt. Chanda Singh Gour
Rahul Lodhi- Leading
48
48
Maharajpur
Shri Manvendra Singh
Neeraj Dixit
Neeraj Dixit- Won
49
49
Chandla (SC)
Shri Rajesh Prajapati
Hariprasad Anuragi
50
50
Rajnagar
Shri Arvind Pateriya
Vikram Singh Natiraja
51
51
Chhatarpur
Smt. Archana Singh
Alok Chaturvedi
52
52
Bijawar
Shri Pushpendra Pathak
Rajesh Shukla
Rajesh Shukla- Won
53
53
Malhara
Smt. Lalita Yadav
Pradyuman Singh Lodhi
54
54
Pathariya
Shri Lakhan Patel
Gourav Patel
55
55
Damoh
Shri Jayant Malaiya
Rahul Singh Lodhi
56
56
Jabera
Shri Dharmendra Lodhi
Pratap Singh Lodhi
Pratap Singh- Leading
57
57
Hatta (SC)
Shri P.L. Tantuway
Harishankar Choudhary
P.L. Tantuway- Leading
58
58
Pawai
Shri Brijendra Pratap Singh
Mukesh Nayak
59
59
Gunnaor (SC)
Shri Rajesh Verma
Shiv Dayal Bagari
Dayal Bagari- Won
60
60
Panna
Shri Brijendra Singh
Shivjeet Singh
61
61
Chitrakoot
Shri Surendra Gaharwar
Nilanshu Chaturvedi
Nilanshu Chaturvedi- Won
62
62
Raigaon (SC)
Shri Jugal Kishore Bagri
Ms Kalpana Verma
63
63
Satna
Shri Shankar Lal Tiwari
Siddharth Kushwaha
Shankar Lal Tiwari- Won
64
64
Nagod
Shri Nagendra Singh
Yadvendra Singh
65
65
Maihar
Shri Narayan Tripathi
Shrikant Chaturvedi
66
66
Amarpatan
Shri Ram Khilawan Patel
Rajendra Kumar Singh
Ram Khilawan Patel- Leading
67
67
Rampur-Baghelan
Shri Vikram Singh
Ramshankar Payashi
68
68
Sirmour
Shri Divyaraj Singh
Smt. Aruna Tiwari
Divyaraj Singh- Leading
69
69
Semariya
Shri K.P. Tripathi
Triyugi Narayan Shukla
70
70
Teonthar
Shri Shyamlal Dwivedi
Rama Shankar Patel
Shyamlal Dwivedi- Leading
71
71
Mauganj
Shri Pradeep Patel
Sukhendra Singh Banna
72
72
Deotalab
Shri Girish Goutam
Smt. Vidyawati Patel
73
73
Mangawan (SC)
Shri Panchulal Prajapati
Babita Saket
74
74
Rewa
Shri Rajendra Shukla
Abhay Mishra
75
75
Gurh
Shri Nagendra Singh
Sunder Lal Tiwari
76
76
Churhat
Shri Shardendu Tiwari
Ajay A. Singh
77
77
Sidhi
Shri Kedar Nath Shukla
Kamleshwar Prasad Dwivedi
Kedar Nath Shukla- Leading
78
78
Sihawal
Shri Shiy Bahadur Chandel
Kamleshwar Patel
Kamleshwar Patel- Leading
79
79
Chitrangi (ST)
Shri Amar Singh
Smt. Saraswati Singh
Amar Singh- Won
80
80
Singrauli
Shri Ramlallu Vaishya
Smt. Renu Shah
81
81
Devsar (SC)
Shri Subhash Verma
Rambhajan Saket
82
82
Dhauhani (ST)
Shri Kunwar Singh Tekam
Smt. Kamlesh Singh
83
83
Beohari (ST)
Shri Sharad Koul
Rampal Singh
Sharad Koul- Leading
84
84
Jaisinghnagar (ST)
Shri Jaisingh Maravi
Dhyan Singh
Jaisingh Maravi- Leading
85
85
Jaitpur (ST)
Smt. Manisha Singh
Smt. Uma Dhurve
Manisha Singh- Leading
86
86
Kotma
Shri Dilip Jaiswal
Suneel Saraf
87
87
Anuppur (ST)
Shri Ramlal Routel
Bisahulal Singh
Bisahulal Singh- Leading
88
88
Pushprajgarh (ST)
Shri Narendra Maravi
Phundelal Singh Marko
89
89
Bandhavgarh (ST)
Shri Shivnarayan Singh
Dr Dhyan Singh Parste
Shivnarayan Singh- Leading
90
90
Manpur (ST)
Sushree Meena Singh
Pending
91
91
Barwara (ST)
Shri Moti Kashyap
Vijay Raghvendra Singh
Moti Kashyap- Leading
92
92
Vijayraghavgarh
Shri Sanjay Pathak
Padma Shukla
Sanjay Pathak- Leading
93
93
Murwara
Shri Sandeep Jaiswal
Mithilesh Jain
94
94
Bahoriband
Shri Pranay Pandey
Sourabh Singh Sisodia
Pranay Pandey- Leading
95
95
Patan
Shri Ajay Vishnoi
Neelesh Awasthi
96
96
Bargi
Smt. Pratibha Singh
Sanjay Yadav
Pratibha Singh- Leading
97
97
Jabalpur Purba (SC)
Shri Aanchal Sonkar
Lakhan Ghanghoria
Lakhan- Leading
98
98
Jabalpur Uttar
Shri Sharad Jain
vinay Kumar Saxena
99
99
Jabalpur Cantt.
Shri Ashok Rohani
Alok Mishra
Ashok Rohani- Leading
100
100
Jabalpur Paschim
ShriHarendrajeet Singh Babbu
Tarun Bhanot
Tarun Bhanot- Leading
101
101
Panagar
Shri Sushi! Tiwari (Indu)
Sammati Prakash Saini
102
102
Sihora (ST)
Smt. Nandini Maravi
Khiladi Singh
Nandini Maravi- Leading
103
103
Shahpura (ST)
Shri Omprakash Dhurve
Bhoopendra Maravi
104
104
Dindori (ST)
Shri Jaisingh Maravi
Omkar Singh Markam
105
105
Bichhiya (ST)
Shri Shivraj Shah
Narayan Singh Patta
Narayan Singh Patta- Won
106
106
Niwas (ST)
Shri Rampyare Kulaste
Dr Ashok Maskole
107
107
Mandla (ST)
Shri Devi Singh Sayyam
Ashok Murskoley
Ashok- Won
108
108
Baihar (ST)
Smt. Anupama Netam
Sanjay Uikey
Sanjay Uikey- Leading
109
109
Lanji
Shri Ramesh Bhatere
Smt. Hina Likhiram Kawre
110
110
Paraswada
Shri Ramkishore Kanware
Smt. Madhu Bhagat
111
111
Balaghat
Shri Gourishakar Bisen
Vishveshwar Bhagat
Gourishakar Bisen- Leading
112
112
Waraseoni
Shri Yogendra Nirmal
Sanjay Singh Mesani
Yogendra Nirmal- Leading
113
113
Katangi
Shr K.D. Deshmukh
Tamlal Sahare
Tamlal Sahare- Leading
114
114
Barghat (ST)
Shri Kamal Marskole
Arjun Singh Kakodiya
Arjun Singh Kakodiya- Leading
115
115
Seoni
Shri Dinesh Rai (Mun Mun)
Mohan Singh Chandel
116
116
Keolari
Shri Rakesh Pal Singh
Rajneesh Harbansh Singh
Rakesh Pal Singh- Leading
117
117
Lakhnadon (ST)
Shri Vijay Uike
Yogendra Singh Baba
118
118
Gotegaon (SC)
Dr. Kailash Jatav
Narmada Prasad Prajapati
119
119
Narsingpur
Shri Jalim Singh Patel
Lakhan Singh Patel
120
120
Tendukheda
Shri Mulayam Singh Kourav
Sanjay Sharma
Sanjay Sharma- Leading
121
121
Gadarwara
Shri Gautam Patel
Smt. Sunita Patel
122
122
Junnardeo (ST)
Shri Ashish Thakur
Sunil Uikey
Sunil Uikey- Leading
123
123
Amarwara (ST)
Shri Prem Narayan Thakur
Kamlesh Shah
– Leading
124
124
Churai
Shri Ramesh Dubey
Sujeet Chaudhary
125
125
Saunsar
Shri Nanabhau Mahod
Vijay Chaure
126
126
Chhindwara
Shri Choudhary Chandrabhan Singh
Deepak Saxena
127
127
Parasia (SC)
Shri Tarachan Bawariya
Sohan Lai Valmiki
128
128
Pandhurna (ST)
Shri Tikaram Korachi
Nilesh Uike
129
129
Multai
ShriRaja Panwar
Sukhdev Panse
130
130
Amla (SC)
Dr. Yogesh Pandagare
Manoj Malve
Yogesh Pandagare- Leading
131
131
Betul
Shri Hemant Khandelwal
Nilay Kumar Daga
Nilay Kumar Daga- Leading
132
132
Ghoradongri (ST)
Smt. Geetabai Uikey
Bramha Bhalavi
133
133
Bhainsdehi (ST)
Shri Mahendra Singh Chouhan
Dhamu Singh Sirsam
Mahendra Singh Chouhan- Leading
134
134
Timarni (ST)
Shri Sanjay Shah
Abhijeet Shah (Ankit Baba)
Sanjay Shah- Leading
135
135
Harda
Shri Kamal Patel
R. K. Dogne
Kamal Patel- Leading
136
136
Seoni-Malwa
Shri Prem Shankar Verma
Om Prakash Raghuvanshi
137
137
Hoshangabad
Dr. Sitasharan Sharma
Sartaj Singh
Sitasharan Sharma- Leading
138
138
Sohagpur
Shri Vijaypal Singh
Satpal Paltya
Vijaypal Singh- Leading
139
139
Pipariya (SC)
Shri Thakurdas Nagvanshi
Harish Beman
140
140
Udaipura
Shri Ramkishan Patel
Devendra Patel Gaderwas
Devendra Patel- Leading
141
141
Bhojpur
Shri Surendra Patwa
Suresh Pachouri
142
142
Sanchi (SC)
Shri Mudit Shejwar
Dr Prabhuram Choudhary
143
143
Silwani
Shri Rampal Singh
Devendra Patel
Devendra Patel- Leading
144
144
Vidisha
Shri Mukesh Tandon
Shashank Bhargav
Shashank Bhargav- Leading
145
145
Basoda
Smt. Leena Sanjay Jain
Nishank Jain
Leena Sanjay Jain- Leading
146
146
Kurwai(SC)
Shri Hari Sapray
Subhash Bohat
147
147
Sironj
Shri Umakant Sharma
Smt. Masharat Shaheed
Umakant Sharma- Leading
148
148
Shamshabad
Smt. Rajshri Singh
Smt. Jyotsana Yadav
Rajshri Singh- Leading
149
149
Berasia (SC)
Shri Vishnu Khatri
Smt. Jaishree Harikaran
Vishnu Khatri- Leading
150
151
Narela
Shri Vishwas Sarang
Arif Aqueel
Arif Aqueel- Won
151
150
Bhopal Uttar
Smt. Fatima Rasul Siddaki
Dr. Mahendra Singh Chouhan
152
152
Bhopal Dakshin-Paschim
Shri Umashankar Gupta
P.C. Sharma
153
153
Bhopal Madhya
Shri Surendra Nath Singh
Arif Masood
154
154
Govindpura
Smt. Krishna Gour
Girish Sharma
155
155
Huzur
Shri Rameshwar Sharma
Naresh Gyanchandani
156
156
Budhni
Shri Shivraj Singh Chouhan
Arun Yadav
Shivraj Singh Chouhan- Leading
157
157
Ashta (SC)
Shri Raghunath Malviya
Engr. Gopal Singh
Raghunath Malviya- Leading
158
158
Ichhawar
Shri Karan Singh Verma
Shailendra Patel
Karan Singh- Leading
159
159
Sehore
Shri Sudesh Rai
Surendrasingh Thakur
Sudesh Rai- Won
160
160
Narsinghgarh
Shri Rajyavardhan Singh
Girish Singh Bhandari
 Rajyavardhan Singh- Leading
161
161
Biaora
ShriNarayan Panwar
Govardhan Dangi
162
162
Rajgarh
Shri Amar Singh Yadav
Bapusingh Tomar
163
163
Khilchipur
Shri Hajarilal Dangi
Priyavrat Singh
Priyavrat Singh- Leading
164
164
Sarangpur (SC)
Shri Kunwar Kothar
Smt. Kala Malviya
165
165
Susner
Shri Murali Patidar
Mahendra Singh Parihar
166
166
Agar (SC)
Shri Manohar Untwal
Vipin Vankhede
Manohar Untwal- Leading
167
167
Shajapur
Shri Arun Bhimawat
Hukum Singh Karada
168
168
Shujalpur
Shri lndersingh Parmar
Ranweer Sikarwar
lndersingh Parmar- Leading
169
169
Kalapipal
Shri Babulal Verma
Kunal Choudhary
Kunal Choudhary- Leading
170
170
Sonkatch (SC)
Shri Rajendra Verma
Sajjan Singh Verma
Sajjan Singh- Leading
171
171
Dewas
Smt. Gayatri Raje Panwan
Jai Singh Thakur
172
172
Hatpipliya
Shri Deepak Joshi
Manoj Choudhari
Manoj Choudhari- Leading
173
173
Khategaon
Shri Ashish Sharma
Om Patel
Ashish Sharma- Won
174
174
Bagali (ST)
Shri Pahar Singh
Kamal Singh Vaskale
175
175
Mandhata
Shri Narendra Singh Tomar
Narayan Singh Patel
176
176
Harsud (ST)
Shri Vijay Shah
Sukhram Salve
Vijay Shah- Won
177
177
Khandwa (SC)
Shri Devendra Verma
Kundan Malviya
Devendra Verma- Leading
178
178
Pandhana (ST)
Shri Ram Dangore
Smt. Chhaya More
Ram Dangore- Won
179
179
Nepanagar (ST)
Kum. Manju Rajendra Dadu
Smt. Sumitra Devi Kasdakar
180
180
Burhanpur
Smt. Archana Chitnis
Hamid Kazi
181
181
Bhikangaon (ST)
Shri Dhul Singh Dabar
Smt. Jhuma Solanki
182
182
Badwah
Shri Hitendra Singh Solanki
Sachin Birla
Sachin Birla- Leading
183
183
Maheshwar (SC)
Shri Bhupendra Arya
Ms. Vijay Laxmi Sadho
184
184
Kasrawad
Shri Atmaram Patel
Sachin Yadav
Sachin Yadav- Leading
185
185
Khargone
Shri Balkrishan Patidar
Ravi Joshi
Ravi Joshi- Leading
186
186
Bhagwanpura (ST)
Shri Jamna Solanki
Vijay Singh Solanki
Independent- Leading
187
187
Sendhawa (ST)
Shri Antar Singh Arya
Gyarasilal Rawat
Gyarasilal Rawat- Won
188
188
Rajpur
Shri Antar Patel
Bala Bachchan
189
189
Pansemal (ST)
Shri Diwan Singh Patel
Smt. Chandrabhaga Kirare
190
190
Badwani (ST)
Shri Prem Singh Patel
Ramesh Patel
Ramesh Patel- Leading
191
191
Alirajpur (ST)
Shri Nagar Singh Chouhan
Mukesh Patel
Mukesh Patel- Leading
192
192
Jobat (ST)
Shri Madho Singh Dabar
Smt. Kalawati Bhuria
Kalawati Bhuria- Leading
193
193
Jhabua (ST)
Shri G.S. Damor
Dr. Vikrant Bhuria
G.S. Damor- Leading
194
194
Thandla (ST)
Shri Kalsingh Bhabar
Veer Singh Bhuria
Veer Singh Bhuria- Won
195
195
Petlawad (ST)
Smt. Nirmala Bhuriya
Valsingh Meda
196
196
Sardarpur (ST)
Shri Sanjay Baghel
Pratap Grewal
197
197
Gandhwani (ST)
Shri Sardar Meda
Umang Singhar
198
198
Kukshi (ST)
Shri Virendra Baghel
Surendra Singh Baghel
Surendra Singh Baghel- Leading
199
199
Manawar (ST)
Smt. Ranjana Baghel
Hira Alawat
200
200
Dharampuri (ST)
Shri Gopal Kanoje
Prachi Lal Meda
201
201
Dhar
Smt. Nina Verma
Smt. Prabha Singh Goutam
202
202
Badnawar
Shri Bhanwar Singh Shekhawat
Rajvardhan Singh Dattigaon
Rajvardhan Singh Dattigaon- Leading
203
203
Depalpur
Shri Manoj Patel
Vishal Patel
Vishal Patel- Won
204
204
Indore-1
Shri Sudarshan Gupta
Sanjay Shukla
Sanjay- Leading
205
205
Indore-2
Shri Ramesh Mendola
Mohan Singh Sengar
Ramesh Mendola- Leading
206
206
Indore-3
Shri Akash Vijayvargiya
Ashwin Joshi
Akash Vijayvargiya- Leading
207
207
Indore-4
Smt. Malini Gour
Surjeet Singh Chadda
Malini Gour- Leading
208
208
Indore-5
Shri Mahendra Hardiya
Satyanarayan Patel
Mahendra Hardiya- Leading
209
209
Dr. Ambedkarnagar-Mhow
Sushree Usha Thakur
Antar Singh Dabar
210
210
Rau
Shri Madhu Verma
Jitu Patwari
211
211
Sanwer (SC)
Shri Rajesh Sonkar
Tulsi Silawat
212
212
Nagada-Khachrod
Shri Dilip Singh Shekhawat
Dilp Singh Gurjar
213
213
Mahidpur
Shri Bahadur Singh Chauhan
Sardar Singh Chouhan
214
214
Tarana (SC)
Shri Anil Firojiya
Mahesh Parmar
Mahesh Parmar- Leading
215
215
Ghatiya (SC)
Shri Ajit Premchandra Borasi
Ramlal Malviya
216
216
Ujjain Uttar
Shri Paras Jain
Rajendra Bharti
Paras Jain- Leading
217
217
Ujjain Dakshin
Shri Mohan Yadav
Rajendra Vasistha
Mohan Yadav- Leading
218
218
Badnagar
ShriJitendra Pandya
Murli Morwal
Murli Morwal- Leading
219
219
Ratlam Rural (ST)
Shri Dilip Makwana
Laxman Singh Dindor
220
220
Ratlam City
Shri Chetan Kashyap
Smt. Premlata Dave
Chetan Kashyap- Won
221
221
Sailana (ST)
Shri Narayan Meda
Harsh Vijay Gehlot
222
222
Jaora
Shri Rajendra Pandey
K.K. Singh Kalukheda
Rajendra Pandey- Leading
223
223
Alot (SC)
Shri Jitendra Gehlot
Manoj Chawla
Manoj Chawla- Leading
224
224
Mandsour
Shri Yeshpal Singh Sisodiya
Narendra Nahata
225
225
Malhargarh (SC)
Shri Jagdish Dewada
Parasuram Sisodia
Jagdish Dewada-Won
226
227
Garoth
Shri Devilal Dhakar
Hardeep Singh Dang
227
226
Suwasra
Shri Radhey Shyam Patidar
Subhash Sujatia
Radhey Shyam Patidar- Leading
228
228
Manasa
Shri Madhav Maru
Umrao Singh Gurjar
229
229
Neemuch
Shri Dilip Parihar
Satyanarayan Patidar
230
230
Jawad
Shri Om Prakash Saklecha
Rajkumar Aheer
Om Prakash Saklecha- Leading
For the latest News & Live Updates on Election Results from each Assembly constituency in Madhya Pradesh, Rajasthan, Mizoram, Chhattisgarh, Telangana, visit our Assembly Elections page https://www.india.com/assembly-election-2018/. You can also like us on Facebook or follow us on Twitter.