Pune: 17 Killed After Residential Complex Wall Collapses Due to Rains; Rs 5 Lakh Promised to Kin of Dead
At least 17 people died and two suffered injuries in a wall collapse incident in Pune's Kondhwa on early Saturday morning.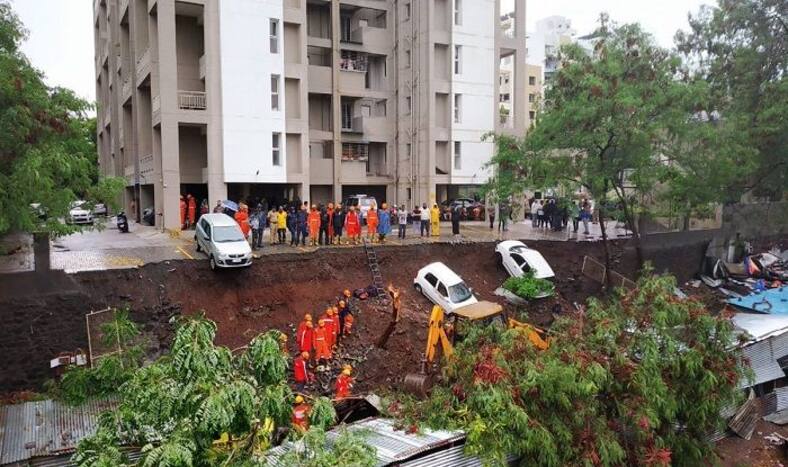 New Delhi: As many as 17 people, including four children, died in Pune's Kondhwa after a compound wall of a residential complex collapsed early Saturday morning.
At least two people are reported to have suffered injuries and admitted in a nearby hospital. Rescue operations are underway as many are believed to be trapped under the debris.
The incident occurred around 2.15 a.m. when the compound wall of Alcon Stylus Building suddenly came crashing down trapping the victims still asleep in their huts, police and NDRF officials said.
The rescuers have so far pulled out three people alive out of the debris.
Pune: 14 people have died in Kondhwa wall collapse incident. Rescue operations are underway. #Maharashtra pic.twitter.com/5XdHinkjCu

— ANI (@ANI) June 29, 2019
"The wall collapsed due to heavy rainfall. Negligence of the construction company is coming to light with this incident. Death of 15 people is not a small matter. Mostly were labourers from Bihar and Bengal. The government will provide help to the affected," said Naval Kishore Ram, district collector Pune.
Extremely saddened to know about loss of lives in the Kondhwa, Pune wall collapse incident.
My deepest condolences to the families and prying for speedy recovery of the injured.
Directed Pune Collector to conduct an in-depth enquiry.

— Devendra Fadnavis (@Dev_Fadnavis) June 29, 2019
Maharashtra Chief Minister Devendra Fadnavis tweeted on the incident and conveyed condolences to the kin of the dead. The state government also announced Rs 5 lakh as compensation to the kin of the dead.
Bihar CM Nitish Kumar expresses condolences on the death of 15 people, hailing from Katihar, in the #PuneWallCollapse incident. He has announced ex-gratia Rs 2 Lakh each to the next of the kin of the deceased and a compensation of Rs 50,000 to the injured. (file pic) pic.twitter.com/IGA68UGWm9

— ANI (@ANI) June 29, 2019
"We are immediately issuing a Stop Work order to an adjoining building where construction activities are underway. We shall also give full relief to the victims' families," Pune Mayor Mukta Tilak told the media there.
Guardian Minister Chandrakant Patil who said he was rushing to Pune, warned that no guilty will be spared.
The Pune Collectorate and Pune Municipal Corporation authorities said they will probe the tragedy.
With IANS inputs