live
Maharashtra Zilla Parishad & Panchayat Samiti Elections 2017 Phase 2 Polling: 69 per cent polling recorded
LIVE - Maharashtra Zilla Parishad & Panchayat Samiti Elections 2017 Polling: Voting held for 11 zilla parishads and 118 panchayat samiti posts.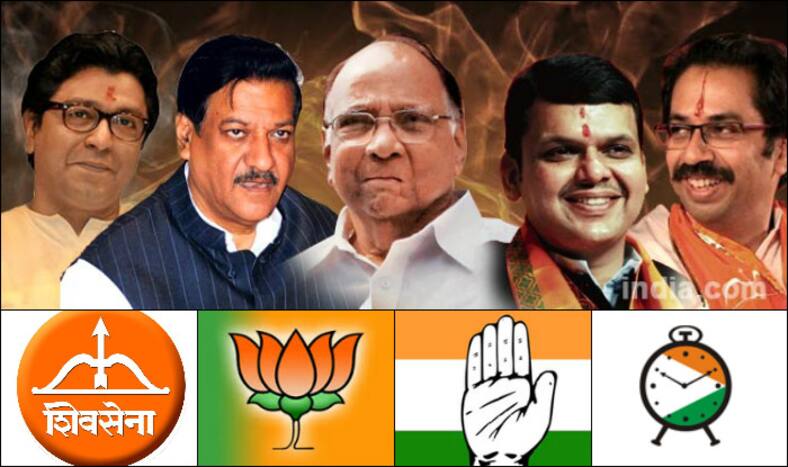 Mumbai, Feb 21: The phase-II of Maharashtra Zilla Parishad and Panchayat Samiti elections are being held today. Polling for 11 zilla parishads and 118 panchayat samiti posts will begin from 7:30 AM in the morning. The elections will be held across the 12 districts of Raigad, Ratnagiri, Sindhudurg, Satara, Sangli, Kolhapur, Pune, Solapur, Nashik, Amravati and Gadchiroli. Stay tuned for all the live updates from the day of polling.
Voting would be held at 1,268 places across Maharashtra. The total number of candidates in the fray is reported to be 9,208. The elections witnesses a solid electoral fight, as the four primary contenders in state politics – Congress, Nationalist Congress Party, Bharatiya Janata Party and Shiv Sena are contesting without forming a pre-poll alliance. The Maharashtra Navnirman Sena (MNS) and All India Majlis-e-Ittehadul Muslimeen (AIMIM) would also be contesting in some pockets of the state.
Out of the total 9,208 candidates, 2,956 re contesting for Zilla Parishad seats, whereas, 5,167 are fighting for the Panchayat Samitis. The total strength of electorate is 1,82,23,616. Male voters amount to 94,43,911, whereas, the female voters add up to 87,79,604. The total number of polling booths marked by State Election Commission is 22,159. SEC has deployed 14, 409 poll workers for the smoot conduct of elections.
Along with the zilla parishad and nagar panchayat elections, polling would also be held for the 10 municipal corporations across the state.
In the recently held Nagar Panchayat elections in Maharashtra, BJP emerged as the single largest party. Congress secured the second spot, Shiv Sena third and NCP fourth. Banking on its previous success, BJP is confident of emerging as the number one party in Zilla Parishad and Panchayat Samiti elections as well.
Results of the civic elections would be declared on February 23. The outcome is expected to impact the fate of state government in the state. BJP and Shiv Sena, despite ruling a coalition government in the State, have decided to fight the elections separately. The 25-year-old alliance is on the brink of breakup, as both the sides have launched bitter political attacks against each other.
Live Updates
69 per cent polling was recorded in Maharashtra Zilla Parishad elections phase-II, stated State Election Commission.

Voting for Municipal Corporation, Zilla Parishad and Panchayat Samiti elections ends at 5:30 pm. Results for the same will be declared on February 23.

As per the latest details available, voting percentage till 1:30 in

11 Zilla Parishad:

Raigad: 44.58 percent

Ratnagiri: 38.56 percent

Sindhudurg: 45.27 percent

Nashik: 34.33 percent

Pune: 39.68 percent

Satara: 42.23 percent

Sangli: 38.28 percent

Solapur: 36.81 percent

Kolhapur: 43.59 percent

Amravati: 32.03 percent

Gadchiroli: 44.67 percent

Polling is underway in 43,160 polling stations spread across the state.

As per the latest details available, voting percentage till 3:30 in

Thane: 45.05

per cent

Ulhasnagar: 24.83

per cent

Nashik: 43.33

per cent

Pune: 43.00

per cent

Solapur: 43.00

per cent

Amravati: 34.37

per cent

Akola: 46.30

per cent

Nagpur: 40.00

per cent

Sarasari: 31.01

per cent

Ulhasnagar: Ex-mayor Asha Jeevan Idnani's car was vandalised by unknown people while Ulhasnagar Municipal Corporation is in the middle of the polls. She escaped unhurt.

Voting in Mumbai remains low. One of the key reason for low voter turnout is that more than 12 lakh voters who had voted in the previous BMC elections are not been allowed to vote in today's poll as their names have been disappeared from official voters list.

Ratan Tata, chairman of Tata Trust has been campaigning on twitter to encourage people to vote in the elections.

Local body elections are scheduled on February 16th and 21st in Maharashtra. Let's pledge to vote for a strong future. #VoteKarMaharashtra

— Ratan N. Tata (@RNTata2000) February 10, 2017

Pune: To encourage women voters, city-based mehndi artist Dhanashri Hendre will honour every woman voter with a free-of-cost mehndi design. The move is a joint initiative of Hendre-run Mrignayani Mehndi Arts Initiative Trust Board (MMAITB) and Sainath Trust.

In Solapur, it is been reported that a voter died after collapsing while standing at the Que for voting.