Meghalaya Miners Rescue: Third Body Detected; Navy to Conduct Overnight Operation to Retrieve it
Two months have passed since the incident occurred.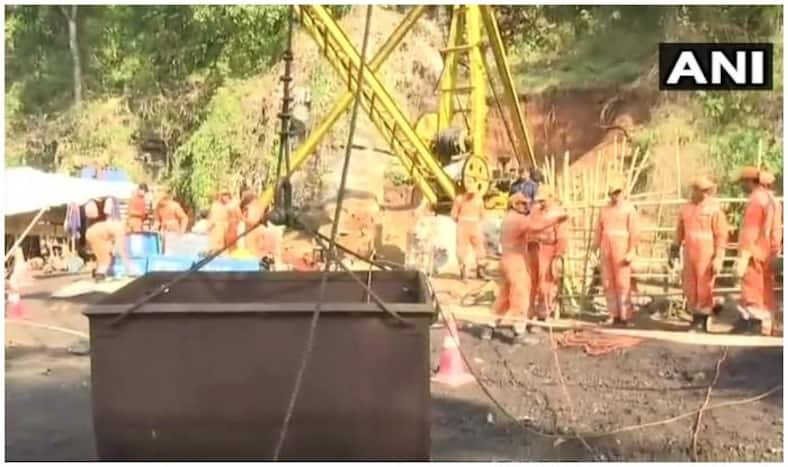 New Delhi: The rescue teams on Sunday detected the body of another miner, two months after 15 of them got trapped in a rat-hole mine in Meghalaya's East Jaintia Hills district. Reportedly, the Navy has launched an overnight operation to pull out the third body, which is completely in a decomposed state.
Till now, the rescue teams have retrieved only one body, which was pulled out on January 24. The second body was detected after two days. However, it had allegedly slipped out of the Remotely Operated Vehicle (ROV).
The major challenge faced by the rescue teams are the water levels inside the mine. Since the mine remains flooded, there is a huge delay in finding the bodies. The bodies are likely to be subjected to further deterioration due to the delay.
In a recent status report filed in the Supreme Court, the Centre informed that crores of litres of water have been pumped out from the mine and remotely operated vehicles (ROVs) of the Indian Navy were already working in the rescue operation."Underground ROVs being operated in adjacent mines, systematically searching and sanitising them one by one. So far, two adjacent mines have been searched and declared clear," the report said. It said Indian Air Force aircraft were also deployed for the rescue operation.
On December 13, 2018, at least 15 miners were trapped in the illegal pit termed as 'rat-holes' after water from Lytein River gushed into the mine, located at Ksan in Meghalaya's East Jaintia Hills district, about 3.7 km deep inside a forest.
Rat-hole mining involves digging of narrow tunnels, usually three-four feet high, for workers to enter and extract coal. The horizontal tunnels are often termed 'rat holes' as each just about fits one person.
(With Agency inputs)