Migrant Exodus From Gujarat: Congress Leader Shaktisinh Gohil to File Criminal, Defamation Case Against CM Rupani For Insinuating he Was Responsible For Violence
Rupani reportedly made the comment during his Lucknow visit.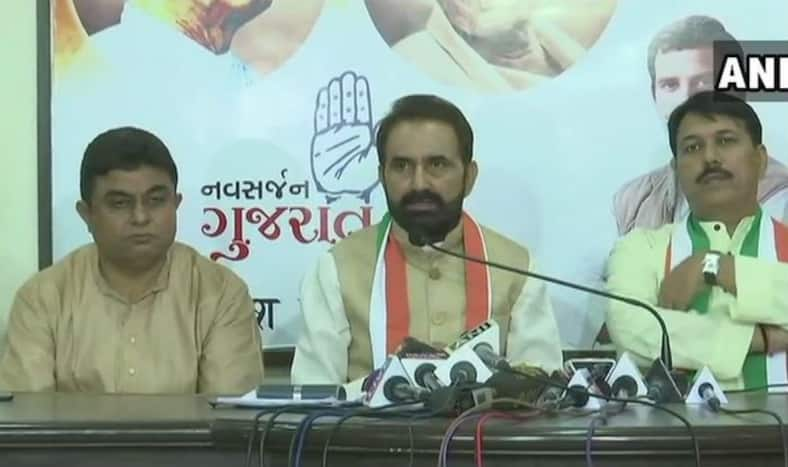 Ahmedabad: No matter how much damage control Gujarat Chief Minister Vijay Rupani tries, trouble is far from over for him. Now Congress leader Shaktisinh Gohil has decided to drag Rupani to court over the latter's recent comments over the attacks on north Indian migrants in the state. Addressing media on Tuesday, Gohil, the AICC member who is also Bihar in charge, said, "I'll file the criminal case and civil defamation suit against Gujarat Chief Minister Vijay Rupani. Attacks on north Indians in Gujarat was a well-thought conspiracy of the BJP. Yesterday, he said without facts or evidence that it was my conspiracy," said Gohil. (Also read: Thakor Observes 'Sadbhavna Fast' to Fix Gujarat Image)
Highlights
Gohil to file criminal case and a civil defamation case.
He says he expects an apology from the CM.
Rupani had reportedly said that the Opposition party's "Bihar in-charge" was responsible for the recent attacks on migrants in the state. Several districts in Gujarat were rocked by violence after a labourer from Bihar was arrested on the charge of raping a 14-month-old girl in Sabarkantha district on September 28. It led to the exodus of thousands of migrants from the state.
Speaking to reporters in Lucknow, Rupani, without mentioning a name, had said the Congress party's Bihar in-charge was responsible for the violence, adding that over 50 of those arrested in this connection were Congress workers. Reports pointed out that Congress MLA Alpesh Thakor is the party's Bihar in-charge secretary.
The ruling BJP has openly blamed Thakor and his outfit, the Kshatriya Thakor Sena, for the violence. They pointed out that several FIRs lodged by the Gujarat police in connection with the violence mentioned Thakor's outfit. Thakor has been refuting the allegations and even sat on a fast claiming he was doing it for his state whose image had been maligned.
Meanwhile, Gohil told reporters, "I will first send him (Rupani) a legal notice tomorrow and give him two weeks' time to clarify. If he fails to apologise, I will approach the court." Asked if Rupani had referred to Thakor and not him, Gohil said the Congress appointed only one "in-charge" for a state and all others were designated as secretaries.
"I hope the Gujarat Chief Minister has this basic knowledge. If he was not speaking about me, he should clarify. Many newspapers have reported that the Chief Minister is saying that I am responsible for the violence. So I have decided to take legal action," he added. The Congress leader said he was yet to decide on the amount to claim as part of his defamation suits.