Mumbai Rains: Over 2,000 Stranded Passengers Rescued by NDRF, Trains And Flights Cancelled; 2 Killed in Palghar
Incessant rains battered Mumbai and other parts of Maharashtra for the fourth consecutive day on Tuesday. At least two persons were killed in rain-related accidents in Maharashtra's Palghar while ro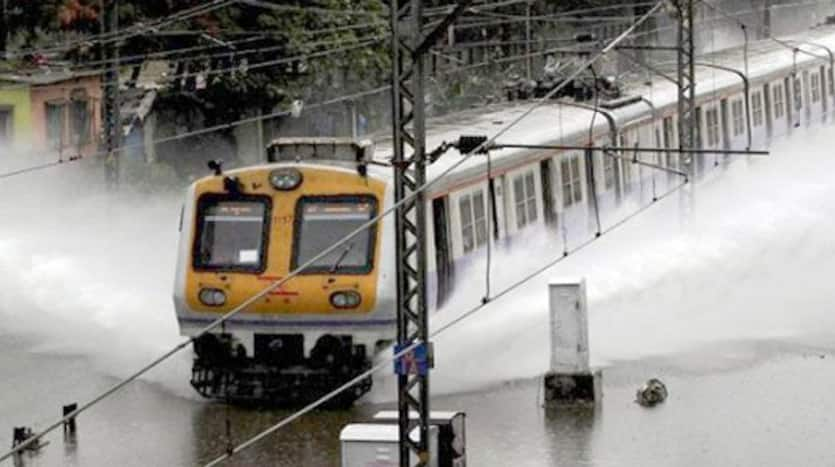 Incessant rains battered Mumbai and other parts of Maharashtra for the fourth consecutive day on Tuesday. At least two persons were killed in rain-related accidents in Maharashtra's Palghar while road, rail traffic and flights were severely hit.
Highlights
NDRF teams rescued over 2,000 stranded passengers from two trains stuck in rains at Nalasopara.
At least two persons were killed in rain-related accidents in Maharashtra's Palghar.
Local trains, considered the lifeline of Mumbai, today moved at the snail's pace due to water-logging of the tracks, resulting in harrowing times for lakhs of office-goers and other commuters.
A distance, usually covered in about an hour, took several hours, even up to five hours in some cases, as the rail tracks as well as roads were submerged.
The Western Railway (WR) and Central Railway (CR) suburban trains, were running late by 45-60 minutes due to waterlogged tracks, causing major delays to the morning commuters.
There were brief disruptions owing to waterlogging, signal failures, a crack in the tracks and other problems, but overall the services remained largely functional.
WR services on the critical Vasai-Virar sector were cancelled. Services operated only between Churchgate and Vasai, as tracks lay submerged in 650 mm waters between Vasai-Virar, damaging electrical cables, signaling and other overhead equipment.
Several inbound or outbound long-distance trains, including even the Rajdhani Express, August Kranti Rajdhani Express, Shatabdi Express, Duronto Express among others, were either cancelled, terminated en route or diverted on the Mumbai-Gujarat and Mumbai-New Delhi sectors.
Around 2,000 passengers of two Mumbai-bound long distance trains that got stuck between Nallasopara and Vasai stations of Western Railway early today due to water-logging of tracks had a harrowing time before they were rescued in a joint operation by the NDRF and police.
In a joint operation, the National Disaster Response Force (NDRF), the police and fire brigade personnel have rescued all the 2000 passengers from Mumbai-bound Shatabdi Express and Vadodara Express, a Palghar district official said.
Another district official said that more than 400 people who were marooned in various villages in Palghar district due to water-logging have been rescued by personnel of fire brigade, police and local people since yesterday.
Areas like Vasai Mithagar (salt pan), Bhoidapada, Wagralpada, Rajavali were inundated due to incessant rains that pummelled the district in the last two days.
Chief Minister Devendra Fadnavis informed the legislature in Nagpur that all agencies including the Indian Navy, the Disaster Management Cell and others are working hard to provide all assistance to Mumbaikars.
Education Minister Vinod Tawde on Tuesday advised all school and college principals to monitor the rainfall position in their areas and declare a holiday if necessary for the second consecutive day.
According to the IMD, Mumbai recorded 165.8 mm rains so far this morning plus 38 mm till today afternoon, whereas the suburbs received 184.3 mm. plus 46 mm till this afternoon. More rains were forecast for the next couple of days.
In the past 21 days, the city has received over 60 per cent of its average seasonal total rains, said the BrihanMumbai Municipal Corporation (BMC).
At least 15 areas, including Dahisar, Borivali, Malad, Jogeshwari, Andheri, Santacruz, Mahim, Kurla, Parel, Dadar, Chembur, King Circle, Sion, Wadala, Masjid Bunder, Ghatkopar, Powai, Bhandup, Mankhurd were heavyily waterlogged, impeding traffic and pedestrian movement.
There were at least four minor instances of house wall crashes, 43 tree collapses, 30 short-circuit fires incidents but no casualties were reported.
In a rare instance, Mumbai's famed Dabbawalas suspended all their tiffin box delivery operations on Tuesday, while many private offices in south Mumbai permitted their employees to leave a few hours early to enable them reach homes safely.
In many areas of south-central Mumbai, disaster relief teams set out in inflatable rubber dinghies to guide people, shift them to safer locations or monitor the localities for any emergencies.
Massive traffic snarls were witnessed on the Eastern Express Highway, Western Express Highway and the Eastern Freeway all over the city.
Besides Mumbai, the adjoining districts of Mumbai Metropolitan Region (MMR) like Thane, Palghar and Raigad also got heavy rains.
The worst-hit were Vasai, Nala Sopara, Virar, Ulhasnagar, Ambernath, Badlapur, and many villages and towns where thousands of homes were flooded or waterlogged with knee-deep waters.
(With inputs from agencies)