live
Odisha Health Minister Naba Das' Mortal Remains Consigned To Flames
Stay tuned to this space for all the updates from Odisha minister Naba Kishore Das's last rites.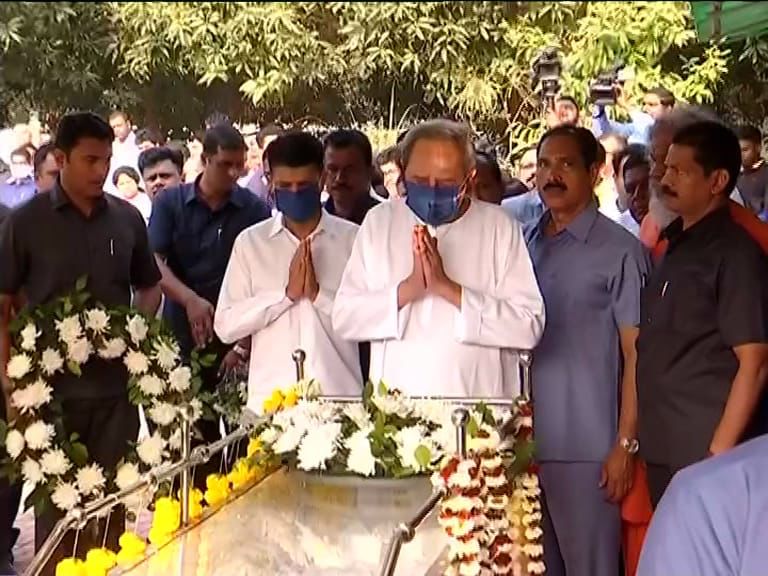 Naba Das Last Rites: Naba Das'mortal remains were consigned to flames on Monday after hi son lit his funeral pyre while several others bid their final adieu to the state health minister. Odisha Governor Ganeshi Lal and Chief Minister Naveen Patnaik paid their last respects to state at his official residence. The minister died after being shot at by a policeman yesterday. The Odisha government on Monday announced a three-day state mourning as a mark of respect for the departed BJD leader. Both the governor and CM also met the family members of Das and expressed their condolences.
The minister, 60, was shot at Brajrajnagar town around 1 pm on Sunday allegedly by Assistant Sub-inspector of Police (ASI) Gopal Das, who is believed to be suffering from a mental disorder.
Stay tuned to this space for all the updates from Odisha minister Naba Kishore Das's last rites. 
Live Updates
Updates to this blog have now been closed.

Mortal Remains Of Naba Das Consigned To Flames: The mortal remains of the Naba Das, Odisha Health Minister who succumbed to bullet injuries after being shot at on Sunday has now been consigned to flames with full state honours. His son, Bishal Das lit the funeral pyre while several other bide a tearful adieu.

Odisha Health minister Naba Das death case LIVE | The accused (Gopal Das) has confessed to his crime. Forensic and cyber experts have been called for investigation. We will try to get the maximum possible punishment for the accused: Crime Branch ADG, Arun Bothra

Odisha Health Minister death case | Crime Branch Team seized one 9mm pistol and 3 rounds of live ammunition and a mobile handset of the accused ASI Gopal Krushna Das. The firearms, and ammunitions will be sent for Ballistic examination and opinion: Crime Branch

ASI Who Shot Odisha Health Minister Dismissed: ASI Gopal Krishna Das (in file pic) who killed Odisha Health Minister Naba Das has been dismissed from the service: Rahul Jain, SP Jharsuguda

Local Shower Flowers On Naba Das' Hearse: Many shops, business establishments and educational institutions in the district remained closed during the day, with locals pouring out on the streets to shower flowers on the hearse carrying the departed leader's remains, which drove through the streets of Jharsuguda town on its way to his home.

Odisha CM Naveen Patnaik allocates the Health and Family Welfare department to Finance Minister Niranjan Pujari: Chief Minister's Office

Odisha Health Minister Naba Kishore Das' body has been taken to Jharsuguda where his last rites will be conducted.

State Honour For Naba Kishore Das


State honour will be given to Odisha Health Minister Naba Das. The national flag will fly at half-mast on the day of death and on the day of funeral. There will be no official entertainment for 3 days from January 29 to January 31 in the entire state: Odisha Govt pic.twitter.com/EvFa03aMw9

— ANI (@ANI) January 29, 2023

The last rites of Naba Kishore Das will be performed at Jharsuguda today, sources close to the family said.