Not just Durga, Mahishasur also worshipped in India
The Goddess is believed to descend on earth every year in autumn to visit her maternal home. She is shown spearing the chest of Mahishasur who is half buffalo and half Asur.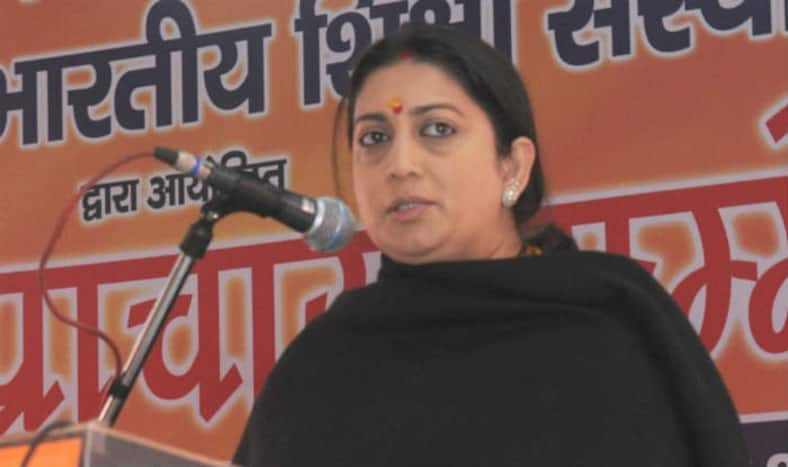 New Delhi, March 1: HRD Minister Smriti Irani's controversial comments on Durga and Mahishasur appear to ignore the varied folk traditions in which the latter is adulated as a king and an ancestor, experts say.
The minister sparked a fierce row when she read out in parliament last week contents of a pamphlet purportedly printed by the "SC, ST and Minority Students" of the Jawaharlal Nehru University (JNU) to mark the Mahishasur Martyrdom Day.
"May my God forgive me for even reading this out," she said in opening remarks.
Irani was explaining the rationale behind the police crackdown at the JNU after "anti-national slogans" were allegedly raised on the campus. Dalit scholars and experts on tribal lifestyle say Irani's comments may have originated from the dominant Hindu understanding of Goddess Durga which views Mahishasur as a demon. Dalit politics apart, tribal communities spread in at least five states, including West Bengal, Odisha and Jharkhand, revere Mahishasur as a great king and some like the Asur tribe believe they are his descendents. (ALSO READ: Privilege Motion against Smriti Irani: Why Indira Gandhi was suspended but HRD Minister will walk away unhurt!)
In traditional Hindu scriptures, the word Asur is used almost synonymously with demon. Some anthropologists say Asurs were among the proto-Australoid groups inhabiting areas like Jharkhand and the western part of West Bengal. The Asur tribe is now found in Gumla, Latehar, Lohardaga and Palamu districts of Jharkhand and in north Bengal's Alipurduar districts. Asurs believe they are descendants of 'Hudur-Durga' — the Santhal name for Mahishasur. Sections of Dalit and tribal communities have been asserting these alternative narratives of their belief systems while refusing to subscribe to mainstream versions.
"Mahishasur is revered in Asur and Santhal rituals. The Korku tribe of Madhya Pradesh also worships Mahishasur. The folk songs of Santhal tribes of Jharkhand are about Mahishasur. In Purulia (West Bengal), a big fair is organised to mark the worship of Mahishasur," said Vandana Tete, who has studied the practices of the Asur tribe. Nityananda Hembram, the head of the Bharat Jakat Majhi Madowa, a Santhal organisation, told IANS that his community was long opposed to the mainstream representation of Mahishasur. The Madowa has a presence across West Bengal, Odisha, Assam and Chhattisgarh.
"Mahishasur has been revered as a hero traditionally by Santhals in West Bengal. We have been opposing the way Mahishasur is portrayed in Durga Puja where he is shown kneeling before Durga who kills him. It is unfortunate Mahishasur is considered a demon and a mythological character when he was a hero who fought valiantly against invaders Aryans," Hembram told IANS. While Santhals have for long revered him, for the past 12 years they have been conducting a public puja much like others perform Durga Puja. "One such puja is organised in Kashipur village in Purulia district on Navami (ninth day of celebrations of Durga Puja)," Hembram told IANS.
The mainstream narrative of Hinduism considers Durga one of the major deities who bestow protection. As per Vedic literature, Durga was created by the joint forces of divinity, including the holy trinity Brahma, Vishnu and Mahesh to slay Asur king Mahishasura, who, empowered by a boon from Brahma, was on a rampage. The Devi Mahatmya relates the story of Durga, mounted atop a lion, fighting a pitched battle with Mahishasur who scoffed at her for being a mere woman. In the final stages of the fight with Durga, the Asur king is said to have changed his form to that of a buffalo (Mahish in Sanskrit) — hence the name Mahishasur.
"Asur tribes in Jharkhand believe they are descendents of Mahishasura and consider him their kulguru (clan teacher). At present, Mahishasura is not worshipped in Jharkhand but considered Kulguru (by Asurs)," Vasvi, a Jharkhand-based social worker, told IANS. The worship of Mahishasur is not limited to tribal communities. The name of Mysuru in Karnataka is said to be derived from Mahishasurana Ooru (Mahishasur's country). After Irani's speech in parliament, photographs of the Mahishasur statue in Chamundi temple circulated on social media. In West Bengal, where Durga Puja is the biggest festival, it is not uncommon for 'pushpanjali' (flowers) to be offered to Mahishasur along with the Goddess and her lion before the idols are immersed in water. The Goddess is believed to descend on earth every year in autumn to visit her maternal home. She is shown spearing the chest of Mahishasur who is half buffalo and half Asur.