Pari Mathur's 'Family Party' Wonderfully Explores the Life of the Indian-American Diaspora
It may have been a hard task to deliver a ton in just a 50-minute narrative, but "Family Party" uses each minute wisely to leave its mark.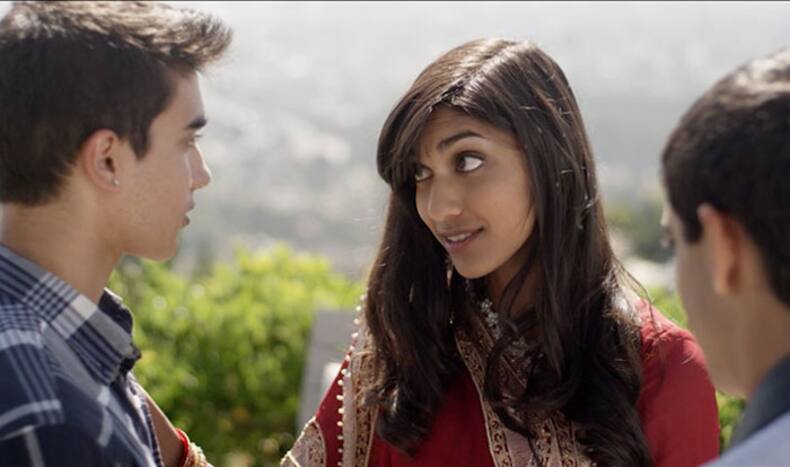 Pari Mathur's "Family Party," available on Netflix, is a glimpse into the real, unapologetic, not stereotyped world of Indian-Americans. It may have been a hard task to deliver a ton in just a 50-minute narrative, but "Family Party" uses each minute wisely to leave its mark. It focuses on two Indian-American teenagers, Nick and Arti, who are forced to attend a family gathering to celebrate one of their graduations. The party has all the works—a pundit, lots and lots (and lots!) of relatives, romantic rivalry, and the biggest staple of all—tons of food. However, the two kids have no interest in staying and would rather be at the Eyes on the Shore concert happening in town. So, with the help of another friend, Sahil, the two concoct a plan to escape. That's when things start to go wrong—thanks to a missing diamond necklace, a jealous nemesis, and all the adults.
As an Indian living in any other part of the world, there is one thing that almost never changes—the ever-so-present extended family, relatives, family friends, or even desi neighbors. One thing that connects you with them is your culture, and sometimes, it's obligation, especially if you're a teenager and hanging out with the older crowd is just outright boring and monotonous. It's always the same questions, the same answers, and the same advice. If there's any gathering or party, teenagers will mostly show up for the food. "Family Party" is no different.
Mathur has been on a mission to change the Indian-American perspective in the media for a while now. Tired of the usual drawn out subjects such as parents vs. kids, modern vs. traditional, how different it is to grow up in India or America, he wanted to update the story. He believes that "Family Party" is a cultural film 2.0. The target, demographically, was an Indian-American audience. "The unique selling point is that you can literally take the Indian family out and put in a Chinese family, a Black family, whoever—and it is the same story," he said.
That's what makes the film relatable to the audiences. "Firstly, this film is pure and organic, and comes directly from my heart. Having this be an independent production, and being away from LA, I didn't have a studio system changing the message or altering the story to fit a formula the industry wanted. I made art for art's sake and that shows in the final product," Mathur said. "Second, it's a wholesome film. We don't need to deal with sex, drugs, etc which is a trap Hollywood has fallen into." Shot only in 14 days, Mathur believes that it wouldn't have been possible without his hardworking and talented crew.
What makes this narrative fresh is the originality of the characters, who, at the same time, seem completely familiar. Nicklesh, or Nick, is a baseball player for school and will attend a very small but prestigious writing program later in the year. Arti is fiercely intelligent and witty, wanting to be independent but also giving into romance. Sahil is the recluse, shy, talented teenager whom everybody can rely on.
"The characters in the film are all an eclectic mix of personalities, have distinct character arcs, and drive the narrative forward," Mathur said. Luckily, he found mostly talented actors to play them. While majority of the teens were cast from the Harker School in San Jose, the adults were cast from a theater group, Naatak, a prestigious Bay Area acting crew which has been around for 25 years. "I was consistently blown away by the level of performances, which weren't just your average high-school productions. These kids were actually transforming into character, understanding the subject material, and delivering powerful dialogue with impeccable timing," he said about the Harker School students. "I felt like I rarely directed on set because of the sheer talent of the ensemble cast."
Both, Jaya Prasad as Arti and Vishal Vaidya as Nick, deliver a believable and light-hearted performance as angsty, flirty teens who actually have more depth to them than what you (or their families) would like to believe.
"Becoming Nick was easy in that I had many shared experiences with him. Not only did I understand the feeling of being taken to Indian family parties over the years, but, being half Indian and not speaking any Hindi or Marathi, I could also relate to being the outsider," Vaidya said. "Nick (as well as Arti and Sahil) is a great representation of my experience growing up, and a whole lot of fun to play."
Prasad reflects that she stepped into the role of Arti with ease due to the character's defining quality, her big heart. She agress with Vaidya on the portrayal of Indian-Americans in "Family Party," "I think what gives this film its immense power is its focus on Indian-American families as they are in real life, without attaching any stereotypes.  A lot of the Indian-American films to date have included at least one comic relief in the form of the "typical Indian FOB" you see routinely on television," she said.
"In a world where "Indian-Americans playing normal people" isn't such a game-changer, however, Family Party is really about being there for your family, accepting who you are, and the trials and turmoils of growing up," Prasad said. Regardless of anything else, these are themes that everyone can connect with, and I think that this film has enough heartwarming nuggets for everyone to walk away with something."
Jai Ahuja as Sahil and Rahul Nalamasu as Sanjay also bring their characters to life well.
The parents, especially Shruti Tewari ("Love Aaj Kal"), who plays Rani, Nick's supportive mother, does a convincing job.
As if the ironical humor in the whole 50 minutes wasn't amazing, Nitin Deo as the Pundit and Hunter Milano as Nick's best friend Gary contribute to the lighter, funnier moments.
Mathur has woven a wonderful storytelling weave which incorporates dialogues that are fresh but also relatable. You will definitely identify with at least one, maybe more characters. Most importantly, "Family Party" narrates a tale that shows life as an Indian-American in a totally different, unique light than what has already been depicted. In fact, that's what makes it stand out.
There are small moments in the film, and after looking at them, the audience is bound to say something on the lines of 'yes! this is exactly what happens to me, too!' Whether it's Nick's insistence of leaving the party as soon as he eats food or the uncles commenting on how much he's grown, or the time when the ladies take a one second interest in his life only to crib about his mischievous nature behind his back, they speak to the childhood stories of all us.
"My goal is to have generation X, Y, Z all sit down, enjoy this film together and realize there is no need for this generational tension that's always been depicted. The world is such a big place, full of opportunities. It's changed and it's time for all of us to change," Mathur said.
He believes that actors like Aziz Ansari and Mindy Kaling are paving a way for people like him to grow in this field. In the last few years, American television and film has witnessed a sturdy rise of South Asian actors. Different characters and shows give different perspectives of life as an Indian-American. Kaling's "The MindyProject" shows her as an intelligent but klutzy OB-GYN running her own practice and engaged to an Italian-American colleague. Ansari's "Master of None" shows him as an average 30-year-old trying to figure out issues like racism and interracial dating, while attempting to be an actor. Both of their previous roles, Kelly Kapoor in "The Office" and Tom Haverford in "Parks and Recreation," featured them as once again navigating through life and their careers as Indian-Americans. Another thing that's common between the two comedians? They are beloved and successful. Also what's common? They had to create their own roles in "The Mindy Project" and "Master of None" because their previous characters, as fantastic as they may be, were not developed enough.
In a landscape like this one then, where Priyanka Chopra and Deepika Padukone are venturing into Hollywood and Ansari and Kaling nuzzle on the edge of the Indian-American lifestyle, "Family Party" contributes to the growing trend but in its own way, sets its own trends.
"Family Party" premiered in 2015 at the prestigious New York Indian Film Festival alongside "Slumdog Millionaire," "Monsoon Wedding," "The Namesake." It is available on Netflix.