Patna Sankalp Rally: PM Modi Attacks Opposition For Questioning Air Strike in Pakistan; Recounts Work Done in Bihar | Highlights
Here are the top highlights from Patna's Sankalp rally held in the city's Gandhi Maidan.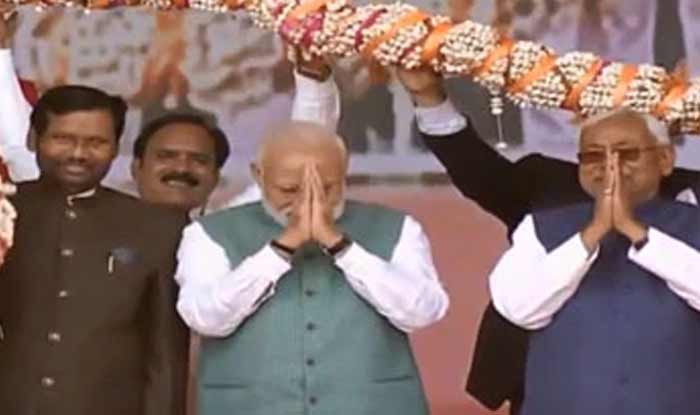 Patna: The Sankalp rally at Patna's Gandhi Maidan started off at a promising note with Prime Minister Narendra Modi and Bihar Chief Minister Nitish Kumar sharing the dais after nine years.
The rally began with Bihar Deputy Chief Minister Sushil Modi's address and quickly moved to Chief Minister Nitish Kumar taking the stage.
The JD(U) president started off by praising Narendra Modi-led NDA government's developmental work and schemes for the upliftment of poor and backward.
Nitish Kumar then lauded Indian Air Force's (IAF) 'pre-emptive air strike' on terror buds across Pakistan and hailed how Prime Minister Narendra Modi 'forced' Pakistan to return IAF pilot Wing Commander Abhinandan Varthaman.
Read: Masood Azhar's Brother Confirms IAF Strikes on JeM Terror Camps in Pakistan's Balakot
He further spoke of the BJP-JDU's renewed ties and explained that this alliance has only been stitched keeping in mind the welfare of Bihar. "We will win all 40 seats," roared a confident Nitish Kumar, assuring the Prime Minister of Bihar's resolution to help NDA government redefine India and Bihar.
Taking over from Nitish Kumar, Prime Minister Narendra Modi began his address by thanking the people of Bihar for welcoming him with an open heart, "I have the good luck of sharing a few moments with all of you from the historic Gandhi Maidan today and all of my companions."
Elucidating on the NDA government's work for the poor and down-trodden, PM Modi said, "The NDA government of the Centre has made unremitting efforts to speed up the momentum for the development of Bihar. A few days ago, a gift of over Rs 30,000 crore projects in Barauni was given to Bihar. This was a glimpse of the continuing efforts being made for the development of Bihar."
Continuing, the Prime Minister said, "The NDA government will ensure that development work in Bihar touches new height. Be it children's studies, jobs for youth, medicine for the elderly in families or irrigation for farmers." He further added, "Special attention is being given to transport as well as other infrastructure related to electricity and energy."
Taking a dig at Lalu Prasad Yadav, the Prime Minister said, "What has happened in the name of fodder, the people of Bihar know very well. We (NDA) have shown the courage to turn off the culture of plunder, theft, lies and deceit and also eliminated middlemen from government work."
Sparing no one, Prime Minister rebutted Congress' famous chowkidaar jibe and said, ", "These days a competition is underway to abuse the 'chowkidaar', but you be assured, this 'chowkidaar' of yours is as alert as ever."
Tearing into his political rivals, Prime Minister Narendra Modi said, "They say finish Modi, I say finish terrorism. They say defeat Modi's government, we say let's defeat poverty and corruption."
Denouncing Opposition's attempts at cornering the NDA government over the recent Indian Air Force-led air strikes in Pakistan, PM Modi asked why they (Opposition) were busy discrediting the work and valour of our armed forces.
"Now they have even started asking for proof of the air strike. Why are Congress and its allies demoralising our forces? Why are they giving statements which are benefiting our enemies?," Modi asked amid loud cheering from the crowd.
Strengthening attack on his political adversaries, PM Modi added, "The constituents of ' Maha Adulteration ' live just for their selfishness, no one cares for them. If there is "great adulteration" in the country, there would not be judgment nor welfare of the poor. The tendency of these people is to develop, not to develop the country."
Lauding the courage of Indian armed forces, the Prime Minister exclaimed, "India will not tolerate attacks on its motherland. We have given a befitting reply to our perpetrators and now no one can make us bleed, they know India will take proper revenge."
Ending his speech with a reference to 'New India', the Prime Minister remarked, "This is new India, which is now moving forward with new order and new policy."