Puducherry: CM Narayanasamy's Agitation Enters Day 3, L-G Kiran Bedi in Delhi
The CM and his Cabinet colleagues have been on dharna since Wednesday.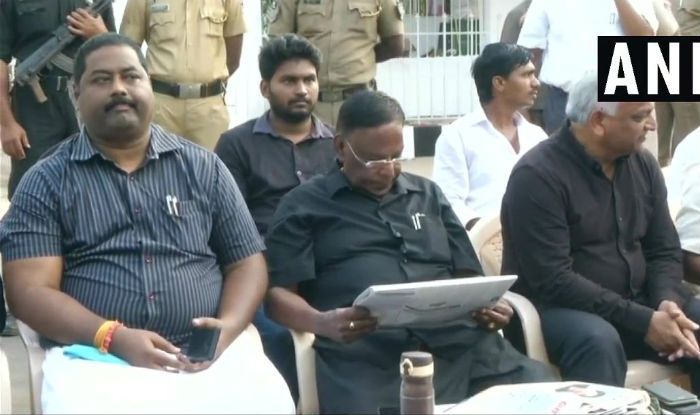 Puducherry: Puducherry Chief Minister V Narayanasamy has continued his dharna outside the Raj Nivas in protests against Lieutenant Governor Kiran Bedi.
The CM wants the Centre to recall Bedi because of her "negative stand" towards his government's proposals.
Narayanasamy and his Cabinet colleagues have been sleeping on a pavement while demanding that the L-G sanction 39 government proposals, including a free rice scheme.
In what is reminiscent of similar agitations by his Delhi and West Bengal counterparts, Narayanasamy was joined by functionaries of different wings of the ruling Congress and the DMK.
The CM was also annoyed over the deployment of RAF. "Where was the need for calling 400 RAF personnel when we are in peaceful dharna… your attempt to instil fear psychosis will never succeed. We are Puducherians," he tweeted.
Meanwhile, Opposition AIADMK Legislature Wing leader A Anbalagan criticised the CM for going on the dharna and said it was aimed at gaining political mileage ahead of coming Lok Sabha polls.
The BJP staged a counter-protest against Narayanasamy's dharna.
A source in the Raj Nivas was quoted by PTI as saying that Bedi was set to return on February 20 and had invited the Chief Minister for a meeting the next day.
Asserting that their protest would continue till the government proposals were cleared, the chief minister said, "Even if it is not possible to immediately concede all the 39 pleas, the L-G can give her nod to some of the important schemes, including the free rice scheme and grants."
"When people's representatives are holding an agitation in support of their charter of 39 demands since Wednesday, seeking her approval, it is amusing that Bedi had left for Chennai en route Delhi," PWD Minister A Namassivayam said.
Meanwhile, barricades have been erected around the L-G's office to keep agitators at bay.
The CM had also led an agitation in front of Parliament on January 4, demanding that the Centre sanctioned statehood for Puducherry and recalled Bedi.