Rajasthan Assembly Election 2018: Congress Releases Manifesto, Promises Farm Loan Waiver, Free Education to Women
The manifesto was released at an event in Jaipur by state Congress president Sachin Pilot and former chief minister Ashok Gehlot.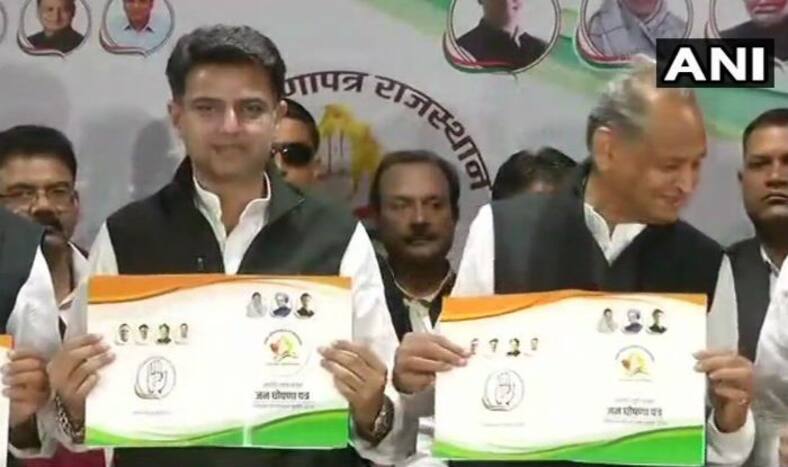 Jaipur: The Congress on Thursday released manifesto for Rajasthan Assembly Election 2018, promising to waive the loan of farmers and provide free education to women and jobs to youth. The 'Jan Ghoshna Patra' was released at Pradesh Congress Committee (PCC) office in Jaipur by state Congress president Sachin Pilot, former chief minister Ashok Gehlot, chairman of the manifesto committee Harish Chaudhary and other senior leaders of the party.
Pilot said the manifesto was prepared after taking opinions through multiple platforms such as social media. Two lakh suggestions were received for the preparation of the manifesto, he said.
The Congress party, in the manifesto, promised to waive the loans of farmers if voted to power, an announcement the party president had made during an election meeting in Jaisalmer's Pokhran Assembly constituency on Monday. Adding further, Pilot said that the party intends to give Rs 3,500 monthly allowance to unemployed youths in the state.
Promising to bring a legislation for the protection of journalists in the state, the party also pitched for the constitution of an implementation committee for time-bound implementation of the manifesto.
The Bharatiya Janata Party (BJP) had released 'Sankalp Patra' for the Rajasthan polls earlier on Tuesday. The party's manifesto was released by Rajasthan Chief Minister Vasundhara Raje and Union Finance Minister Arun Jaitley.
Coming down heavily on the BJP over its poll manifesto, Congress spokesperson Randeep Surjewala termed it a 'deceptive document'. He said that the saffron party should have an apology letter instead of releasing the manifesto.
Targeting BJP over the announcement made for farmers, Surjewala said, "Jhuth ki buai, jumlo ka khad, kisan se dhoka, vade nahin yaad." Surjewala further said, "The BJP can waive off loans of big businessmen, but cannot waive the loan of farmers. They have announced to create a start-up fund of Rs 250 crores for farmers. Meaning each farmer will get a help of Rs 50."
The voting for Rajasthan polls is scheduled for December 7. The counting of votes will be held on December 11, along with four other states – Telangana, Madhya Pradesh, Chhattisgarh and Mizoram. There are 200 assembly constituencies in Rajasthan.