Rajdeep Sardesai quits Twitter, after allegedly hurling abuses in direct messages to haters
Since Friday night twitter trolls had alleged that 'Rajdeep Sardesai has been responding directly to the tweets via personal messages to haters and had also abused them'.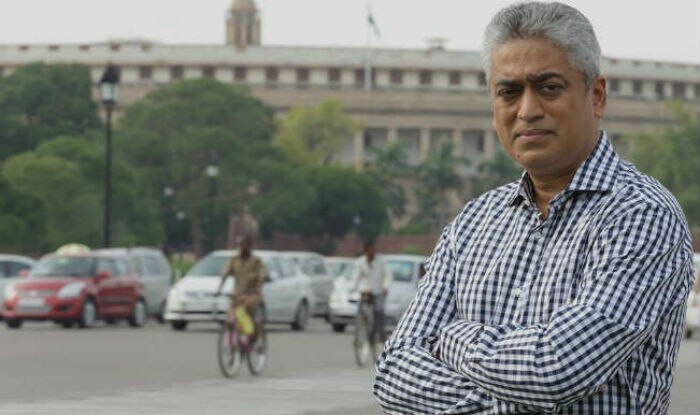 New Delhi, April 30: Celebrity television journalist Rajdeep Sardesai today deleted his Twitter account after alleging that his account was 'hacked' by some miscreants. Rajdeep is often trolled on Twitter and most of the time he is abused as soon as he comments on the microblogging website.
Earlier Rajdeep had claimed that he and his wife Sagarika Ghosh are constantly harassed by Twitter trolls, whenever they post their opinions against the Bharatiya Janata Party and the NDA government.
This year on January 16, Sardesai, one of the most respected journalist of the country tweeted, where he said, "The language used by @PMOIndia supporters on social media is appalling. why do supporters embarrass their leader? Who will rein them in?" Read Also: (Rajdeep Sardesai slapped at Madison Square Garden: The senior journalist should come out with a public apology)
Since Friday night Twitter trolls had alleged that 'Rajdeep has been responding directly to the tweets via personal messages to haters and had also abused them'. There are four such messages which has been posted by Twitter trolls in which the India Today Editor had allegedly abused them. Though the authenticity of the post is yet to be verified.
On Saturday afternoon at around 3:19 PM Rajdeep alleged that his Twitter account has been hacked by someone. He tweeted, "How low will some people now stoop? Hack my account? Put out false messages? When will this end? Time to disable account. Enough is enough".
In last two years, several journalists and film personalities have expressed their outrage over the verbal abuse rampant on Twitter. Even popular anchor like Ravish Kumar, host of 'Prime Time' on NDTV India, decided to stay away from Twitter last year in August after being hounded by the Twitteratis who disagree with his views.
Apart from Twitter reaction, Rajdeep has not given any official comment on this entire saga and there are no reports of any police complaint registered by him in the cyber cell.
This is what Rajdeep tweeted before deleting his account.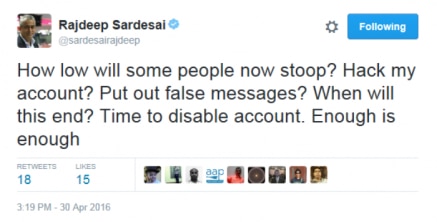 Here are a couple of 'direct messages' by @sardesairajdeep to users: