Rajdeep Sardesai slapped outside Madison Square Garden Watch Full Video: Is the Consulting Editor a Victim or Villain?
Watch the series of videos which unfolds the truth behind the whole Rajdeep Sardesai being slapped episode.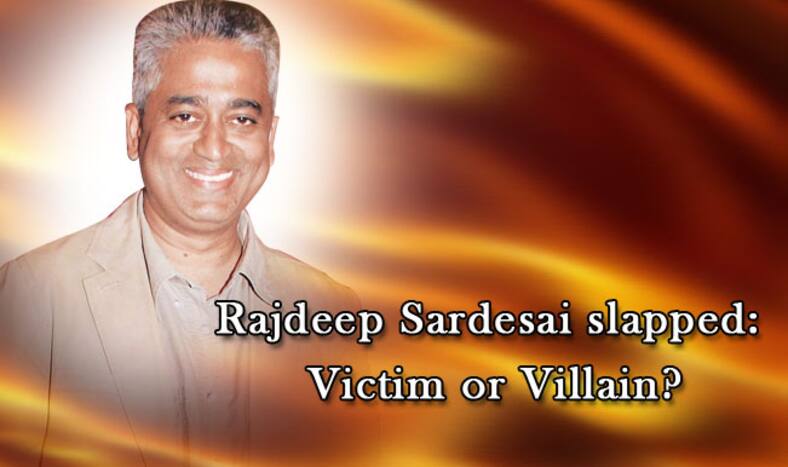 India slept to one of the most revered sleep on Sunday night as Prime Minister delivered an awe-inspiring speech at Madison Square Garden in United States of America. But only a few moments after Prime Minister Modi had finished delivering his speech, a video surfaced on YouTube that surprise quite a many viewers. The video posted had one of India's most senior journalists, Rajdeep Sardesai being heckled by a group of people outside the iconic multi-purpose arena of Madison Square Garden. Soon the video went viral and social media was abuzz after an astounding speech. #ModiAtMadison was soon replaced by #RajdeepSlapped as the top trend.
Later, the sympathisers tweeted with #IStandWithRajdeep. The whole fiasco should shame Rajdeep Sardesai as the truth seen in whole episode has turned out to be false. Is Rajdeep Sardesai right in playing victim card after provoking the crowd?
We take a look at how the matter unfolded here in few videos:
1. Rajdeep Sardesai being heckled
The video shows that a person in saffron-clad kurta fist-fights with journalist Rajdeep Sardesai, who tries to defend himself. After being allegedly assaulted, the Consulting Editor of India Today group took to Twitter in his defence. Sardesai tweeted, "Great crowd at Modison square garden! Except a few idiots who still believe abuse is a way of proving their machismo! Glad we caught the idiots on cam. Only way to shame the mob is to show them."
For once, everyone stood by the senior journalist Rajdeep Sardesai, but what he wrote was only his side of the story (half-truth). But hasn't that been the case always Sardesaiji?
Now let us look at the other side of story:
2. Rajdeep Sardesai taunts, provokes the crowd
The video is too brief to understand the  scenario but it is evident that Rajdeep Sardesai is taunting the crowd when he says, "Kuch logo ke paas paisa zyada hai, class nahi hai (People here have money but no class)."
3. Rajdeep Sardesai abuses
The person in crowd abuses Rajdeep Sardesai in return saying 'You're an a**hole too." It shows clearly that who would have abused first? Anyone for Rajdeep Sardesai?
So Rajdeep Sardesai is the victim here or enacting to be?
The above videos clearly show that who provoked, taunted, or drew first blood. It was shameful for an Indian journalist to get into a scuffle with a crowd who was cheering for Prime Minister Narendra Modi outside the Madison square Garden. Rajdeep Sardesai, former Editor of CNN-IBN and now a Consulting Editor in India Today group shouldn't have crossed boundaries of indulging in a physical altercation. Are these the media ethics they expect when back home in India?
Couple of more videos here that will depict about who was at fault. Or in case if you're still not convinced whose provocation and temper caused the whole fiasco, these would surely help.
A longer version of the same episode; co-relates with the whole drama
Another video
Rajdeep Sardesai got a taste of his own medicine in a much bitter way. Being on the other side of the seat in front of the camera is a tough job Sardesaiji. You shouldn't have played the victim card and tried to get away with the nuisance you created outside the Madison Square Garden.
On a lighter vein, a fan outside the Madison Square Garden shot this finale clip before signing off: