Rape, Sexual Assault Cases in India: A Timeline Till it Stops
We, at India.com, seek justice for each and every victim of sexual assault and have taken it upon ourselves to tell you about every such case, every such incident that needs attention, action and accountability.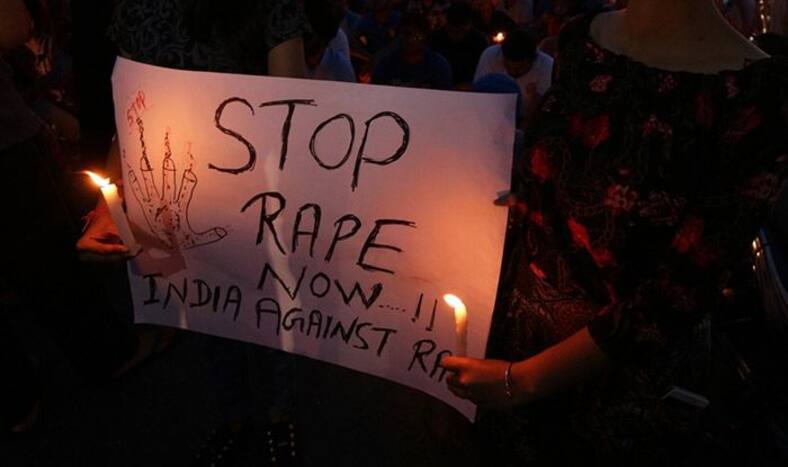 New Delhi, Apr 19: India has been raging over crime against women and children. Protesters have been demanding strictest possible punishment for the culprits in Kathua gangrape and murder case as well as Unnao rape case. Recently, the Union Cabinet on Saturday approved an ordinance to amend the Protection of Children From Sexual Offences (POCSO) Act in its meeting in New Delhi. The ordinance recommends the death penalty for rapists of children below 12 years of age. President Ram Nath Kovind on Sunday also approved the ordinance.
A similar outrage was witnessed in 2012 when a girl was gangraped and killed in New Delhi and her friend was beaten up in a moving bus. In what the world knows as Nirbhaya case, the 23-year-old student was brutally gangraped on a moving bus in the national capital on December 16, 2012, and a fortnight later, on December 29, she succumbed in a Singapore hospital. The men who raped her are in jail on a death sentence, even as the victim's mother waits as to when the sentence would be executed.
Since then and even before that, there have been many more Nirbhayas, many more cases of sexual assault of infants, little girls, and women. There have been views on the social media that while the demand for justice of some victims gains pace, many victims and cases go unspoken of or are not reported. We, at India.com, seek justice for each and every victim of sexual assault and have taken it upon ourselves to tell you about every such case, every such incident that needs attention, action, and accountability.
We aim to continue to bring reports on these cases till the society becomes safer for women and till these heinous crimes stop. Below are reports of the cases starting April 19, 2018:
May 15, 2018
A woman's body found in the bushes near Rajghat. Police feel she may have been gang-raped first before being strangled. Her face had been crushed with stones.
May 10, 2018
An 8-month-old girl raped in Alwar, allegedly by her neighbour. The girl was last seen with a neighbour who carried her away after promising her family he wanted to spend some time with the child, playing with her. After that, she was found injured. She was admitted to hospital and was reported to be out of danger.
May 9, 2018
Two minor girls in Kolkata's Govindpura allege gang-rape by a security guard and his friend over a period of two months. Both the accused have been arrested and booked under POCSO Act.
Meanwhile, in Uttar Pradesh, a six-year-old girl was allegedly raped by a 17-year-old neighbour. The minor was sleeping at her house in Chandrauli in the evening when her neighbour barged into her house and took her to a farm nearby where he allegedly raped her.
 May 7, 2018
A 16-year-old girl was allegedly raped and set on fire in Kankarbona area of Pakur in Jharkhand. The victim was admitted to West Bengal's Malda Hospital in a critical condition. The girl was alone at her uncle's residence when a man from the village entered her house and attacked her. As the girl resisted the rape attempt, the accused poured kerosene on her and set her ablaze before fleeing. He was arrested later.
A 20-year-old visually impaired girl was allegedly raped by her neighbour who entered her house on the pretext of getting sugar in Karol Bagh. The accused was later arrested by the police.
May 6, 2018
A 12-year-old tribal girl was gang-raped by seven youths in Pathergama police station area of Godda district in Jharkhand. Two of the accused have been arrested.
In another case reported from Banda, Uttar Pradesh a six-year-old girl was raped allegedly by her uncle in Tindwari area. The incident took place after the girl was taken away by her 19-year-old uncle. The FIR was registered by the victim's mother and the girl was sent for medical examination, which confirmed rape. The accused is absconding.
A 20-year-old woman's body found in a tea garden. She had allegedly been gang-raped and killed. Four persons were arrested in Assam's Cachar district.  The woman's father had filed a missing diary with the police along with a complaint against four persons who were subsequently arrested.
May 5, 2018
A woman was allegedly gang-raped in a hotel in Rajasthan's Alwar in the evening. The woman said she was drugged and gang-raped by at least five people at a hotel in Bhiwadi's Phool Bagh area. The five accused have been arrested after the victim informed the police of the crime with the help of a friend. The woman who works as an event organiser in Delhi said that the accused had called her to Alwar on the pretext of arranging an event for them and thereafter gangraped her. All the five accused belonged to Delhi.
May 4, 2018
A 13-year-old girl was allegedly abducted and raped by three men in Shamli, Uttar Pradesh.  Acting on a complaint filed by the victim's mother, the police registered a case against the three accused.  The complainant told police that she was forcibly picked up by the accused in a car.
Fourteen persons arrested in connection with the alleged rape and killing of an 18-year-old woman by setting her on fire in Chatra district. The victim, who suffered severe burn injuries in the incident, was declared "brought dead" by doctors when she was rushed to a nearby hospital, police said. A massive hunt was on to nab six others, including the main accused, Dhanu Bhuiyan. A Special Investigation Team was formed to probe the case.
May 2, 2018
A ward boy of Osmania General Hospital (OGH) in Hyderabad was arrested for allegedly raping a woman patient. Along with the ward boy, Berla Nagaraju, a home-guard, who was on duty at the hospital, was also arrested. The 35-year-old victim said that when she went to Banjarahills police station to lodge a complaint against her husband's ill-treatment towards her, the police sent her to Osmania General Hospital for treatment. After her treatment, when she was sitting inside the waiting hall on the ground floor, the accused took her to the first floor and raped her.
April 27, 2018
A woman booked a cab in Greater Noida. She was allegedly gangraped and forced to consume alcohol after which the cab was taken to a forest area near Jarcha. The police have detained six persons in connection with the crime. The woman was sent for medical examination.
April 24, 2018
A 12-year-old girl was allegedly raped in Delhi's Ghazipur. The accused, who is also a minor, has been sent to juvenile justice home.
April 22, 2018
A minor girl was allegedly raped by four men on the pretext of getting her a job. The incident occurred in Unnao district of Uttar Pradesh.  Following her complaint, police have registered a case against all accused including victim's father.
April 22, 2018
A 22-year-old boy was put behind the bars on Saturday after he allegedly raped his 46-year-old biological mother in Patan. According to police, the accused in the case raped his mother on Thursday night around 1 am. He entered her room pretending to drink water, and then forcing himself upon her. Later, he also tried to choke her.
The woman said in a statement that she was deeply shocked at her son's behaviour. She told her husband about the incident after garnering courage. Her husband who is a mason, further lodged a complaint with the police after his elder son advised him to do so. The police have sent the woman for medical examination. Further investigation in the case is underway.
April 21, 2018
A four-month-old baby was raped and murdered in Rajwada area of Indore in Madhya Pradesh during wee hours on Thursday. The police have arrested victim's uncle in connection with the crime. Initially, the police had detained an acquaintance of the family but cleared him. Cops say that the accused had an argument with the mother of the baby and committed the crime to teach her a lesson.
Expressing shock over the incident, Madhya Pradesh Chief Minister Shivraj Singh Chouhan has ensured strictest action against the accused.
April 20, 2018
A 13-year-old boy on Thursday allegedly raped a nine-year-old girl at his home in Mainpuri, Uttar Pradesh. The boy had reportedly lured the girl with a silver ring. The police said that the incident took place two days ago when the victim was alone at her home. The boy has been held.
The suspect, who is reportedly a neighbour of the victim, threatened the girl with dire consequences if she dares to mention the incident to anyone. The girl on Thursday told her mother about the incident who then registered a complaint against the boy.
April 19, 2018
A 24-year-old woman was allegedly gang-raped in a moving car by two men on Yamuna Expressway.  The incident occurred in Krishnanagar, 15 km off the expressway, last week but the complaint was filed on Thursday. The investigation led to the arrest of Surendra Gurjar who reportedly wanted to use the young woman to "honey-trap" a Salman Malik in whose car she took a lift. However, the plan went awry and Malik and his friend raped her. Her medical examination has confirmed rape and DNA samples of the accused have been sent for tests.
April 19, 2018
A six-year-old girl was allegedly raped in Siddharthnagar in Uttar Pradesh late on Wednesday night by a man who is from the same village. The crime took place in the Chilhiya Police Station limits when the little girl went out to see a 'baaraat' procession reportedly. The accused has been arrested and an investigation is underway.
A man allegedly 'gifted' his daughter to his friends in Sitapur in Uttar Pradesh and later, joined them in raping her. One of the three accused has been arrested while efforts are on to nab the others. The incident was reported on Monday.