Rs 100 Crore Demonetised Notes Seized in Kanpur; Businessmen, Middlemen From Hyderabad, Kolkata, Varanasi Arrested
Kanpur, January 18: Sixteen people have been arrested for trying to close a deal to exchange demonetised notes worth Rs 100 crore for new ones. Those arrested included businessmen and middlemen from H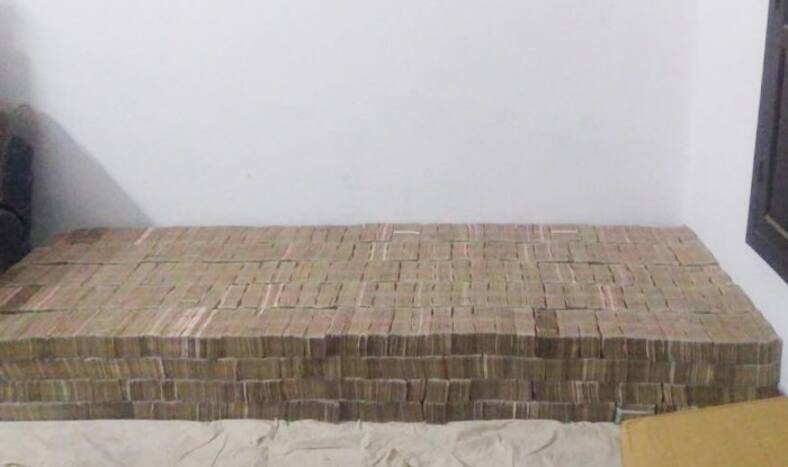 Kanpur, January 18: Sixteen people have been arrested for trying to close a deal to exchange demonetised notes worth Rs 100 crore for new ones. Those arrested included businessmen and middlemen from Hyderabad, Kolkata and Varanasi who arrived in Kanpur a few days ago for the deal. On Tuesday night, the Kanpur Police raided a residence where they found old currency notes in trunks, sacks, and cartons.
The police were assisted by a team from the National Investigation Agency and the Reserve Bank of India. "Out of 16 people who have been arrested, seven are businessmen, four are money converters and five are field agents. All of them have charged under sections 420, 511, 120B and 5/7 of the Specified Bank Notes (cessation and liability act) Act, 2017," IG, Kanpur zone, Alok Singh said, the Hindustan Times reported.
Kanpur: All accused arrested in connection with recovery of Rs 96 crores in demonetised currency, sent to jail, booked under several sections. pic.twitter.com/6JWg52FuE2

— ANI UP (@ANINewsUP) January 17, 2018
The counting of the demonetised notes seized finished on Wednesday morning and it was found to be worth Rs 100 crore in old Rs 500 and Rs 1000 notes which have declared illegal by Prime Minister Narendra Modi in November 2016.
The mastermind is believed to be a local businessman Anand Khatri, who, along with men was exchanging demonetised currency notes for various businessmen. Singh said the police had been on the trail of the operation for six months based on a tip-off. After the NIA siezed Rs 25 crore of demonetised notes in Meerut last month and arrested a property dealer, it got involved in the operation.
"The group had field agents who collected the money from major cities of Uttar Pradesh and handed it over to Khatri. The money was sent to Hyderabad (for exchange into new currency notes) from Kanpur, Varanasi and Kolkata. Their commission ranged from 15-40 per cent and it depended on the desperation of the businessman concerned," said Singh.
#WATCH Police seized demonetized currency worth crores from a residential premises in Kanpur. pic.twitter.com/Hh7sLrWwoG

— ANI UP (@ANINewsUP) January 17, 2018
Demonetized currency worth crores seized from a residential premises in Kanpur, counting underway, questioning on. (Outside visuals) pic.twitter.com/wmWB1Tyu0z

— ANI UP (@ANINewsUP) January 17, 2018
Singh said that the arrested moneychangers from Hyderabad and Kolkata have paid Rs 15 crore in new currency to Khatri and Yadav in the last six months after conversion. "They haven't revealed their modus operandi. We will be seeking their remand from the court for pointed questioning," Singh said.
ADG, law and order, Anand Kumar said, "All the agencies which specialise in investigating such cases have been informed. We are waiting for their support to help us identify the backward and forward linkages."
According to the police, Khatri recruited a clerk at DAV College Santosh Kumar to help him in his idea to convert old demonetised notes for the new ones for those who could not declare it as it was an undeclared money. The duo contacted brokers Koteshwar Rao, Ali Hussain, Rajeshwari Ranga Rao, Manish Agarwal and Sanjeev Agarwal from Kolkata and Hyderabad who agreed to get the money converted. They had agreed to pay Rs 25 on every Rs 100 converted and a 10 per cent commission for Khatri.
The police seized Rs 96 crore from Khatri's house for which they had to arrange five trunks of 4×6 feet. The counting of the old currency notes lasted 12 hours and the police had to use 37 machines and 80 men for the task.
The income tax department officials who raided the house found a diary with mysterious entries. They are trying to decipher it to move ahead in their investigation. "The I-T sleuths confiscated the diary which has entries in alphabetical order. The contents of the diary were being studied. Prima facie it appears that the entries mention the money being paid to Khatri," an official said.