Sabarimala Reopening Day 2: 52-year-old Woman Injured in Scuffle as Devotees Refuse to Believe She's Allowed to Visit, Says Report
Lalitha was injured in a scuffle after she reached the top.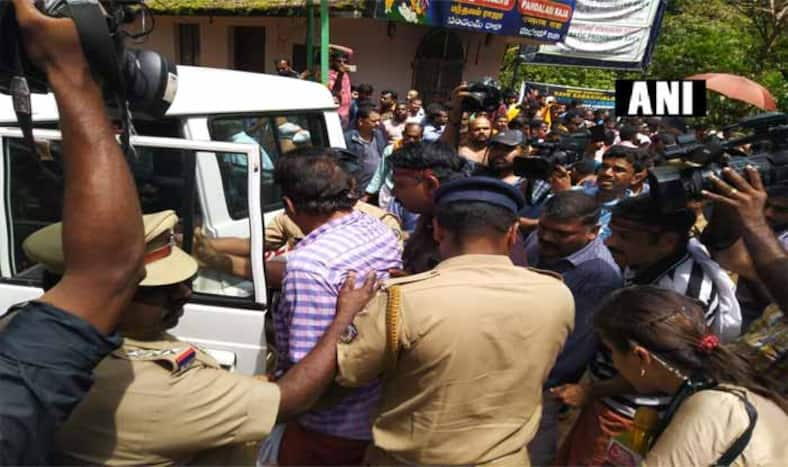 Thiruvananthapuram: The Sabarimala temple is set to open for another day on Tuesday and its doors would be closed after the 'Chitira Atta Thirunal' puja marking the birthday of the last king of the princely state of Travancore, Chithira Thirunal Balarama Varma. The temple will close at 10 PM after the ritual. (Also read: On Day 1, Only 1 Woman Could Make it But Went Back)
Media reports said that a 52-yr-old woman, Lalitha from Thrissur, was surrounded by protesters at Sannidhanam after they suspected that she belonged to the 'banned group' of women. She told reporters that she had come for her grandchild's 'choroonu' (first rice-feeding ceremony) at the Pamba Ganapathy Temple and that the police had checked her ID card before allowing her.  Lalitha was injured in a scuffle after she reached the top. The woman would still like to visit the temple and once the protesters found that she was over 50, devotees were willing to provide security for her to visit the temple, said a report in The Indian Express.
On Monday, only a 26-year-old woman, Anju, had taken the chance to visit the shrine. Accompanied by her husband and two kids, Anju reached the Pamba base camp. However, on police's warning, she decided to head back home without visiting the temple.  BJP state president PS Sreedharan Pillai sparked controversy after an audio tape emerged of him telling a gathering that the violent protests in October were a "golden opportunity" for the party. He also claimed that the chief priest of the temple took his advice on the course of action in case women barged in. Later, he claimed he had given his suggestion in his personal capacity. However, the priest went on to refute Pillai's claims and said the only people he had spoken to about the issue were his family.
On Tuesday, BJP leaders AN Radhakrishnan and PK Krishnadas held a prayer session at Pamba. They had to use public transport as their private vehicle was not allowed along the route. Around 2,300 personnel, including a 20-member commando team and 100 women personnel, are deployed to ensure the security of devotees.