Saif Ali Khan's 8 Most Unforgettable On-Screen Characters
To celebrate Khan's birthday, we list all of his roles that show him at the peak of his groovy personality.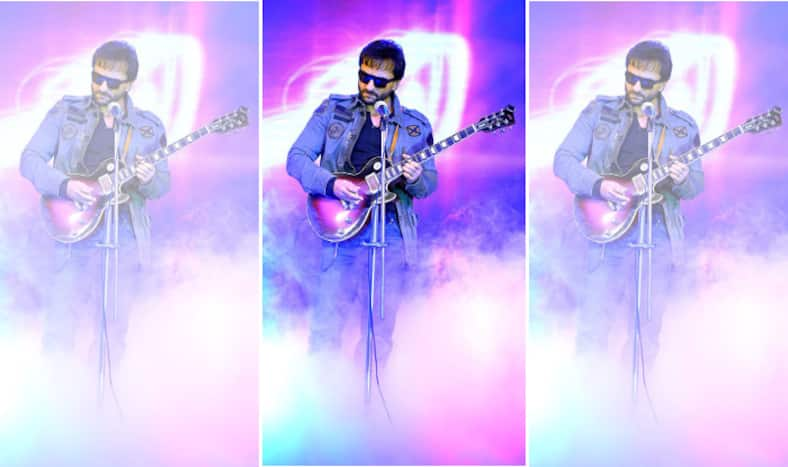 [Photo Credit: STRDEL/Getty Images]
Bollywood actor Saif Ali Khan turns 46 on August 16. In a film career that spans 24 years and 60 movies, Khan has managed to rise to the top and become a fan favorite.
The actor stems from royalty as his father, late cricketer Mansoor Ali Khan, was the Nawab of Pataudi. In a November 2011 ceremony, Khan was crowned with this title. His mother, Sharmila Tagore, will go down in history as one of the most beautiful and talented actresses of our time. Clearly, all this royalty and talent has rubbed off on him and all of the cool characters he has played in the last few years.
To celebrate Khan's birthday, we list all of his roles that show him at the peak of his groovy personality.
[Photo Credit: GIPHY]
1. Sameer, "Dil Chahta Hai" 
2001's flick "Dil Chahta Hai" is often considered a comeback of sorts for Khan because of his largely positive and successful character, Sameer. Before this film, some of his recent roles included "Biwi No.1," "Kachche Dhaage," and "Kya Kehna." While they were all well-known, "Dil Chahta Hai" left a lasting impact.
In the film, three best friends, Akash (Aamir Khan), Sid (Akshay Khanna), and Sameer go through ups and downs of life. The film explores friendships, relationships, and how our decisions about these two can change the course of our life. Saif's light-hearted role, a man who falls in love easily and cares too deeply, became a quick favorite for the funnier moments of the movie. His development and trajectory as an actor began growing after this film.
2. Rohit, "Kal Ho Na Ho" 
This 2003 film, starring Shah Rukh Khan, Preity Zinta, Jaya Bachchan, is known for making several things famous — Brooklyn Bridge, the "GUJJU" song, and techniques like "chhe din, ladki in." But perhaps, the best gift to us was a goofy, lovable Saif Ali Khan in his role of Rohit, a lovelorn, rich, New Jersey boy with a great heart. He falls in love with his best friend Naina (Zinta), who is actually in love with her neighbor Aman (SRK). They don't know that Aman is actually terminally ill and he has been conspiring to bring Rohit and Naina together the whole time.
"Kal Ho Na Ho" gave us several reasons to cry but it also gave us some excellent lighter moments, thanks to the great friendly chemistry between the two Khans. As Rohit, Saif proved his comic timing is as genius as ever.
3. Karan, "Hum Tum" 
In this 2004 Bollywood version of "When Harry Met Sally," Khan plays cartoonist/author Karan Kapoor. He is rugged, devoid of commitments, and only thinks about himself. Oh, and he hates women—no surprises there. He meets Rhea (Rani Mukherji) on a flight to New York and they form a love-hate relationship.
After that, they bump into each other during various occasions of their life, such as Rhea's wedding, which is being organized by his mother, or a few years later in Paris, where she has moved after her husband passed away. Through each meeting, their connection becomes deeper and they eventually fall in love. Not only was this a beautiful film which did wonders with its lead duo, it further cemented Khan as the actor to bank on for the effortlessly cool characters.
4. Nick, "Salaam Namaste" 
Starring opposite Preity Zinta in this 2005 movie, Khan played a chef, Nick, who is also actually an architect! He spars with Zinta's Ambar, a med student who also hosts a radio show for money. Despite this, they have a connection and decide to move in with each other to test their relationship.
Nick is a self-evolved, very hip guy and falls in love with Ambar. However, she gets pregnant and he doesn't want the baby. They continue living together even though they break up. This is a move not many Bollywood films opt to take because it clashes with traditional values. Khan once again nailed this character, a unique look at how modern day relationships actually function.
5. RV, "Tara Rum Pum" 
Honestly, what's cooler than playing a race car driver? That's right, nothing. In this beloved 2007 film, Khan played Rajveer Singh aka RV, an ambitious, thriving driver who marries Radhika (Rani Mukherji) and they have two kids. At first, life is hunky dory as he keeps raking in cash by winning races.
Unfortunately, one bad accident on the tracks derails his career and they go broke. He is forced to race on a completely different track — the streets of New York as he becomes a taxi driver. His hurt ego begins ruining his family until he falls back on track, slowly but steadily. "Tara Rum Pum" gave us not only fun music but also showed us that Khan can play both, a cool, confident guy and a heartbroken wrench all in the span of two hours.
6. Ranvir, "Race"
Abbas-Mustan's mystery thriller made its debut in 2008 and saw Khan play a suave businessman, Ranvir Singh. His step-brother Rajvir, played by Akshay Khanna, detests him and plots to kill him. However, smart cookie that he is, Ranvir plays along and this is followed by a whole bunch of twists, turns, songs, and relationships that are way too entertaining.
Through Ranvir, Khan got to explore a more broody, stylish, and cunning avatar, one that we thoroughly enjoyed. He carried this forward in the 2013 sequel, "Race 2," which saw him feuding with equally elegant John Abraham. While the second one lacked the surprises, it more than made up for it with high-action stunts.
7. Jai, "Love Aaj Kal"
In this 2009 hit, Khan plays ultimate chill boy Jaivardhan Singh, an architect who dreams to work in San Francisco. His girlfriend, Meera, played by Deepika Padukone, is moving to India so they break-up. He tries to be as cool as he can be but there is no denying that the two are meant-to-be. Despite her getting married, him hating the job he wanted so badly, and other obstacles, everything works out for them.
As Jai, he flawlessly portrayed the role of a man in love with his freedom while also with his girlfriend — something everyone experiences. His chemistry with Padukone and giving us classic lines likes "Aam Janta, the mango people," are a few reasons his "Love Aaj Kal" character will forever be the coolest one.
8. Gautam, "Cocktail"
In 2012, "Cocktail" become a surprise hit. Khan plays Gautam Kapoor, who initially falls for party girl Veronica (Deepika Padukone). Her roommate Meera (debutant Diana Penty) is a shy woman on whom Gautam had hit on earlier. As he moves in with them and continues his no-strings-attached relationship with Veronica, his mother Kavita (Dimple Kapadia) arrives and they lie to her that Gautam is with Meera, a girl his mother would approve of. Eventually, the two fall in love which blindsides Veronica, who actually fell in love with Gautam. If the love triangle sounds complex, it's because it is!
Turns out, Gautam is a nice guy who sticks with Veronica after an accident while Meera moves back to India. In playing this role, from a man wanting nothing but enjoyment from life to actually growing up and taking control of it, Khan, along with Padukone, make this film a good one!
Let us not make you believe that Khan is stereotyped, though. While his success comes from these movies, he has shown depth in critically acclaimed hits like "Omkara,"  "Go Goa Gone," "Kurbaan," and "Phantom." We can't wait to see what the actor delivers next!
Happy Birthday, Saif!