Sharad Yadav Meets RJD Supremo Lalu Prasad in Jail, Calls For Opposition Unity to oust BJP
New Delhi, Feb 6: Rebel Janata Dal (United) leader Sharad Yadav met Rashtriya Janata Dal (RJD) Supremo Lalu Prasad Yadav in Birsa Munda Central jail, Ranchi on Monday.  The sidelined JD(U) leader wa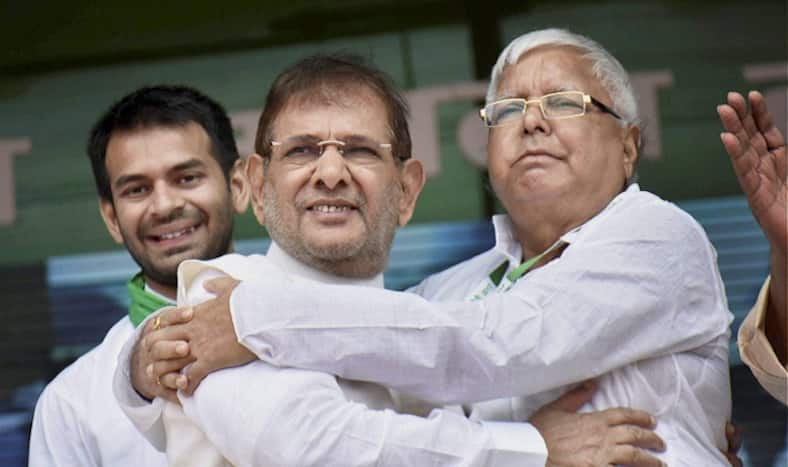 New Delhi, Feb 6: Rebel Janata Dal (United) leader Sharad Yadav met Rashtriya Janata Dal (RJD) Supremo Lalu Prasad Yadav in Birsa Munda Central jail, Ranchi on Monday.  The sidelined JD(U) leader was accompanied by Jharkhand Vikas Morcha (Prajatantrik) chief Babulal Marandi and party MLA Pradeep Yadav. The leaders reportedly discussed the current political scenario and pushed for unity among the opposition parties.
Speaking to media after the meet, Sharad Yadav hit out at Modi government and called it a  threat to the Constitution and the democracy of India. He said that his purpose of meeting Lalu Prasad was to "unite the opposition parties against the central and state government".
On being asked if he was seeking support from the RJD for a seat in Rajya Sabha, Sharad Yadav said that this is not a relevant question. I have appealed in the Delhi High Court against cancellation (of my membership).
"Ab sirf loktantra ko bachana hai; kuchh bhi ho is sarkar ko gira kar jaayenge (Only thing I want now is to save democracy)," Indian Express quoted Yadav as saying.
Meanwhile, Sharad Yadav's meeting with Lalu Prasad drew taunts from JD-U spokesperson Neeraj Kumar who said that Yadav is "desperate for a Rajya Sabha seat", and hence went to meet him. "Sharad Yadav has met Lalu Prasad in jail in search of a Rajya Sabha seat," said Kumar who is considered close to Janata Dal (United) President and Bihar Chief Minister Nitish Kumar.
Sharad Yadav has launched a Yatra across the country to unite opposition parties. He has already visited a few states.