Singer Vidya Vox on Blending two Musical Worlds: East and West
Born in Chennai, Iyer moved to the states at a very young age and grew up in Virginia.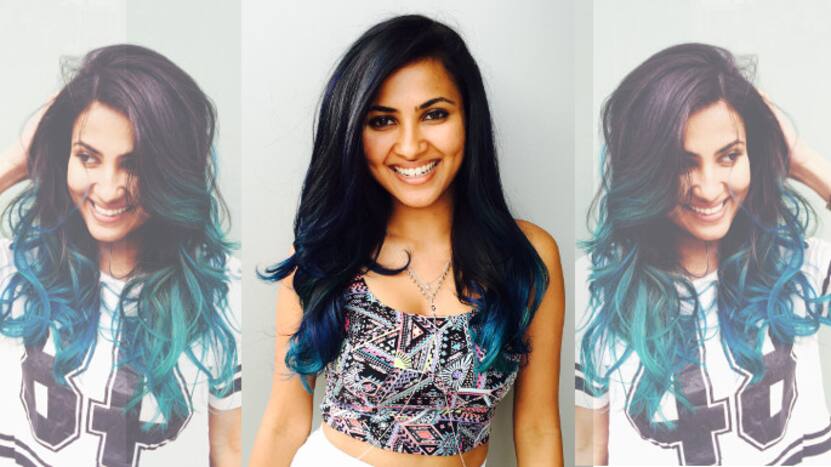 [Photos Credit: Winston]
Vidya Iyer, better known popularly by her handle, Vidya Vox ("Vox" is Latin for voice), recently released a mashup of the classic A.R. Rahman song "Kandukondain Kandukondain" from the Tamil movie of the same name and Justin Bieber's "Sorry."  As usual, the lyrics and musical accompaniment flowed seamlessly throughout the mashup, and the video featured Iyer in yet another great ensemble—this time, a green crop top and skirt made in collaboration with the Peach Project.
Born in Chennai, Iyer moved to the states at a young age and grew up in Virginia. Her musical skills started getting honed at an equally young age when she started learning classical Indian music at the age of five. Not too surprisingly, Iyer's mom might remind us all of our own moms as Iyer has "so many memories of [her] mom yelling at [her] to practice." Clearly her mom, like most of ours, knew best! From Carnatic kritis and bhajans to the hottest radio pop hits of the time, Iyer often felt like she was in "two different worlds"—and the desire to marry these two worlds is what led her to create Indian-Western pop mashups. Iyer ended up making her very first mashup while she was an undergraduate student studying psychology at George Washington University, and the rest is YouTube history.
[Photo Credit: Shankar Tucker]
My love for Iyer's music is no secret to anyone, and most of all, I love how she so seamlessly integrates English tunes with Hindi and Tamil songs. Her mashups fuse so well that sometimes it is easy to forget that there are two separate songs in the equation. The incredibly smooth integration of two songs most likely stems from Iyer's "policy that the songs [she] chooses are ones [she] loves to sing." On a technical level, two common factors need to be shared between the songs—tempo and scale—and then Iyer "spends hours, sometimes sleepless nights" pouring over the blending of these songs with collaborating musician Shanker Tucker. Not too surprisingly, this process can be as "frustrating as much as it is rewarding" for both Iyer and Tucker, especially when a planned mashup ends up having to be tabled because of discordancies. Since posting her first mashup video a little over six months ago, Iyer has gained almost eight million views on her YouTube channel. One of the most popular of her mashups has been "Lean On/Jind Mahi" for which she collaborated with several other musicians, including Ricky Jatt, Raashi Kulkarni, and Roginder "Violinder" Momi. The song and video were hugely popular, with Iyer even getting a shout out from Bollywood actor Hrithik Roshan on Twitter.
Vidya Vox, wherever u are , what an amazing voice u have. Listening mash up non stop. http://t.co/tNAMKXVDva bravo

— Hrithik Roshan (@iHrithik) September 21, 2015
When asked about this shout-out, Iyer said it was "one of the best moments of [her] life," after which she was "screaming for a good two minutes" because she could not believe it was real. One of the singers for Major Lazer, Diplo, also tweeted the video so it goes without saying that "Lean On/Jind Mahi" is as amazing as we all say it is. Not too surprisingly, Iyer holds this hit very close to her heart because of the amazing feedback she and her collaborators received, and because the project was such a great experience for all of the musicians involved. For those of you like me who are itching to know when these talented musicians will reunite, Iyer says they are all game for a reunion mashup whenever the timing is right.
[Photo Credit: Shankar Tucker]
Along with bringing together Western and Indian musical styles, Iyer also very uniquely styles herself in a way that unites both Western and Indian elements. Iyer does all her video styling herself, and she has "discovered that [her] outfits are another way of expressing" herself through her music. This styling has earned Iyer as much of a fan following as her music itself—watch any of Iyer's videos and you will easily spot her "mixing [of] Indian prints and jewelry with Western silhouettes." Curious as to how to obtain a similar style for yourself? You might just have to raid Iyer's closet because she usually just picks from the Indian and Western clothes in her closet and then combines them. Fans of Iyer have a lot to look forward to as she is currently working on an all original EP album. According to Iyer, the album will "incorporate [her] classical Indian roots with Western pop/R&B sounds, but through original music." While you are anxiously awaiting that album, you can stay up-to-date on Iyer's new releases and upcoming shows through her official website and her Facebook, Twitter, and Instagram accounts.