live
'Iron Lady' Sushma Swaraj Cremated with Full State Honours, Nation Bids Farewell
Veteran BJP leader Sushma Swaraj was brought to AIIMS in a critical condition late Tuesday night after suffering a cardiac arrest but she soon passed away.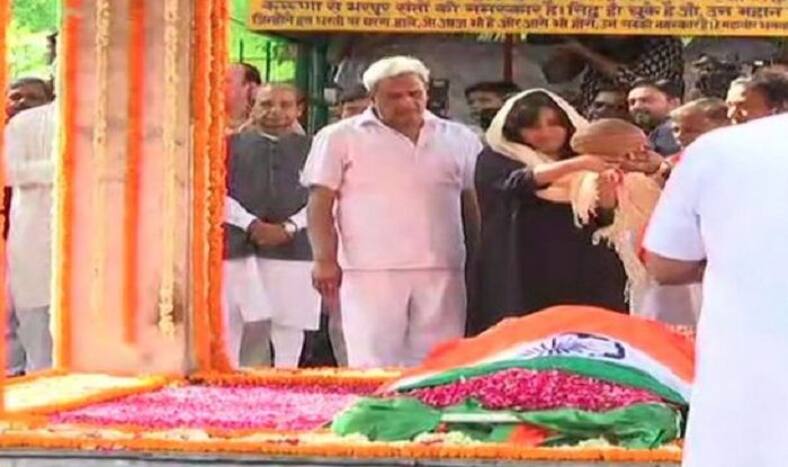 New Delhi: Former External Affairs Minister Sushma Swaraj died at the AIIMS in the national capital on Tuesday night following cardiac arrest. She was 67.
The veteran BJP leader was brought to AIIMS in a critical condition after suffering a heart attack but soon passed away, the sources said."She was brought to AIIMS at 9.35 PM. We gave her CPR as well. She passed away at 10 PM," said the source.
Her body was then taken to her residence at 6:00 AM, Jantar Mantar from the AIIMS. Her mortal remains were shifted to BJP headquarters at around 12 noon on Wednesday.
Thousands of people paid their last respects to one of India's most loved Foreign Ministers at the BJP headquarters.
Sushma Swaraj's cremation is scheduled to take place at Lodhi crematorium around 3:30 PM.
Meanwhile, leaders from across the political spectrum condoled the death of Sushma Swaraj, who had also been the first woman Chief Minister of Delhi.
Prime Minister Narendra Modi said that a "glorious period in Indian politics" had ended and recalled her efforts as External Affairs Minister in his first government in helping any Indians abroad in any trouble.
Sushma Swaraj did not contest the 2019 Lok Sabha elections citing poor health conditions.
Live Updates
Sushma Swaraj Passes Away: Meanwhile, Kenji Hiramatsu, Ambassador of Japan to India mourned Swaraj's death, " I'm deeply saddened to learn of the sudden demise of Sushma Swaraj, Former EAM of India. On behalf of the Govt&people of Japan, I would like to express my deepest condolences to the bereaved family&people of India."

Sushma Swaraj Passes Away: Former External Affairs Minister Sushma Swaraj was cremated with state honours at Lodhi Crematorium in Delhi. Prime Minister Narendra Modi, senior BJP leader LK Advani and Defence Minister Rajnath Singh were also present for her cremation.

Sushma Swaraj Passes Away: PM Narendra Modi, Home Minister Amit Shah, Defence Minister Rajnath Singh and former Bhutan PM Tshering Tobgay at Lodhi crematorium as Bansuri Swaraj, daughter of former External Affairs Minister performs her last rites.

Sushma Swaraj Passes Away: The final journey of the former External Affairs Minister Sushma Swaraj have begun and her mortal remains are being taken for last rites.

Sushma Swaraj Passes Away: Rajnath Singh, JP Nadda, Ravi Shankar Prasad, Piyush Goyal & other BJP leaders gave a shoulder to mortal remains of the BJP stalwart Sushma Swaraj. Her remains were being taken from BJP headquarters to Lodhi crematorium in Delhi.

#WATCH Rajnath Singh, JP Nadda, Ravi Shankar Prasad, Piyush Goyal & other BJP leaders give shoulder to mortal remains of #SushmaSwaraj as they are being taken from BJP headquarters to Lodhi crematorium in Delhi. pic.twitter.com/H72kZ3lpQw

— ANI (@ANI) August 7, 2019

Sushma Swaraj Passes Away: Mahashay Dharampal Gulati, the owner of MDH spice company, gets emotional as he weeps after paying tribute to former External Affairs Minister Sushma Swaraj.

Delhi: Mahashay Dharampal Gulati, the owner of MDH spice company, gets emotional after paying tribute to former External Affairs Minister #SushmaSwaraj. pic.twitter.com/7uqkS3jPxy

— ANI (@ANI) August 7, 2019

Sushma Swaraj Passes Away: Bansuri Swaraj and Swaraj Kaushal, daughter and husband of former External Affairs Minister Sushma Swaraj, pay salute as state honours are accorded to her.

Sushma Swaraj Passes Away: Elaborating on his last chat with the former External Affairs Minister, Harish Salve, Senior Advocate told ANI, "For me, Sushma Swaraj Ji was an elder sister. I was simply stunned yesterday on hearing about her demise. At 8:45 pm I had a talk with her. She said 'you have to come and take your fees of Re.1 for Jadhav case'. Just 10 min post that, she had cardiac arrest."