Telangana Assembly Election Results 2018: K Chandrashekhar Rao's TRS Registers Landslide Victory, 'Praja Kutami' Decimated
Following the humiliating defeat, the Congress party voiced the suspicion that the Electronic Voting Machines (EVM) were manipulated.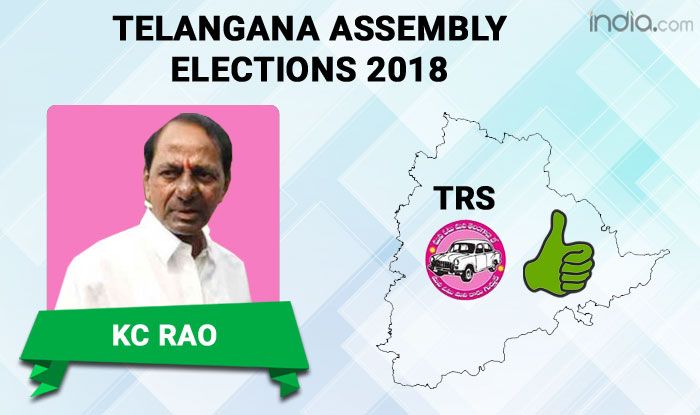 New Delhi: The Telangana Rashtra Samiti (TRS) registered a thumping victory in Telangana by reaching the majority mark of 60 in state Assembly election 2018, a clear vindication of TRS chief K Chandrasekhar Rao's popularity. The counting of votes began at 8 AM and soon it became clear that Rao's Telangana Rashtra Samithi party will retain power with almost three-fourth majority.
Despite allegations of perpetuating 'family rule', KCR, the caretaker chief minister won from Gajwel constituency by over 50,000 votes. His son K T Rama Rao and nephew T Harish Rao also emerged winner from Sircilla and Siddipet constituencies respectively. TRS candidates M Sanjay Kumar and Sunke Ravishankar also registered victory from Jagtial and Choppadandi seats.
"The people reposed faith in the leadership of our chief minister and they did not believe in the disinformation campaign of the opposition," said T Harish Rao, a minister in the outgoing government and a nephew of Rao.
Meanwhile, the Congress-led alliance suffered a huge defeat in Assembly elections. The 'Prajakutami' leaders faced embarrassment as almost all its top leaders were decimated. Leaders who were seen as the Chief Ministerial candidate in the event of a Congress-led People's Front victory were also defeated.
K Jana Reddy, who was Leader of Opposition in the dissolved Assembly, lost in Nagarjunasagar constituency.
Congress Working President Revanth Reddy, whose arrest last week triggered a huge row, failed to retain the Kodangal seat.
Another Congress Working President, Ponnam Prabhakar, lost in Karimnagar. Former central Minister Sarve Satyanarayana failed to win from Secunderabad Cantonment. Former Deputy Chief Minister of Andhra Pradesh Damodar Rajanarasimha lost the election from Andole. Senior Congress leaders and former Andhra Pradesh Ministers J. Geeta Reddy, D.K. Aruna, Jeevan Reddy, Komatreddy Venkat Reddy, Ponnala Lakshmaiah, Mohammed Ali Shabbir, Konda Surekha, G. Chinna Reddy, N. Janardhan Reddy and Mukesh Goud were all defeated.
Following the humiliating defeat, the Congress party voiced the suspicion that the Electronic Voting Machines (EVM) were manipulated. Claiming that the elections were not free and fair, state Congress chief Uttam Kumar Reddy said it was not a moral but only "technical" victory for the TRS.
He asked all Congress candidates to submit letters to returning officers concerned for counting of paper trails. "We will also complaint to ECI on this matter. How can TRS leaders say before counting that who will lose in elections," said Reddy.
Hitting back at Congress, TRS MP, K Kavitha said,"The losing party always says the EVMs have been tampered with, this is absolutely false. Even the CEC in a press meeting on Tuesday said that it is not possible to tamper EVMs. People have given victory to TRS, what Congress is claiming is false."
On the other hand,  TDP leader and Andhra Pradesh Chief Minister N Chandrababu Naidu targeted BJP over the election results and said,"People recognise that BJP has done nothing in last 5 yrs and moving towards an alternative. People are with us in our fight against BJP. These 5 states results will help form a strong alternative to the BJP."
In the 2014 Assembly election, the Telangana Rashtra Samiti (TRS) had bagged 63 seats with a vote-share of 34 per cent and the Congress 21 seats with 25 per cent vote-share. The TDP had fought the poll in alliance with the BJP then. The TDP won 15 seats with 14.5 per cent vote-share and the BJP five with seven per cent vote-share.