live
Telangana Election Results 2018 News Updates: TRS Gets Landslide Victory, Congress-led Alliance Decimated
Counting of votes has begun. Stay tuned to India.com for fastest election results.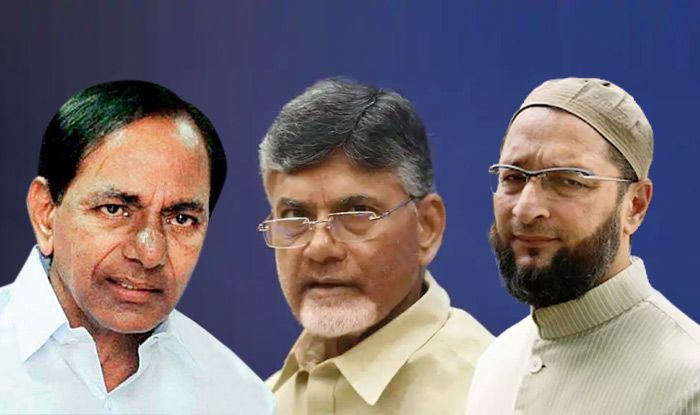 New Delhi: K Chandrashekhar Rao-led Telangna Rashtra Samiti (TRS) has registered thumping victory in Telangana Assembly election 2018. The ruling party has bagged 60 of the total 119 seats till 4 PM. The counting of votes for 119-seat Telangana Assembly, voting for which was done on December 7 began at 8 AM on Tuesday.
Speaking to news agency, Chief Electoral Officer Rajat Kumar had said that necessary arrangements were made for the counting and the strongrooms
"EVMs will be brought out polling station-wise and kept at the counting centres which will have 14 tables (except in Medchal which will have 28). And counting will go on. This will be done after the completion of the full postal ballot count. Counting will be done in the respective constituencies," Kumar told news agency PTI. (Telangana  Election Results 2018 LIVE Streaming on ZEE News)
Furthermore, he asserted,"The winning candidate will be declared and certificate will be prepared after obtaining clearance from the Election Commission. With the approval of the ECI, the Chief Electoral Officer, will submit the list of winning candidates party-wise to the Governor." (Assembly Election Results 2018 LIVE News Updates: Rajasthan, Madhya Pradesh, Chhattisgarh, Telangana, Mizoram Vote Counting)
In Telangana, K Chandrashekhar Rao's Telangana Rashtra Samithi (TRS) is facing a challenge from the Congress-Telugu Desam Party alliance.  The 119-member Assembly was dissolved on September 6 on the recommendation of TRS government, more than eight months ahead of the expiry of its term, paving the way for early elections.
In Telangana, exit polls were almost unanimous in predicting that TRS president and Chief Minister K Chandrashekar Rao's gamble of advancing the assembly polls will pay off and he will retain power. Republic TV and Times Now gave his party 50-65 and 66 seats respectively in the 119-member assembly. One needs 60 seats for a clear majority in the 119-seat Assembly.
However, Congress president Rahul Gandhi had said the alliance led by his party is confident of winning the election "hands-down" and claimed Rao was showing "signs of nervousness and insecurity" in meetings he addressed as the campaign winded down. Predicting a fractured poll mandate in Telangana, the BJP claimed Sunday it would play a "vital role" in the formation of the government in the southern state.
AIMIM president Asaduddin Owaisi exuded confidence that his party would be successful in the Telangana assembly election. The party has fielded candidates in eight assembly segments in Hyderabad and is supporting TRS in other segments.
For the latest News & Live Updates on Election Results from each Assembly constituency in Madhya Pradesh, Rajasthan, Mizoram, Chhattisgarh, Telangana, visit our Assembly Elections page https://www.india.com/assembly-election-2018/. You can also like us on Facebook or follow us on Twitter.
Live Updates
Telangana Poll Results 2018 LIVE: TRS gets landslide victory, wins 60 seats of the total 119

Telangana Poll Results 2018 LIVE: TDP respects the mandate of people of Telangana. Congratulations to Shri K. Chandrasekhar Rao. Also, best wishes to all the newly elected public representatives of 5 states, said Naidu.

Telangana Poll Results 2018 LIVE: People recognise that BJP has done nothing in last 5 years and moving towards alternative. People are with us in our fight against BJP. These 5 states results will help form a strong alternative to the BJP, said Andhra Pradesh CM N Chandrababu Naidu

Telangana Poll Results 2018 LIVE: A look at the trends right now

TRS – 86

Congress – 22

BJP- 3

Others- 7

Telangana Poll Results 2018 LIVE: Telangana caretaker minister and TRS candidate Talasani Srinivas Yadav wins from Sanath Nagar constituency by 30,217 votes.

Telangana Poll Results 2018 LIVE: Ruling TRS won 17 seats and the Congress three as per results available so far.The Telangana Rashtra Samithi is currently leading in at least 86 seats as it appeared set for a big win in the polls to the 119-member assembly. Congress is leading in 18 segments.

Telangana Poll Results 2018 LIVE: TRS President and Telangana caretaker Chief Minister K Chandrashekhar Rao wins from Gajwel constituency by over 50,000 votes.

Telangana Election Results 2018 LIVE: I won't say these are victories of Congress but this is an anger of the people. Self-reflection is needed, said Shiv Sena leader Sanjay Raut