The Evolution of India and Pakistan Themed Bollywood Movies [Part 2]
With India and Pakistan's Independence Days on the horizon, let's take a further look at some more movies that either pit these neighbors head to head or place them side by side in part 2 of this India-Pakistan themed series.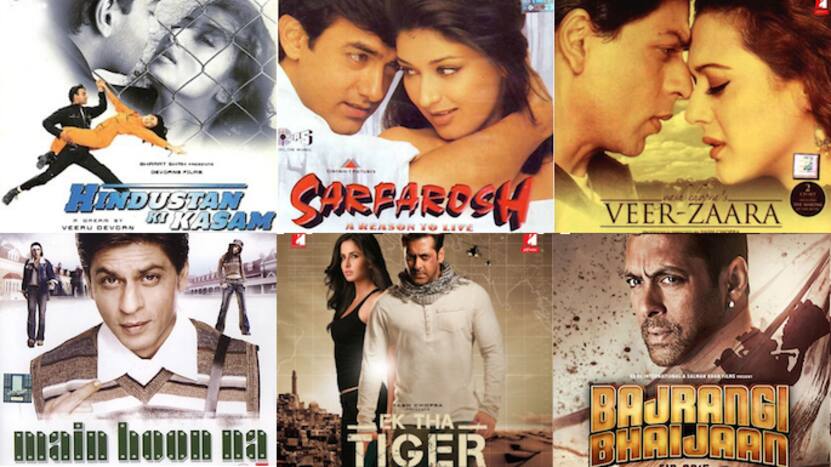 With India and Pakistan's Independence Days on the horizon, let's take a further look at some more movies that either pit these neighbors head to head or place them side by side in part two of this India-Pakistan themed series.
"Hindustan Ki Kasam"
This 1999 action flick featured Ajay Devgan in a double role as twin brothers separated at birth. One brother grows up in Pakistan and is brought up as the Muslim Tauheed, while the other brother grows up in India as the Hindu Ajay. Just by the simple fact that the Tauheed is raised by a terrorist who tells him his mother died thanks to an attack by the Indian army, we can all guess pretty easily how polarizing this movie must have been.
I have not seen it myself, but I am not really sure I want to, despite the stellar supporting cast including Amitabh Bachchan, Farida Jalal, Manisha Koirala, and Sushmita Sen.  Curious to see what "Hindustan Ki Kasam" is all about? The movie is available for free streaming on YouTube thanks to Venus Movies.
"Sarfarosh"
Supposedly seven years of research and development were invested in this 1999 action drama starring Aamir Khan, Sonali Bendre, and Naseeruddin Shah. Released around the time of the real life Kargil conflict when tensions were high between India and Pakistan, "Sarfarosh" is about the plight of a police officer, Khan's Ajay Singh Rathod, and his battle against cross-border terrorism.
The movie was critically and commercially successful, although this was yet another clear portrayal of Pakistan as the enemy neighbor. So, "Sarfarosh" was not exactly conducive to relationship building between India and Pakistan.
"Veer-Zaara"
Yash Chopra's 2004 directorial venture featured a cross-border love story between Shahrukh Khan's Indian Hindu Veer Pratap Singh and Preity Zinta's Pakistani Muslim Zaara Hayaat Khan. Remember, this is the same Chopra who directed the 1961 movie "Dharamputra," which very sensitively balanced the complexities buried within the India-Pakistan relationship. Most would agree that "Veer-Zaara" also delicately handled the characterizations of India, Pakistan, and the respective citizens of each country—barring of course the occasional Pakistani villain, specifically a certain scorned fiance.
Despite all the trials and tribulations faced by both Veer and Zaara, ultimately, neither religious conflict nor cross-border tensions could overpower their love story. Hugely popular with critics and audiences alike, "Veer-Zaara" swept the 2004 awards and was enjoyed by countless viewers across the world.
"Main Hoon Na"
Director-choreographer Farah Khan brought masala and masti to the big screen all across the world with this 2004 Shahrukh Khan movie. One of "Main Hoon Na's" biggest plot points centered on the relationship between India and Pakistan, specifically the fictional Project Milaap which aimed for both countries to release POWs from previous India-Pakistan wars. And the most pleasant surprise from this movie? The villain, Sunil Shetty's Raghavan, is a former Indian army officer who has turned rogue, as opposed to the typical Pakistani villain seen in so many movies thus far.
"Main Hoon Na" was silly and fun, while also demonstrating onscreen the importance of friendly relations between both India and Pakistan. An unbelievable box office success, this movie served as undeniable proof that filmmakers do not need to pit India and Pakistan against each other to create a hit movie.
"Ek Tha Tiger"
Directed by Kabir Khan and produced by Aditya Chopra under the Yash Raj Films banner, "Ek Tha Tiger" brought us yet another India-Pakistan themed pyaar ki kahaani. The twist? This time, Katrina Kaif's Pakistani Muslim Zoya and Salman Khan's Indian Hindu Tiger/Manish/Avinash Singh Rathore are secret service agents for their respective countries. The pair fall in love with one another when overlapping missions land them both together in Dublin.
Despite ultimately discovering each other's true identity, Pakistani Inter-Services Intelligence (ISI) agent Zoya and Indian Research and Analysis Wing (RAW) agent Tiger decide to abandon everything for the sake of their love. But will their secret service agencies let them live in peace? You will have to watch the movie to find out, and thankfully, "Ek Tha Tiger's" story ultimately hopes for harmony and peace between India and Pakistan.
"Bajrangi Bhaijaan"
Director Kabir Khan and Salman Khan paired up again for 2015's most successful movie to date, and "Bajrangi Bhaijaan" has won the hearts of Indians and Pakistanis everywhere. This heartwarming story of an Indian man's mission to safely escort a young Pakistani girl back to her parents can melt even the hardest of hearts.
Despite the silly jokes, amusing dances, and funny banter scattered throughout "Bajrangi Bhaijaan," at the end of the day, this movie highlights the good and the bad in both India and Pakistan. There are no polarizing stereotypes of Indians or Pakistanis, and there are no inherently villainous characters who become antagonists solely because of their country of origin. This movie has been a raging success thus far, and I hope this success proves to Bollywood once and for all that audiences enjoy seeing harmony between India and Pakistan.
Thankfully, Bollywood has evolved over the years, and the most recent films featuring India and Pakistan themes have aimed to unite the people from both countries as opposed to ripping them apart. Let us take a cue from Bollywood, and in honor of this Independence Day, let's stop focusing on our alleged differences and instead start respecting the intricate historical and cultural ties that will forever hold India and Pakistan together.