Assembly Elections 2018: Congress Leading in Chhattisgarh, Rajasthan; BJP Ahead in Madhya Pradesh
In what is being billed as the semi-finals ahead of the 2019 Lok Sabha elections, all eyes are on the states of Rajasthan, Madhya Pradesh and Chhattisgarh where counting is being held for 519 assembly

In what is being billed as the semi-finals ahead of the 2019 Lok Sabha elections, all eyes are on the states of Rajasthan, Madhya Pradesh and Chhattisgarh where counting is being held for 519 assembly constituencies today. Trends now suggest that it could be 3-0 for these states for the Congress.
Highlights
Congress ahead in Rajasthan and Chhattisgarh
BJP may win MP if trends hold
MNF ahead in Mizoram, TRS set to retain Telangana
Votes are also being counted for Telangana and Mizoram. In Telangana, the incumbent Telangana Rashtra Samithi (TRS) is ahead in 95, Congress+ in 17. The North Eastern state of Mizoram is the only state which isn't sending good news to the Congress — the Mizo National Front (MNF) are ahead in 27 seats while the Congress is leading on 7 seats. Mizoram has 40 seats.
Early trends have proved pollsters correct by-and-large in Rajasthan. Exit polls had predicted the Vasundhara Raje-led Bharatiya Janata Party (BJP) government in Rajasthan will be voted out. The state has seen a trend of an upheaval every five years where the state government is voted out. The BJP says this is not a reflection on Prime Minister Narendra Modi or his government's policies.
In the latest trends, Congress is ahead on 94 seats, BJP on 80. These are trends for 198 seats that voted on December 7.   Elections to Ramgarh in Alwar district will be held later after the BSP candidate died. The state's top leaders are leading after the initial round of counting —Vasundhara Raje from Jhalawar Patan, Sachin Pilot from Tonk and Ashok Ghelot from Sardarpura in Jodhpur.
There may be some good news for the BJP from Madhya Pradesh as well. At 11.45 AM, the BJP is ahead in 115 while the Congress leads in 106 seats. Madhya Pradesh has 230 seats in the Vidhan Sabha — and if the BJP wins, Chief Minister Shivraj Singh Chauhan is looking to be elected for an unprecedented fourth term. Pollsters were divided on Madhya Pradesh and had predicted a neck to neck battle and it seems anti-incumbency here has influenced voters to look for options.
The Congress has its neck ahead also in Chhattisgarh where voting was held in two phases on November 2 and 20. Of the 99 seats for which leads are available, Congress is ahead in 58 seats whereas the BJP  in 24. If these trends hold, the 'chawal-wale baba' – a popular epithet for Chief Minister Raman Singh — will not make a comeback for a fourth term. He is trailing from his constituency of Rajnandangaon.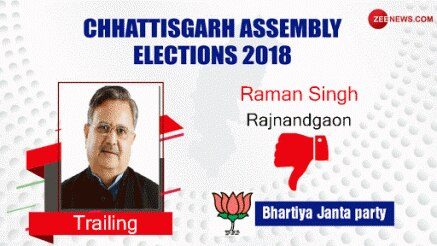 If these early trends are any indicator, the Congress has made a big comeback – and the Prime Minister's dream of a 'Congress-Mukt Bharat' is a pipe dream. However, to draw parallels to 2019 Lok Sabha polls make be premature. It may be poignant to remember that these states were won by the BJP in 2003 and 2008 — but that wasn't reflected in the results of 2004 and 2009 Lok Sabha polls where the Congress-led UPA was voted into power.
For the latest News & Live Updates on Election Results from each Assembly constituency in Madhya Pradesh, Rajasthan, Mizoram, Chhattisgarh, Telangana, visit our Assembly Elections page. You can also like us on Facebook or follow us on Twitter.