Web Series 'Shugs & Fats' Uses Comedy to Shed Light on Muslim Womens' Experiences
The series follows Shugs (Manzoor) and Fats (Vaz) as two Hijabi women adhering to their culture amidst a busy Brooklyn who sure know how to tell a story with a message.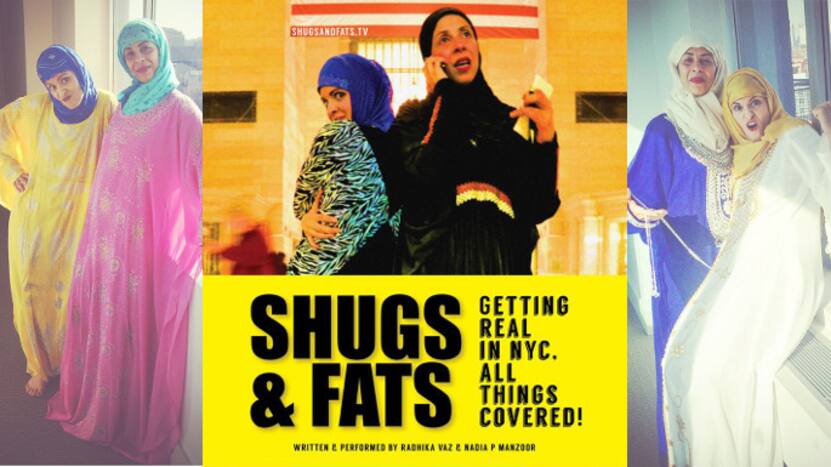 What do you get when you combine two hilarious, talented women, their alter egos, a pair of funky hijabs and downtown Brooklyn? Radhika Vaz and Nadia Manzoor surely have the answer to this question, and do much to answer it in their satirical web series titled "Shugs & Fats."
The series follows Shugs (Manzoor) and Fats (Vaz) as two Hijabi women adhering to their culture amidst a busy Brooklyn who sure know how to tell a story with a message. On their purpose behind the series, Vaz shared that the reason she wanted to create the characters as they are is because they are judged too much by their appearances. Especially in relatively conservative cultures such as Pakistan and India, women are thought to often succumb to the typical "shy housewife" stereotype by keeping their bodies covered. "Shugs & Fats" aims to challenge this stereotype by portraying fully covered women in a friendly, hilarious, and most importantly, realistic light.
When questioned on the idea for the series, Manzoor added that both she and Vaz were already collaborating on their own one-woman shows, and they really enjoyed working together. With experience in the same improv school, Improvolution, that emphasized the importance of unique characters, the women brainstormed different character ideas. Eventually, Shugs and Fats were created, whose idiosyncratic personalities and flexibility in terms of exploring cultural issues resonated with Manzoor and Vaz.
Inspiration in terms of production for the series was guided by Manzoor and Vaz's personal preferences and impressive improv skills, but soon included viewing different videos and series for structure, content, and style.
Motivation for the crazy, fun-filled storylines is derived from important cultural ideas in the authors' lives. In fact, the first season of the show was improvised, and this consisted of placing the characters in any situation and seeing how they interact. "Now we are using the things we intellectually engage in and our own lives are a huge source of inspiration," Manzoor explained.
Perhaps the most striking feature of the series is the character development and choice, featuring a sort of odd couple that are, admittedly, exaggerated versions of Vaz and Manzoor.
"The more we put Shugs and Fats in certain scenarios, the more their personas came to life, and we started to understand who they are," Manzoor said about the show's character development. To Manzoor, Shugs is her alter ego—an uninhibited free spirit who is quite the matchmaker (an inside joke you'll have to watch the series to understand!).
Although the show's target audience consists of people with a penchant for comedy and who also want more of a reflection of themselves in media, Manzoor admits that the humor can get sticky. The likelihood of conservative Islamic organization being offended at some character behavior still persists, and that is totally okay—due to the polarized nature of Islam today, the show is bound to offend someone, somewhere.
Still, it is important to understand that in comedy, it is vital to creating dialogue, whether positive or negative, on women and cultural assimilation. "We're not trying to provoke for the sake of it. But, frankly, if we're not offending someone, I don't think we'd be doing our job very well!" Manzoor said. And she couldn't be more right.
Today, thousands of people are finding comfort and relieving stress through "Shugs & Fats," and Manzoor is incredibly grateful for the show's success. As someone who believes laughter is a source of healing, knowing that she, among others, is healing people is an amazing and unreal feeling for Manzoor. Evidence of this healing also lies in the fact that the series won the 2015 Annual IFP Gotham Award in the Breakthrough Series and Short Form category, and has also been featured on Refinery29, Bitch Media, and The Daily Beast.
"Shugs & Fats" is taking the world by storm—and it's about time you see how a show that ravels catcalling, abaiyahs, and hijabs in a fun-filled series sets the world on fire, one episode at a time.