With 'Only Delhiites' in Attendance, Arvind Kejriwal Set to be Sworn-in as Delhi CM For The Third Time
On February 11, when the results of Delhi Assembly elections were announced, the Aam Aadmi Party (AAP) had registered landslide victory bagging 62 seats in the 70-member Assembly.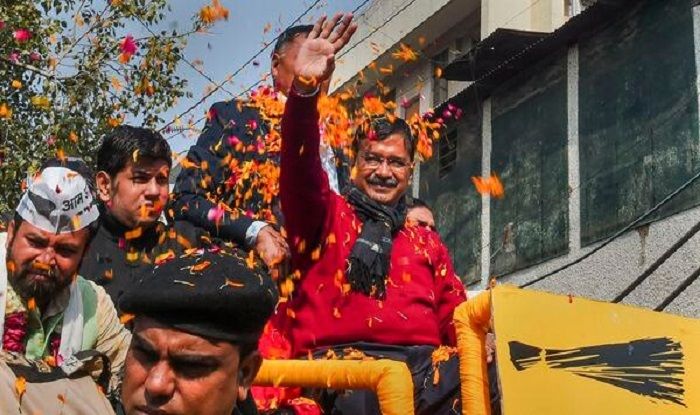 New Delhi: After registering a massive victory in Delhi Assembly election 2020, Chief Minister Arvind Kejriwal will take oath along with a new Union council of ministers for the third consecutive term in a grand ceremony at iconic Ramlila Maidan here on Sunday.
The six ministers who will take oath along with Kejriwal at 10 AM today are– Manish Sisodia, Satyender Jain, Gopal Rai, Kailash Gehlot, Imran Hussain and Rajendra Gautam.
Meanwhile, multi-layered security arrangements have been put in place across the city, with the deployment of around 2,000 to 3,000 security personnel from the Delhi Police and paramilitary forces including the CRPF. Traffic regulations will also be in place in the area from 8 am to 2 pm.
Top Priorities Discussed Hours Before Swearing-in
A night before swearing-in, Chief Minister-designate Arvind Kejriwal hosted a dinner meeting at his residence, for six Ministers to be sworn today. Party sources said that Kejriwal and other AAP leaders discussed the top priorities and issues to be taken up by the Delhi government in the next three months.
"The focus will be on developing a roadmap for making Delhi a 21st century global city," sources said.
Among the top priorities is likely to be the doorstep delivery of ration and free bus rides for students. Besides, the AAP government will also attempt to implement the 'deshbhakti' (patriotism) curriculum in schools by the next academic session.
No CM Political Leaders From Other States at Swearing-in
No chief minister or political leader from other states will be part of the event as it will be a "Delhi-specific" ceremony. However, CM Kejriwal has extended an invitation to PM Modi, but the latter won't attend the swearing-in as he is scheduled to visit his constituency Varanasi to inaugurate various developmental projects.
Seven Lok Sabha MPs from Delhi and eight newly elected BJP MLAs were also invited but it was unclear whether they will attend the event.
Special Attendees at Oath Ceremony
The Aam Aadmi Party, through advertisements in newspapers and radios has urged 'everyone in Delhi' to attend the ceremony. The heads of Delhi government schools are expected to witness the swearing-in of Kejriwal and his ministers at Ramlila Maidan.
The school heads were requested to attend the event, along with 20 teachers, including vice principals, entrepreneurship mindset curriculum coordinators, happiness coordinators and teacher development coordinators.
Besides, 50 people from different walks of life who were responsible for 'Delhi nirman'  would also share stage with Kejriwal. Addressing a presser, AAP leader Manish Sisodia had stated that these 50 people would include teachers, bus marshalls, architects of the Signature Bridge and family of fire fighters who lost their lives, among others.
Avyaan Tomar, known as 'Mini Mufflerman' and 'Baby Kejriwal', will also be there at the oath ceremony. The one-year-old, dressed up like Kejriwal, was spotted at the AAP office on the results day. But he could not meet Kejriwal.
What Happened on February 11?
On February 11, when the results of Delhi Assembly elections were announced, the Aam Aadmi Party (AAP) had registered landslide victory bagging 62 seats in the 70-member Assembly, while the Bharatiya Janata Party (BJP) marginally improved its tally, managing just eight seats from its 2015's tally of three seats. The Congress, which drew a blank in the previous elections, failed to open its account yet again.