live
US Election 2020 Results: Biden Leads in Pennsylvania, Votes in Georgia to be Recounted
"If you count the legal vote, I easily win. If you count the illegal votes, they can try to steal the election from us. I have already decisively won many critical states. We won by historic numbers", said Trump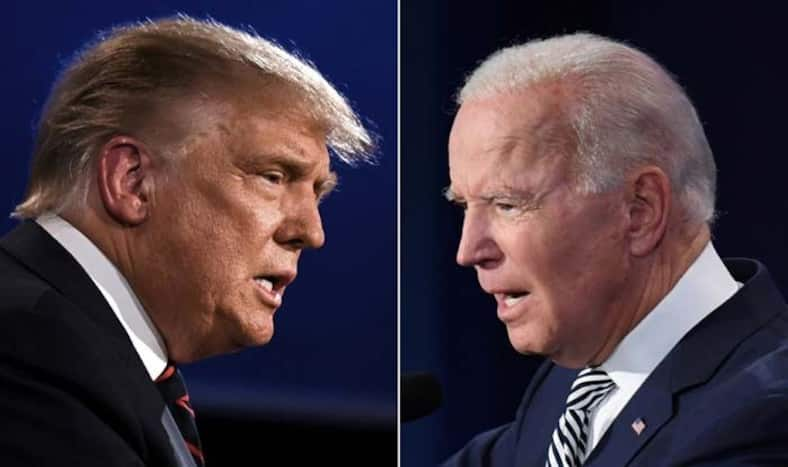 US Election Results 2020: Accusing the Democrats of trying to "stealing" the US election with illegal votes,  President Donald Trump, claimed he would 'easily win' the race against Joe Biden without the alleged interference.
"If you count the legal vote, I easily win. If you count the illegal votes, they can try to steal the election from us. I have already decisively won many critical states. We won by historic numbers", said the US President.
His remarks come after Biden headed towards victory and created history, surpassing the record set by Barack Obama in 2008.
Meanwhile, US courts have dismissed Trump campaign's lawsuits in Michigan and Georgia related to electoral malpractice. In Michigan, the campaign had sought to stop counting of absentee ballots, while in Georgia it had alleged that even improper ballots were being counted.
Michigan Court of Claims Judge Cynthia Stephens Thursday rejected the lawsuit, arguing that the Michigan Secretary of State is not involved with the local counting process. A formal order would be issued on Friday.
Live Updates
US Election 2020 Results LIVE: Plans are being made for a possible victory speech by Joe Biden in primetime. His aides are busy preparing for tonight.

US Election Results 2020 Live: There are 4,169 outstanding ballots left to count across counties in battleground Georgia.

'As we are closing-in on a final count we can begin to look towards our next steps. With a margin that small, there will be a recount in Georgia', US media quotes Georgia's secretary of state Brad Raffensperger. #USAelection2020

— ANI (@ANI) November 6, 2020

Police in Philadelphia said they are investigating an alleged plot to attack the Pennsylvania Convention Center, where votes from the election are being counted: Reuters #USAelection2020

— ANI (@ANI) November 6, 2020

US Election Results 2020 Live: The Trump campaign issues a statement saying, "this election is no over". Campaign general counsel Matt Morgan released the statement and amde further allegations of irregularities. "The false projection of Joe Biden as the winner is based on results in four states that are far from final," the statement said.

Decision Desk HQ projects that @JoeBiden has won Pennsylvania and its 20 electoral college votes for a total of 273.

Joe Biden has been elected the 46th President of the United States of America.

Race called at 11-06 08:50 AM EST

All Results: https://t.co/BgcQsEyt3j

— Decision Desk HQ (@DecisionDeskHQ) November 6, 2020

US Election Results 2020 Live: 'National defense airspace' has been put in place over Joe Biden's home in Wilmington, Delaware.

US Election Results 2020 Live: Biden takes the lead in Pennsylvania by 5,587 votes.