Mass Grave of 28 Hindus Killed by Rohingya Militants Found: Myanmar Army
Naypyidaw, Sep 24: Myanmar army on Sunday claimed that it found bodies of 28 Hindus buried in a mass grave by Rohingya militants in the violence-hit state of Rakhine. The bodies were discovered in t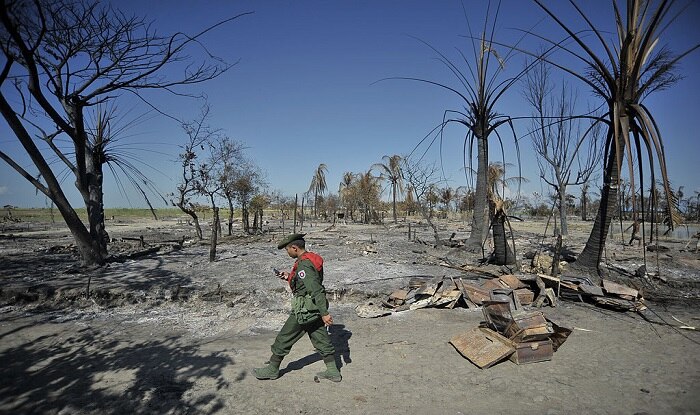 Naypyidaw, Sep 24: Myanmar army on Sunday claimed that it found bodies of 28 Hindus buried in a mass grave by Rohingya militants in the violence-hit state of Rakhine.
Highlights
20 dead bodies were of women, 8 of men, including 2 below the age of six, army claimed.
The Hindus were killed in the raid conducted by Rohingya militants on the night of Aug 25.
The Kofi Annan report on Rohingya violence says the ARSA has links to West-Asia based terror groups.
The bodies were discovered in the village of Ye Baw Kya, located close to the cluster of Kha Maung Seik, which houses both Hindus and Muslims.
The Islamist-insurgent outfit Arakan Rohingya Salvation Army (ARSA) is responsible for their murder, the Myanmar Army said.
"Security members found and dug up 28 dead bodies of Hindus who were cruelly violently and killed by ARSA extremist Bengali terrorists in Rakhine State," said the statement uploaded on the army chief's website.
It further added that the Hindus were assassinated on August 25, in a raid carried out by ARSA militants in the village.
While speaking to AFP, Hindus of the village claimed they were attacked by the insurgents on the night of August 25. The militants fired upon indiscriminately upon the Hindus, killing more than two dozen and abducting a few, the villager was reported as saying by the news agency.
Among the 28 corpse found, twenty were of women, eight of men, including two children below the age of 6 years.
The army's claim was validated by Myanmar government's spokesperson Zaw Htay, who confirmed that the 28 dead bodies found were of Hindus.
A senior police officer in northern Rakhine said the security forces found 10-15 bodies buried in separate holes in the mass grave.
Attack on Hindus, Buddhists
The Aung Sang Suu Kyi government, while justifying the crackdown on Rohingyas, said the region is facing the brunt of religiously-motivated terrorism. The Rohingya insurgents, Naypyidaw claims, are not only targeting the security forces, but also Hindus and Buddhist civilians residing in the Rakhine province.
The ARSA, Myanmar claims, is being financially and logistically supported by terror groups based in West Asia, including the Al Qaeda.
State Counsellor Aung Sang Suu Kyi, during her address in the past week, said the international community is not recognising Myanmar's battle against terrorism. To support her claim, she cited the report prepared by former UN general secretary Kofi Annan, which states that Rakhine faces a "major threat" from the ARSA, which is being funded by donors in the Middle East.
Former Indian ambassador to Bangladesh, Veena Sikri, while speaking to India.com, said the terror perpetrated by ARSA and Haraka al-Yaqeen should not be ignored by the New Delhi and other neighbouring regions. "Even Bangladesh is facing threat from these militants. They have links to the Al Qaeda. They pose a threat to the region's security," she added.
Subscribe Now
Enroll for our free updates