Meryl Streep takes a dig at Donald Trump, impersonates as the presidential candidate
Meryl Streep is indeed fearless and lady of iron to impersonate a singing Donald Trump at Public Theater Gala in New York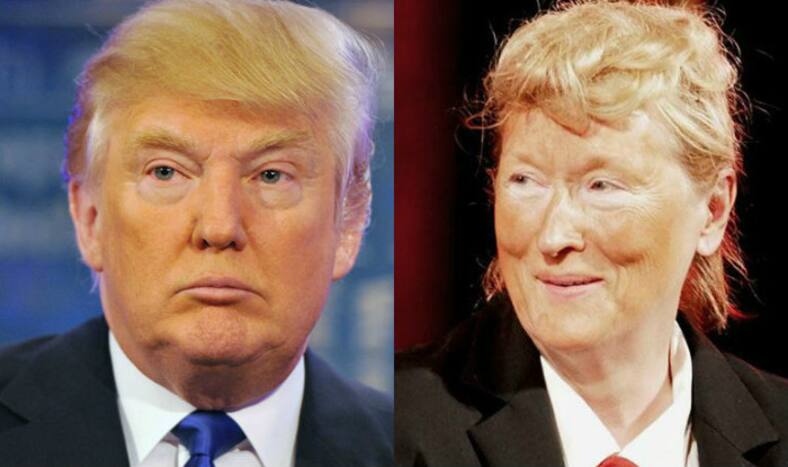 Meryl Streep, the 19 times nominated and 3 times winner of Oscar Award, doesn't need an introduction about her acting skills, but every time she performs a character on screen or stage, she wins heart and proves what an amazing performer she is. This time at Public Theater Gala in New York, Merly did a singing impersonation of guess who? Donald Trump it is!
More of Meryl and Christine Baranski doing Trump and HRC pic.twitter.com/t7jgNsf74d

— Jacob Bernstein (@BernsteinJacob) June 7, 2016
Meryl Streep just added Donald Trump to her resume at the Public Theater Gala pic.twitter.com/5ftmcKbRjN

— Jacob Bernstein (@BernsteinJacob) June 7, 2016
Yes the academy award winner actress 'organged' up as the United States presidential candidate, Donald Trump. Meryl wore tan make-up and fake belly pads with men's suit stole the show with her Mama Mia co-star Christine Baranski dressed up as Hillary Clinton. (ALSO READ: Meryl Streep says career affected her friendships)
Give Meryl Streep another Oscar for this singing Donald Trump impersonation: https://t.co/ivLqjrzF3n pic.twitter.com/BzYR2N9zL8

— Slate (@Slate) June 8, 2016
The duo of Meryl and Christine  performed two songs and had the audience had their time of laugh. The Trump-Clinton duo performance happened at the annual Shakespeare in the Public Gala at the Central Park on Tuesday evening. (ALSO READ: Meryl Streep's claims her comments on diversity were misinterpreted)
Meryl, is know for her characted impersonation and her performing skills. The actress won her third Oscar for playing the iconic character of Margaret Thatcher in the movie Iron Lady.
Meryl Streep as Donald Trump I'm dead pic.twitter.com/SP0y7FYAsf

— FREDDY (@FreddyAmazin) June 9, 2016
Meryl who supports Hillary Clinton, surprised even the organizers of the event as they were only aware that she is going to take a dig on Trump, but they were unaware of what Streep was keeping in for the surprise. "None of us had seen her in costume or makeup till she walked out tonight", the Public Theatre's artistic director, Oskar Eustis, as reported by the Times.
Meryl Streep surprises a crowd by dressing up as #DonaldTrump & mocking him in New York. Says it's a onetime event! pic.twitter.com/ngd1glyD3z

— JacloPac (@JacloPac) June 10, 2016
The impersonation of Trump was Streep's idea and after the performance when her name trended on twitter she said through a Public Theater spokesperson, "I appreciate the interest, but this was a one-off, a once in a (last in a) lifetime appearance of this character,".
Meryl Streep is indeed fearless and lady of iron!