Peshawar Mosque Bombing Kills 63: Why Tehreek-e-Taliban Keeps Hurting Pakistan
An explosion in a mosque killed at least 63 worshippers and wounded over 100 in Pakistan's Peshawar on Monday, a hospital official said. As this news broke, the blame straight away went to Tehreek-e-Taliban (TTP) also known as Pakistani Taliban.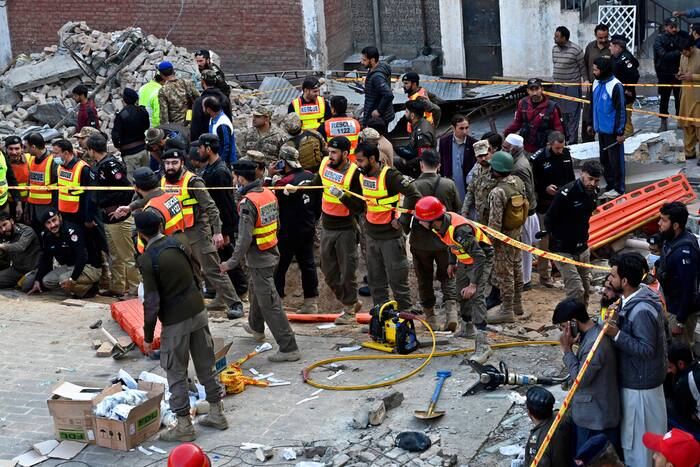 Peshawar Mosque Bombing: Pakistan was once hit by a deadly terror attack on Monday which killed 63 and left several others injured following a blast inside a mosque in Peshawar. As this news broke, the blame straight away went to Tehreek-e-Taliban (TTP) also known as Pakistani Taliban. Soon, there was a confirmation that the suicide blast was an act of revenge for killing Pakistani Taliban commander Umar Khalid Khurasani, claimed his brother. But several hours later, a denial came from the TTP as its spokesperson Mohammad Khurasani distanced the group from the bombing. Khurasani, in his statement, said it was not its policy to target mosques or other religious sites, adding that those taking part in such acts could face punitive action under TTP's policy. However, there was no clarification as to why such a statement was made by the outfit in the first place.
Pakistan's Tumultuous Relationship With Afghan Taliban Regime
Pakistan is facing a crisis-like situation with its neighbour Afghanistan as the border nation is sheltering TTP leadership and fighters. The whole saga started around 2007 when Pakistan joined the US in its invasion of Afghanistan. The TTP was formed by Pakistani militants in 2007 when different outlawed groups agreed to work together against Pakistan and support the Afghan Taliban, who were fighting US and NATO forces.
The TTP believes in the implementation of stricter Islamic rules in the nation and also demands a reduction in the presence of Pakistani soldiers in the bordering Pakhtunkhwa region near Afghanistan. The attack seems to have increased since November when the TTP unilaterally ended a cease-fire with the government after the failure of months of talks, hosted by Afghanistan's Taliban rulers in Kabul.
Afghanistan — A Sanctuary For TTP Leadership, Fighters
Though the TTP is a separate outfit from Afghan Taliban, ever since the leadership took over Afghanistan the TTP leadership was emboldened as the group shares a similar ideology to that of the Afghan Taliban. As the Pakistani government started cracking down on the TTP establishment several members used to take shelter in Afghanistan, though they mostly lived in hiding as a fugitive existence.
However, the Afghan Taliban started openly sheltering the TTP when they came to power. The Afghan Taliban also released TTP leaders and fighters who had been arrested by previous administrations in Kabul.
Though the Afghanistan Taliban on several occasions have made it clear that they won't harbour or support anyone from the TTP the Pakistani officials feel otherwise as their words and actions don't match. TTP's operations have largely been aimed at targeting Pakistani forces, similar to the Afghan Taliban's agenda of ousting foreign forces from the country.
Rise In Attacks In Recent Times
Ever since the TTP ended the ceasefire agreement with the Pakistani government, the nation has seen a steep rise in violent attacks which have caused severe casualties. These attacks are mostly aimed at Pakistani soldiers and Police, however, the common people are also the collateral damage in this unfortunate affair.
The Pakistani Taliban regularly carry out shootings or bombings, especially in rugged and remote northwestern Pakistan, a former TTP stronghold.
Following Monday's attack on a mosque in Peshawar, Pakistan Interior Minister Rana Sanaullah Khan told the independent Geo news channel that the Afghanistan Taliban should honour their commitment and not allow anyone to use their soil to aid attacks on another country. "They should honour their promises," he said.