Russia Vs Ukraine: Here's How Russian Military Outnumbers Ukrainian Forces
Ukraine's armed forces are heavily outnumbered and outgunned by Russia's. Military experts say they would be capable of mounting significant resistance and inflicting heavy casualties.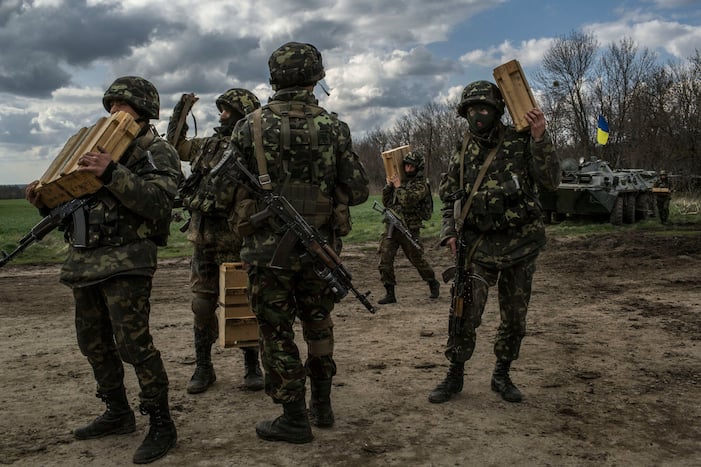 Kyiv: Russia's long-feared attack on Ukraine began early on Thursday, February 24, as explosions rocked several cities, including the capital Kyiv. Explosions, gunfire, and sirens were reported in the capital, Kyiv, and its Boryspil airport, with witnesses in Kharkiv, Kramatorsk, Dnipro, Mariupol, Odesa, and Zaporizhzhya also reporting blasts in the early morning hours.
Russia claimed that it has destroyed Ukraine airbases, air defences while Ukraine military reported that it has shot down as many as five enemy planes and a helicopter in eastern part of the country. If this crisis escalates further, which is highly likely, will Ukraine's military capabilities be able to counter Russia?
Can the 'highly motivated' Ukraine army take on Russia?
According to a Reuters report, Ukraine's armed forces are heavily outnumbered and outgunned by Russia's. Military experts say they would be capable of mounting significant resistance and inflicting heavy casualties. Meanwhile, Ukraine's army is also better trained and equipped than in 2014, when Russia captured the Crimea peninsula and is widely seen as highly motivated to defend the country's heartland.
In recent years, Ukraine's forces have gained combat experience in the Donbass region in the east of the country, where they have been fighting Russia-backed separatists since 2014. Its forces are equipped with short-range air defences and anti-tank weaponry, including U.S.-supplied Javelin missiles, which would help to slow any Russian advance. Ukraine also has volunteer territorial defence units and around 900,000 reservists. More so, most adult males have at least basic military training so that they can put up a spirited fight against Russia. However, in a comparison of the military capabilities of the two nations, Russia outnumbers Ukraine in almost every aspect.
A comparison of military forces: What do Numbers say?
In the face of a full-blown invasion, Ukraine, however, seems to be lagging behind Russia when it comes to military might, manpower and weapons. According to Global Firepower 2021, the Russian strength is way more than Ukraine. According to Global Fire Power, Russia is the second most powerful country militarily, Ukraine is ranked 22 out of 140 nations. Let's look at more facts:
Russia's army has about 280,000 personnel and its combined armed forces total about 900,000.
Ukraine has 196,600 active military personnel which this splits into 125,600 ground troops, 35,000 air personnel and 15,000 naval troops.
More than 100,000 Russian troops are currently near Russia's border with Ukraine.
Russia's 2,840 battle tanks outnumber Ukraine's by more than three to one.
Russia has more than 4,100 aircraft, with 772 fighters, while Ukraine only has 318 total aircraft, with just 69 fighter aircrafts.
Russia has around 12,500 tanks and more than 30,000 armoured vehicles, while Ukraine only has around 2,600 tanks and 12,000 armoured vehicles.
Russia has around 14,000 towed and self-propelled artillery guns, Ukraine's total number is just over 3,000
According to Global Fire Power, Russia's military expenditure in 2020 was over ten times of US$5.9 billion that Ukraine spent.
West is keen to help Ukraine. But, is it enough?
Military analysts say Ukraine's anti-aircraft and anti-missile defences are weak, leaving it highly vulnerable to Russian strikes on its critical infrastructure. They say Russia would also seek to use its superiority in electronic warfare to paralyse its adversary's command and control and cut off communications with units in the field.
However, in recent years, Western countries have stepped up arms deliveries to Ukraine. The United States has provided more than $2.5 billion in military aid since 2014, including Javelin anti-tank missiles, coastal patrol boats, Humvees, sniper rifles, reconnaissance drones, radar systems, night vision and radio equipment. Turkey has also sold Kyiv several batches of Bayraktar TB2 drones, which it deployed against Russian-backed separatists in eastern Ukraine. Britain has also supplied Ukraine with a reported 2,000 short-range anti-tank missiles in January and sent British specialists to deliver training. It has also provided Saxon armoured vehicles.
Despite all this, Ukraine's situation still seems grim, as the country's military capabilities pale in comparison to Russia's, which has among the mightiest armed forces in the world.
(With inputs from Reuters)