Alvaro Morata Nets First Goal For Atletico Madrid in 2-0 Win | WATCH
Alvaro Morata finally scored for his new team, Atletico Madrid, leading the capital side to a 2-0 home win over Villarreal in a La Liga matchday-25 contest at Wanda Metropolitano stadium.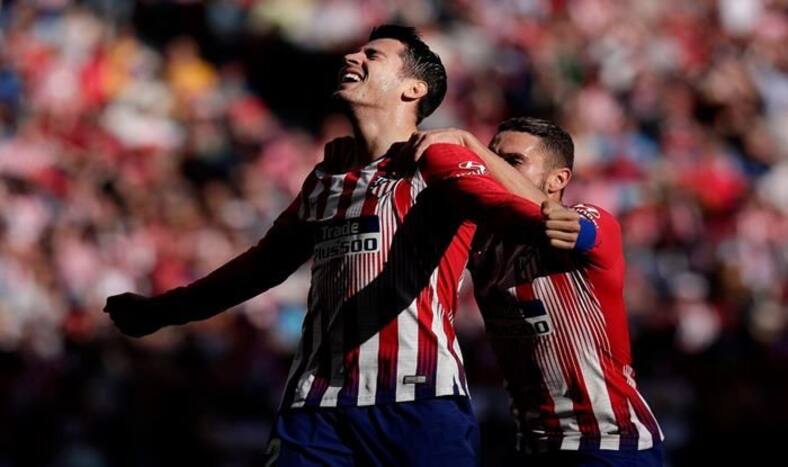 In a first, Spanish striker Alvaro Morata finally scored his maiden goal for Atletico Madrid, leading the capital side to a 2-0 home win over Villarreal in a La Liga matchday-25 contest at Wanda Metropolitano stadium. It took Morata five matches since joining the UEFA Europa League titleholder during the winter transfer window, on a year-and-a-half loan deal from England's Chelsea, to open his account with the Spanish club on Sunday.
The international forward previously had netted two goals wearing Atletico's jersey – against Real Madrid in La Liga on February 9 and against Italy's Juventus in Champions League competition last Wednesday – but both were canceled after officials consulted the video assistant referee (VAR).
With the win, Atletico strengthened its grip on the standings' second spot with 50 points, seven points behind leader and defending champion Barcelona and five points ahead of Real Madrid, who is to take on Levante later in the day.
That first-goal feeling, @AlvaroMorata 😍 pic.twitter.com/mUkrNLJJIh

— B/R Football (@brfootball) February 24, 2019
Oooh Alvaroo Moraataaa!
WHAT A SENSATIONAL FINISH BY ALVARO MORATA
⚽️🔥🔥🔥🔥👌pic.twitter.com/gKNrBTFZ0O

— Zakariya🏳️‍🌈⃠ (@DNKZakariyaa1) February 24, 2019
⚽️ @AlvaroMorata
⚽️ @saulniguez

Highlights from a 2-0 win for @atletienglish! 📺💯#AtletiVillarreal pic.twitter.com/UXJU9IoJj6

— LaLiga (@LaLigaEN) February 24, 2019
Morata's goal at the half-hour mark was the brightest moment of a rather grey first half in which neither side has shown much drive or desire to find their rival's net.
The Spaniard, furthermore, proved his worth not only by scoring the opener with a left-footed shot from the centre of the box, but also with the speed and consistency he showed, as well as by making himself a headache for Villarreal's defence.
However, Atleti's win would not have been possible without the outstanding performance of goalie Jan Oblak of Slovenia, who saved the day for his team just before Morata's goal.
Atletico did not have complete dominance during the game, either before or after taking a 1-0 lead, although Villarreal did not react as had been expected after conceding the goal.
In the second half, Villarreal made a few tries at drawing level but lacked the needed accuracy against an Atletico relying on the counterattacks of Diego Costa, who took the field replacing Morata shortly after the break.
In the closing minutes, midfielder Saul Ñiguez managed to score the insurance goal for Atletico with a left-footed lob from the center of the box assisted by Costa, who did not manage to get off even a single at Villarreal's goal.
(IANS Input)