Chinese Grand Prix 2019: Lewis Hamilton Wins 1,000th Race in Mercedes One-Two
England's Lewis Hamilton scripted history on Sunday as he won his career 100th race in Mercedes one-two at the Chinese Grand Prix.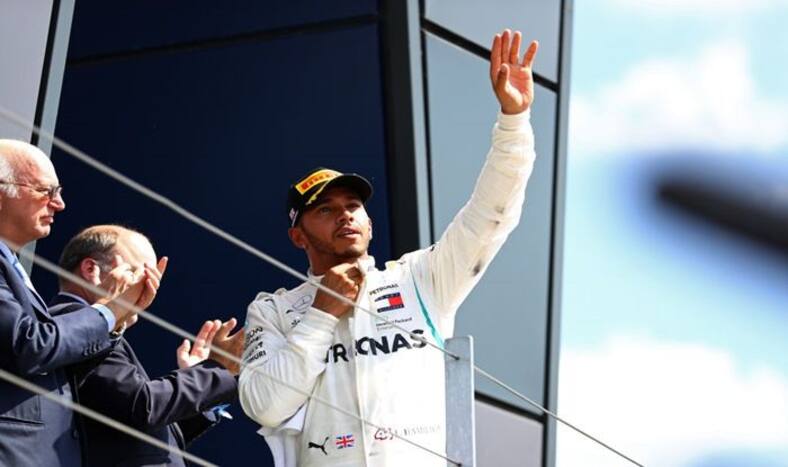 Lewis Hamilton on Sunday scripted history as he registered his 1,000th Formula One Grand Prix race after taking the lead Valtteri Bottas at the first corner to finish at the summit at the Chinese Grand Prix in Shanghai. It was the Englishman's career sixth win at the event and second in a row this season. German international  Sebastian Vettel in his Ferrari finished third.
"To have a one-two (for Mercedes) is really special in the 1,000th grand Prix but the start was where it made the difference and the rest is history," said the Briton.
Hamilton was pipped for pole position by Bottas by just 0.023 seconds in qualifying and had said that he was "struggling with the car".
Watch the video here:
Wins the landmark 1000th F1 race

Victory for the second Grand Prix in a row

Goes to the top of the championship standings

Not a bad Sunday for @LewisHamilton #ChineseGP 🇨🇳 #Race1000 pic.twitter.com/84Roskji6q

— Formula 1 (@F1) April 14, 2019
UPDATED DRIVER STANDINGS 🏆

Three races in 2019

Three 1-2s for @MercedesAMGF1

The last time that happened? 1992 (@WilliamsRacing)#ChineseGP 🇨🇳 #Race1000 pic.twitter.com/Kx86KrT8lR

— Formula 1 (@F1) April 14, 2019
Pay rise for the pit lane guys, @MercedesAMGF1 😉 👨‍🔧 💰#Race1000 🇨🇳 #ChineseGP pic.twitter.com/53g7gFz79o

— Formula 1 (@F1) April 14, 2019
It was a dramatic start to the 1000th F1 race… 💥 🇨🇳 👀#ChineseGP #Race1000 pic.twitter.com/A5QWIIVUQB

— Formula 1 (@F1) April 14, 2019