Chris Froome Returns to Professional Cycling at UAE Tour 2020
The 34-year-old is targetting the second edition of the UAE Tour, the only WorldTour race in the Middle-East, as he prepares himself for a gruelling season ahead.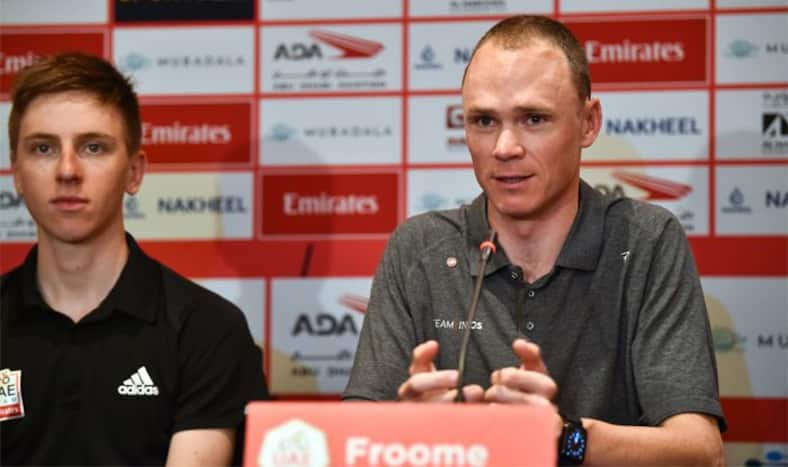 It was in June last year that Chris Froome, four-time winner of the prestigious Tour de France endured a career-threatening crash at Criterium du Dauphine. It was an accident in which Froome broke his right leg, suffered a broken hip, fractured femur, fractured elbow and broken ribs when he came off his bike during the time trial at high speed last summer. Everyone doubted his future, including Froome himself, who had to be moved to intensive care.
Nine months removed from that near-fatal crash, Froome is back. The 34-year-old is targetting the second edition of the UAE Tour, the only WorldTour race in the Middle-East, as he prepares himself for a gruelling season ahead. Froome appeared anxious, at times nervous, seated next to some of world's finest riders a day before the first stage. Froome is clear he isn't expecting to win the tour, but is certain he will get the answers to the uncertainties his mind is dealing with.
"I'm extremely happy to be here. I was hoping to do this race last year but I didn't make it. After the crash last June, I've been away from racing for eight months. It feels good to be racing again. I'm really excited to be here," Froome told reporters, including India.com.
"I hope that I'm at the right level. I'm certainly not gonna be winning this week. I've gone through really tough moments in the past eight months, but my goal was always to start this season relatively early and I'm super happy to be given the second chance to be back in the peloton."
By all means, the UAE tour is the perfect warm-up for Froome, leader of Team Ineos, as five of the seven stages are flat and tailor made for sprinting. Racing in the Middle-East has really picked pace but is will still take years to reach the level of a Tour de France or a Giro. Last month, Froome expressed his desire to return to the TDF and push for a coveted fifth title. However, those plans are subject to how his body reacts to the rigours of professional cycling.
"I haven't set myself a deadline. The way I'm looking at it is, I'll do the most I can do and I'll know by the time we get to the start of Tour if I'm in contention or not," Froome said.
"As I'm sitting here today, I fully believe I'll be ready in time. I've still got a long way to go until I am in Tour de France winning shape. We're in February still and I'm confident that over the next few months that I'll get there."
How Froome's leg is shaping up remains a crucial factor. His right leg is still far from attaining the strength he'd have hoped for and by Sunday, even though it is unlikely we'll get answers to whether Froome can go back to competing at the level he's known for, rest assured, the first impressions of how ambitious his Tour de France plans are will be out.
"Naturally I'm still a bit weaker on the right side, where I broke my leg but that's something that I'm working on and it's something that I'll be working on in the coming weeks," he said.
"When I'm pedaling it's definitely not 50 per cent on each side. The left side is working harder than the right. The rehab has taken a back seat for now. Now the focus is on being back on the bike and spending the hours in the saddle. I'm still doing a few sessions every week of rehab and trying to work on the imbalances that I have. I'm just doing the most that I can, every day, and every week."
The second edition of the UAE Tour starts Sunday. The race came into existence when the Dubai Tour and Abu Dhabi Tour merged in 2018. The 10.8 kilometres Jebel Hafeet will play a crucial role in terms of General Classification, as the third and fifth stage both finish on this 10.8 kilometres climb. Stage two suits punchers and the other races are perfect for fast finishers.
For the GC riders competing at the 2020 UAE Tour, the race is likely to be won, and lost uphill. Expect all-out attacks, dramatic summit finishes and a great spectacle.