Could Have Become A Boxing Icon In India If I Were From Haryana: Gaurav Bidhuri 
World Championshion Bronze medallist Gaurav Bidhuri, who was unable to participate in the Gold Coast Commonwealth Games 2018 due to a back injury, recently won a bronze medal at the Umakhanov Memorial Tournament in Kaspiysk, Russia.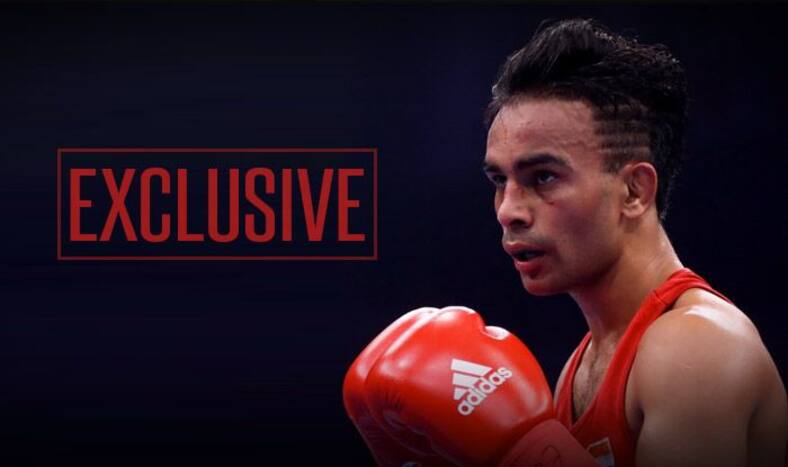 World Championship bronze-medallist Gaurav Bidhuri has assured that he will give his best in the upcoming Asian Games slated to be held in Jakarta and definitely win a medal for the country. Bidhuri, who was unable to participate in the Gold Coast Commonwealth Games 2018 due to a back injury, recently won a bronze medal at the Umakhanov Memorial Tournament in Kaspiysk, Russia. Bidhuri had lost to Kazakhstan's Siroshiddin Abdullayev in a split 2-3 decision, rounding off a fine campaign in his comeback tournament.
Speaking to India.com, the 25-year-old boxer stated how he would earned more fame and respect had he been from Haryana, which is termed as the production house of Indian boxers.
Recently you won a medal in Russia. What were your realistic expectations from the tournament? 
To be honest, my situation was a little different over there because I was out of the boxing world for 8-9 months due to injury and I started my training just a month prior to the tournament. So, my real expectations were to perform well so that my points get increased and I qualify for the trails to get selected for the national side to represent our country in the Asian Games. So, keeping Asian games in mind, I somehow managed to clinch a medal.
What were your positives from this tournament?
As I've said, it's been only a month I made my comeback in the boxing ring and winning a medal in this situation is highly motivational. In this sudden comeback, I qualified for the finals and my semifinal fight ended in a very close encounter of 2:3, it could have been either way but I take this loss as my stepping stone for my next target which is to win a gold for my country in upcoming Asian games. As you know I was dropped for commonwealth games because of my injury as well as I was unaware of the selection policy of federation.
Being a professional boxer and medalist of World Championship, how come you were unaware of the selection policy for the Commonwealth Games?
The situation was very complicated over there. I was informed by the coach that those, who are playing some small tournaments and those who have won the medals, are going to be selected for the Commonwealth Games. But in my case I was injured and I didn't play any of the tournament during that time. However, I thought the federation (IBF) will be lenient in my case because I had won a bronze medal in the World Championship and was hopeful of getting a ticket to Commonwealth Games. But at the final moment, I came to know that they will select the players for the Commonwealth trials on the basis of this year's performance and rankings. So, as a result, I was not selected for the Commonwealth Games.
After winning medal in World Championship, the Delhi government apparently did not acknowledge your achievement which left you disappointed. What is your take on that now? 
I don't want to comment on their policy or on their way of working. I just want to say that if I was a citizen of Haryana, I could have became the icon of Indian boxing because winning a medal is a big thing in Haryana as sports is in their priority list, apart from doing politics. I also want to say that winning a medal in World Boxing Championship is equivalent to winning a medal in Olympic or Commonwealth games.
How are your preparations going for the Asian Games?
Between the phase of winning a medal in World Championship and being rejected for the Commonwealth games, life became a haywire. This medal from Russia is a key factor for me for the preparation of Asian Games as it has totally boosted me up despite knowing the fact that there's a huge difference in winning a Commonwealth medal and winning a medal from a small tournament like this. And my target is to achieve a Gold medal for my country in Asian Games. The Asian Games will be held from August 19 to August 25.
During the telephonic conversation, the Delhi boxer also revealed that apart from boxing, his other favourite sport is football and he is currently supporting France in the ongoing FIFA World Cup.