Cristiano Ronaldo's Body Better Than 20-Year Old, Juventus And Real Madrid Medical Tests Confirm
Portuguese forward Cristiano Ronaldo recently joined Serie A (top-tier Italian football league) Club Juventus in a historic transfer deal estimated at 110 million euros making him the most expensive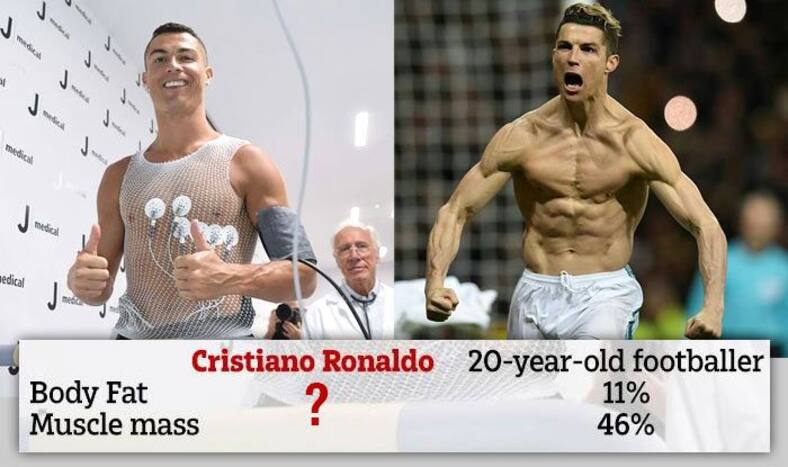 Portuguese forward Cristiano Ronaldo recently joined Serie A (top-tier Italian football league) Club Juventus in a historic transfer deal estimated at 110 million euros making him the most expensive 33-year-old in the history of football.
The 5-time Balon 'dor (World's best footballer title) winner spent 9 years with Spanish club Real Madrid.
The 33-year old forward is Real Madrid's all-time top scorer scoring 450 goals and registering 119 assists in 438 appearances, averaging 50 goals scored per season.
He Scored 33% of Real Madrid's 1378 goals in last 9 seasons, with 40+ goals in 8 of those seasons, winning both 'La Liga' and 'Copa del Rey' title twice and the UEFA Champions League four times.
Ronaldo's fitness has been the cornerstone of his remarkable career, and the results of his recent medical tests at Juventus suggest the price tag paid for his services to Real Madrid (100 million euros or approximately 806 crores) is not as inflated as it would seem, after it was revealed that the striker has a better physical capacity than that of a 20-year-old.
Three incredible statistics emerged from the medical referring to his body fat, his muscular mass, and his speed revealing the numbers behind his super-man like structure.
According to the report, the Real Madrid legend has a mere seven per cent body fat, which is around three per cent less than the average professional footballer. Body fat of average professional athletes ranges between ten to eleven per cent.
The Portuguese also has a staggering muscular mass of 50 per cent, which is approximately four per cent higher than the average professional footballer. Muscular mass of average professional athletes ranges around forty-six per cent.
In the past, Real Madrid conducted similar tests and revealed the same results. Ronaldo is known among his teammates, coach and fans as a very hard-working footballer who goes the extra mile in training and that is being reflected in his health results.
Cristiano Ronaldo also recorded a sensational top speed of 33.98km (21.1mph) at the recent FIFA World Cup 2018, which was the fastest clocked by any player in the tournament.
The former Manchester United and Real Madrid footballer will now look to add to his glittering trophy cabinet with Italian club Juventus.