live
Highlights IND vs SL 1st T20I: India Beat Sri Lanka By 62 Runs; Take 1-0 Lead in Series
Ishan Kishan, Shreyas Iyer script India's 62-run victory over the Lankan Lions.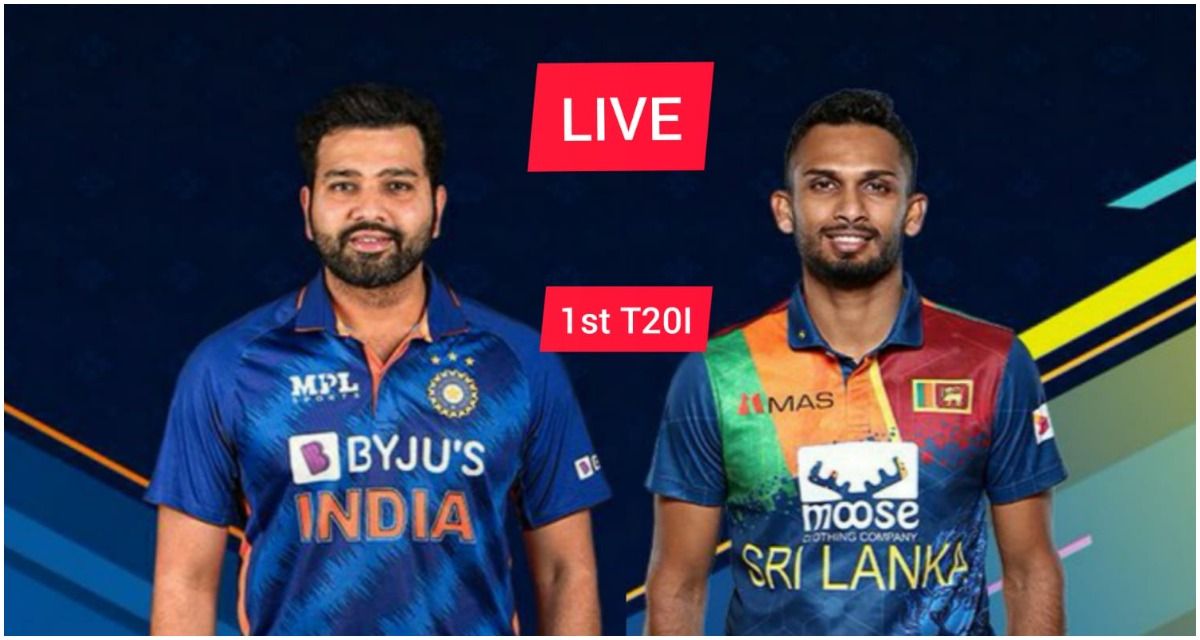 HIGHLIGHTS IND vs SL, 1st T20I Latest Updates
AS IT HAPPENED |INDIA BEAT SRI LANKA BY 62 RUNS, TAKE 1-0 LEAD IN 3-MATCH T20 SERIES. Venkatesh Iyer removes KKR teammate Chamika Karunaratne 21(14). Yuzvendra Chahal Removes Dasun Shanaka 3(6). Ravindra Jadeja Removes Dinesh Chandimal 10(9). Venkatesh Iyer Removes Janith Liyanage 11(17). Bhuvneshwar Kumar removes Kamil Mishara 13(12) picks up 2nd wicket. Bhuvneshwar Kumar removes Pathum Nissanka in the first delivery. Ishan Kishan & Shreyas Iyer's Fifties Take India to 199 in 20 Overs. Dasun Shanaka sends Ishan Kishan 89(56) back to the pavilion. Lahiru Kumara removes Rohit Sharma 44 (32), misses half-century. Ishan Kishan Hits Fifty; Rohit Sharma Strong For India. ROHIT SHARMA AND ISHAN KISHAN GIVE INDIA GOOD START. SRI LANKA HAVE WON THE TOSS AND ELECTED TO BOWL FIRST, DEEPAK HOODA MAKES HIS T20I DEBUT.
PREVIEW: India and Sri Lanka are set to lock horns in an upcoming T20I series. IND vs SL T20I series will witness three matches. IND vs SL 1st T20I is scheduled to be played on February 24 (Thursday) at Shri Atal Bihari Vajpayee Ekana Cricket Stadium in Lucknow. Sri Lanka battled against Australia in a recent five-match T20I series. Sri Lanka faced a miserable 4-1 loss in the series. Sri Lanka lost the 1st T20I by 20 runs and 2nd T20I in super over. The visitors Sri Lanka lost the 3rd and 4th T20I by 6 wickets. In the final T20I, Sri Lanka won by 5 wickets. India and Sri Lanka faced each other in a T20I series last year in July during India's tour of Sri Lanka 2021. Sri Lanka defeated India 2-1 in the three-match T20I series at home, with India having a second-string squad. India has a powerful record against Sri Lanka at home, winning 8 matches out of 11 so far.
Live Updates
That's all we have from our LIVE blog, we'll see you next time, till then goodbye and take care !

LIVE IND vs SL 1st T20I Score & Updates: Ishan Kishan | Player of the Match: I got to learn a lot from the West Indies series. My intent wasn't good enough, I wasn't positive enough. I was just trying to keep it simple here – watch the ball and play my shots. Pull is my favourite shot, I enjoy playing that shot. It's a positive thing for the batting unit as well because you need to hit gaps preparing for the world cup in Australia. I was talking to Shreyas about the mid-wicket region. He said if you middle the ball you could get a boundary. If you hit the gaps you can get two. And it went my way.

LIVE IND vs SL 1st T20I Score & Updates: Rohit Sharma: I know Ishan for a long time now. I know the mindset he has. I know the ability he has as well. It was just about getting the kind of game that he had today. It was so pleasing to watch from the other end. The way he constructed the innings was so good, that is usually a challenge for him. We were talking in the middle about finding gaps. Very happy with Jadeja's return. We want more from him that is why we asked him to bat higher. You will see that happening more and more in the games that he plays for India. I want him to bat up the order more. He is a very improved batter, so we will try and see if we can promote him going forward. We are very clear with what we want to achieve with him in white ball cricket. I love playing on big grounds, because that is when you will be tested as a batter. Here you got to use a bit of batsmanship as well. In Kolkata you just needed to time the ball. It's consistently happening. We are dropping easy catches. Our fielding coach has some work to do. Come Australia, we want to be a great fielding side.

LIVE IND vs SL 1st T20I Score & Updates: Dasun Shanaka: We were really poor in all three departments. They batted beautifully, read the game and conditions really well. I could have bowled more. We are without two frontline spinners, Theekshana and Hasaranga. The replacements aren't really experienced. Asalanka was a positive from this game. Chameera is bowling beautifully. He is our main strike bowler but the situations didn't allow me to bowl him longer.

LIVE IND vs SL 1st T20I Score & Update: Stay tuned for the presentations !

LIVE IND vs SL 1st T20I Score & Update: Shreyas Iyer is down for the chat. He says that his start was slow and his job was to give Ishan strike in the middle. He adds that when he got his eye in, he decided to play his shots and luckily it came off. Tells that he was talking to Ishan about just timing the ball. He says that this ground is big and he tried to stay in the present during his innings. He mentions that he wanted to bowl but did not get the chance tonight.

LIVE IND vs SL 1st T20I Score & Update:

For India, the bowling was good yet again, Bhuvneshwar Kumar and Bumrah did well in the Powerplay. Chahal too had a decent outing. Iyer went for runs but got two wickets. Rohit tried as many as 7 bowlers and all did decently.

LIVE IND vs SL 1st T20I Score & Update: A thumping win for the Indians and they have taken a 1-0 lead in the series. To be honest, this victory was set up by the innings at the start from Kishan and then at the end by Iyer. 200 was always going to be tough and when you lose 4 before the 10th with not a lot of runs on the board, it gets tougher. Except for Asalanka amongst the top order and Chameera down the order, there was nothing from the rest and that is not enough while chasing a mammoth score.

LIVE IND vs SL 1st T20I Score & Update: That's it ! Game Over ! India win by a margin of 62 runs ! Take 1-0 lead in the series. SL 137/6 (20)

LIVE IND vs SL 1st T20I Score & Update:

Final over coming up ! Sri Lanka are now at 131/6 (19)