live
Highlights IND vs WI 1st ODI Updates: India Beat West Indies By 6 Wickets; Rohit Sharma & Co Go 1-0 Up
Yuzvendra Chahal was adjudged as Man of the Match for his brilliant spell of 4-49.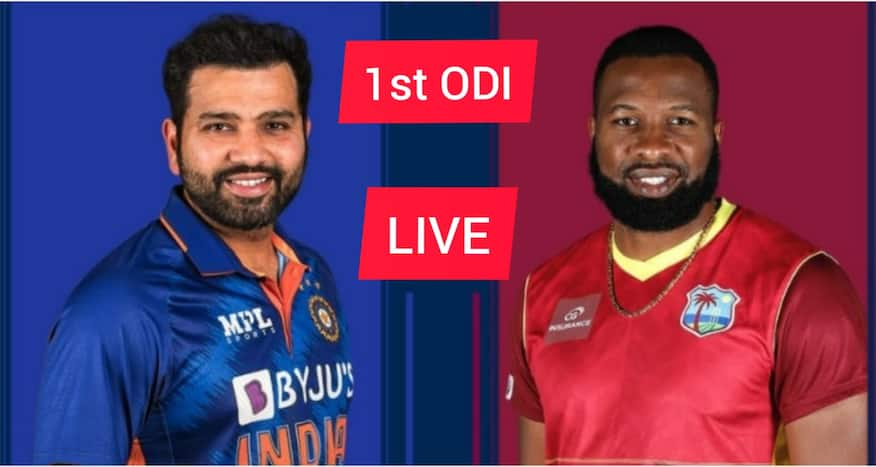 Ahmedabad: Hello and welcome to our live cricket coverage of the 1st ODI match between India and West Indies at Narendra Modi Stadium, Ahmedabad.
India beat West Indies by 6 wickets to go 1-0 up in the three match ODI Series. 
Alzarri Joseph runs-out Rishabh Pant 11(9). Akeal Hosein removes Ishan Kishan 28(36), as India lose third wicket. Alzarri Joseph scalp Rohit Sharma 60 (51) and Virat Kohli's 8(4) wicket in quick succession to give West Indies the all-important breakthrough. Rohit Sharma hits 44th ODI Fifty, gets his half-ton off a boundary. Ishan Kishan and Rohit Sharma lead India Run-Chase at the Narendra Modi Stadium, stitches a 50-plus run partnership.
West Indies Bowled out for 176 runs in 43.5 overs. Yuzvendra Chahal picks 4-fer and Washington Sundar scalped 3 important wickets |Krishna picks his 2nd wicket, dangerous Jason Holder departs after scoring 57(71). Shardul Thakur picks his first-wicket, Fabian Allen 29(43) sent back to the pavilion. Jason Holder smashes half-century to get hold of the West Indies innings. Jason Holder and Fabian Allen steadies West Indies innings by a stitching a 50-plus run partnership. Prasidh Krishna scalps India's 7th wicket as Akeal Hosein 0(3) departs for a duck. Yuzvendra Chahal strikes again removes Shamarh Brooks 12(26), West Indies batters in complete disarray. Yuzvendra Chahal picks up 100 ODI wickets and sends Nicholas Pooran 18(25) and Kieron Pollard 0(1) back to the pavilion in consecutive deliveries. Washington Sundar removes Brandon King 13(26), Darren Bravo 18(34) in quick succession. India derail West Indies innings. India strikes first, Mohammad Siraj removes Shai Hope 8(10), first wicket down.
INDIA HAVE WON THE TOSS & CHOSE TO FIELD FIRST, DEEPAK HOOD MAKES HIS DEBUT.
Live Updates
That's all we have from our Live Blog, we'll see you next time, till then goodbye !

Chahal: Felt good. Washi struck twice in an over so we knew pressure was on them. My job was to sustain that pressure. Got the feeling watching Washi bowl that the ball was gripping. Had a chat with Rohit, Virat, they said the pace is important. My thought was that if it's turning at pace, keep doing it. Threw in a slower one here and there as a variation. I looked back at the footage from the South Africa series to see where I can improve.

LIVE IND vs WI 1st ODI Score & Updates: Yuzvendra Chahal has been adjudged as Man of the Match !

Rohit, India captain: I don't believe in perfect game. You cannot be perfect. We want to keep getting better. All in all a great effort from everyone. We ticked all boxes. Pretty happy with that. With that bat we could've finished with not so many wickets, that is one. Could also have created pressure on their lower order. Don't want to take any credit away. The way we bowled upfront and then towards the back end was good to see. We want to keep getting better as a team. The end goal is we should be able to achieve what the team wants. If the team requires us to do something different, have to do it. Don't think we have to change a lot. All I ask from players is to keep challenging themselves. I've been off for a while, haven't played for two months but I was back home hitting the balls. Knew there was a long season ahead. Had a good net session here. I was confident going into this game. Can take a lot of positives from this game. The pitch had something in it. There was softness in the pitch early on. In this particular game the toss became important. But honestly want to take the toss away from the play, don't want to depend on it a lot. But if you do, you have to take advantage.

Pollard: Losing with 22 overs to spare is a heavy defeat. Same old for us – not being able to bat 50 overs. Have to take stock of that. We've got to dig deep, get better in terms of technique, myself included. Credit to the guys turning up. Has been difficult the last couple of days. Getting four wickets there shows if we put some runs we can compete. Toss is a crucial factor. It's wet out there right now. Tonight it just slid onto the bat. That's the nature of cricket, we can't change that. You can say that (Holder should bat higher?). 12 months ago guys would not be saying that. He can bat in any position in the order. Yes he can bat at six. He has a role to play for us. He came in a crucial scenario and made a crucial fifty. See if we can work on some technical flaws in the next couple of days and see what happens.

Suryakumar Yadav: Things were really clear, he (Hooda) has played a lot of domestic cricket, so he knew the situation really well. So we were having little conversations and setting little goals (in our partnership). His confidence was spot on though. Loving with how things are going right now, I'm enjoying my time in the nets as well. Pollard just told me a few things, asked me to play the flick shot towards the mid-wicket region, the one I play in IPL. But I wanted to remain not out. It was difficult for the bowlers to grip the ball due to the dew. It was a little slower in the afternoon, but it became easier for the batters with the dew settling in.

LIVE IND vs WI 1st ODI Score & Updates: Suryakumar Yadav is down for a chat. He says things were really clear, he did not tell Hooda anything and he knew he had to stay there till the end and he was confident. Adds he just wants to enjoy the game and it is going very well. Informs about his banter with Pollard. Reckons with the dew coming in, it was difficult for the bowlers to grip but it was more about the same as the first innings.

LIVE IND vs WI 1st ODI Score & Updates: Rohit Sharma and Ishan Kishan got India off to a flier. Rohit scored a half-ton on his return to the side. Then there was a period in play that belonged to the Windies where Joseph bowled brilliantly along with Akeal Hosein and the visitors managed to get 4 quick wickets. Hooda and Yadav though ensured there were no surprises and played responsibly to take their side over the line.

LIVE IND vs WI 1st ODI Score & Updates: Quite a comprehensive win for the Indians and they have taken a 1-0 lead in the series. They were on song right from the start. After winning the toss and electing to field, their bowlers, especially their spinners ran through the Windies batting line-up. Had it not been for Holder's half-ton, Windies might have been bundled out for around 110-120. His knock gave some respectability to the score but by no way that was going to be enough.

LIVE IND vs WI 1st ODI Score & Updates: Fabian Allen to Suryakumar Yadav, FOUR, opens the face on this drive, slicing it away through backward point and that's it! India go 1-0 up, chasing the target down in the 28th over.