live
Highlights U-19 World Cup Semi-Final 2: Dhull, Rasheed 204-Run Stand Help India Beat Australia By 96 Runs, Will Face England in Final
Highlights U-19 World Cup Semi-Final: A brilliant 204-run stand between captain Yash Dhull and Shaik Rasheed for the second wicket, followed by an all-around bowling display helped India beat Australia by 96 runs.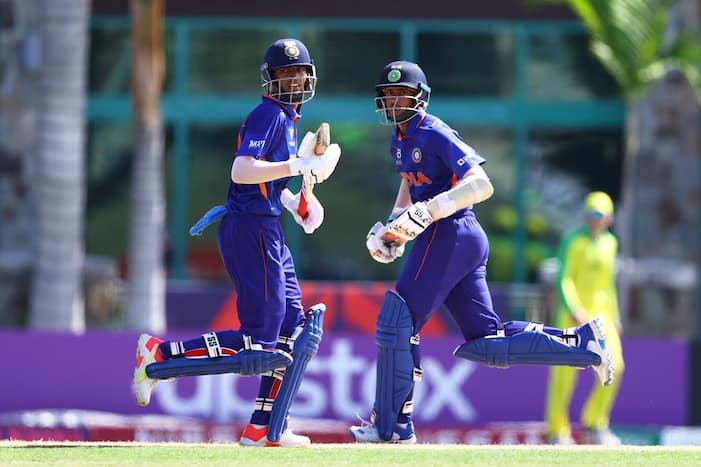 Highlights IND-U19 vs AUS-U19 Semi-Final Score: Australia U19 194/10 (41.5) vs India U19 290/5 (50)
Barbados: Hello and welcome to the highlights of the Under-19 world cup semi-final ODI match between India Under 19 vs Australia Under 19 at Coolidge Cricket Ground, Antigua.
Vicky Ostwal was the pick of the bowler for India, returning with figures of 3 for 42 as India U19 beat Australia U19 by 96 runs to book their place in the final of the U-19 World Cup 2022. Campbell Kellaway was the first of Ostwal's victims, followed by William Salzmann and Tobias Snell, both of which departed in quick succession, putting India U19 in the driver's seat. India kept chipping away at the wickets in the middle overs with Ravi Kumar, Nishant Sindhu picking up a couple of wickets each. Angkrish Raghuvanshi and Kaushal Tambe also got a wicket  apiece as Australia never really got going in the chase of 291. This is India U19's fourth final in a row and eighth overall in the event, making them the most successful team ever since the tournament started.
After electing to bat first Shaik Rasheed (94) Yash Dhull (110) came to the party by adding 204-runs for the second wicket in the all-important semi-final in the U-19 World Cup 2022 played at Coolidge Cricket Ground, Antigua that helped India reach a formidable score of 290/5 (50). Jack Nisbet and William Salzmann picked up a couple of wickets but it was not enough to restrict India to a below-par total. Nishant Sindhu (12*) and Dinesh Bana's (20*) late blitz ensured India made use of the great second-wicket stand after losing both the set players Dhull and Rasheed in quick succession.
Teams:
Australia U19 (Playing XI): Campbell Kellaway, Teague Wyllie, Corey Miller, Cooper Connolly(c), Lachlan Shaw, Nivethan Radhakrishnan, William Salzmann, Tobias Snell(w), Jack Sinfield, Tom Whitney, Jack Nisbet
India U19 (Playing XI): Angkrish Raghuvanshi, Harnoor Singh, Shaik Rasheed, Yash Dhull(c), Nishant Sindhu, Raj Bawa, Kaushal Tambe, Dinesh Bana(w), Rajvardhan Hangargekar, Vicky Ostwal, Ravi Kumar
Check India U19 vs Australia U19 Live Cricket Score, IND-U19 vs AUS-U19 ODI Live Score and IND-U19 vs AUS-U19 Live Streaming Online, IND-U19 vs AUS-U19 Dream11 Prediction Today and India U19 vs Australia U19 Dream11 Guru Tips and Prediction.
Live Updates
LIVE | Ind vs Aus U-19 CWC, Semi-Final: Thank you for joining us as we look forward to your company for the final where India will take on England on February 5 2022 (Saturday).

Cooper Connolly, Captain of U19 Australia: Going into the last ten, we thought we were in a good position, but they scored 100 and thus 290 was a bridge too far. The experience was good but the only problem was the bubble. The way we played spin was good and we just got better with every session.

Yash Dhull, Player of the Match: The plan from me and Rasheed was to bat till the end, and it worked. It's a proud moment (to be the third Indian captain to score a U19 WC ton after Virat Kohli and Unmukt Chand). The idea was to bat steadily, not to try too many shots, and to bat past the 40th over. Myself and Rasheed bat well together, we combine well and it showed. Rasheed and me had a good partnership and we had good partnerships lower down as well. The way in which the boys are playing is good. Rasheed is mentally very strong. We were in the bubble together and he is always mentally prepared.

LIVE | Ind vs Aus U-19 CWC, Semi-Final: Run Out! Hangargekar gets the direct hit from mid-off as Whitney finds himself well short of the crease. It is all over for Australia. India have been brilliant in the match and remains unbeaten in the tournament. India U-19 won the match by 96 runs to set up the final clash with another unbeaten team England. This is India's fourth U-19 final in a row and eighth overall. What a performance. AUSU19 194/10 (41.5) vs INDU19 290/5 (50)

LIVE | Ind vs Aus U-19 CWC, Semi-Final: Tom Whitney is having a bit of fun here. Two back to back sixes and Ravi Kumar won't be happy with that effort. Length ball and parked into the stands. Well… Well… Do we have something here? Maybe a little too early for that call but another couple of overs and it will set the cats among the pigeons. AUSU19 193/9 (41)

LIVE | Ind vs Aus U-19 CWC, Semi-Final: Wicket! Ravi Kumar cleans up Lachlan Shaw who has played that one on. Bottom edge on to the stumps and India get their 9th wicket. Just a wicket away from securing their place in the final. They have had a near-perfect match today. Not a foot wrong and this will keep them in stead ahead of the final. AUSU19 178/9 (39)

LIVE | Ind vs Aus U-19 CWC, Semi-Final: Wicket! Tambe strikes as Jack Sinfield did himself in by stepping down too early and Tambe took advantage of that and got him stumped. Smart thinking from the young man. Sinfield just got a six in the previous ball but at the moment one too many chances taken by the batter. AUSU19 168/8 (38)

LIVE | Ind vs Aus U-19 CWC, Semi-Final: Australia have a monument to climb with an asking rate of more than 9.5 runs per over required to win this game and claim a spot in the final. At the moment, it is heavily in favour of India. With a little less than 15 overs remaining in the game, Australia would need something remarkable to even push India close in this knock-out game. AUSU19 158/7 (36)

LIVE | Ind vs Aus U-19 CWC, Semi-Final: Wicket! Ostwal gets another one. He is in a hurry at the moment. Tobias Snell has to go back to the pavilion. Misread the line as the ball just straightened a bit after pitching and hit the top of off-stump. Australian hopes are fading away thick and fast. India need 3 more wickets to cement their place in the final. AUSU19 125/7 (32)

LIVE | Ind vs Aus U-19 CWC, Semi-Final: Wicket! Ostwal now gets into the act. Picks up his second wicket of the day as William Salzmann just chips it back to the bowler for a simple caught and bowled. Australia slowly slipping away from this match and the World Cup. India would be delighted. They would feel that they have a foot at the door. AUSU19 119/6 (30)