live
Hockey World Cup 2018 Opening Ceremony, Highlights: SRK, Madhuri, Rahman Dazzle as World Cup Officially Kicks-Off in Bhubaneswar
Conveying a powerful message of 'oneness of humanity' was the highlight of the glittering opening ceremony of the 2018 men's hockey World Cup here as Bollywood heart-throb Shah Rukh Khan, Madhuri Dixit and renowned music composer A R Rahman dished out enthralling performances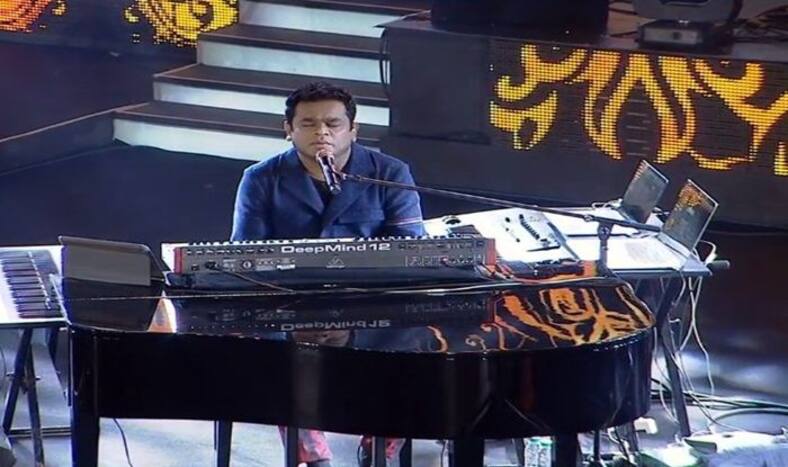 Hockey World Cup 2018 Opening Ceremony, Highlights: The Odisha government on Monday announced that all educational institutions in Bhubaneswar will remain closed for the opening ceremony of the Odisha Men's Hockey World Cup on Tuesday. Bollywood superstar Shah Rukh Khan, who played a hockey coach in "Chak De! India", will attend the opening ceremony. Schools and educational institutions in the capital city will remain closed on Tuesday, while educational institutions across the state will remain closed after 1.30 p.m, a release from the Chief Minister's Office (CMO) said. Apart from SRK, 'Queen of Hearts' Madhuri Dixit and music maestro AR Rahman are slated to perform at the inaugural programme at Kalinga Stadium on Tuesday. Besides, some Odia actors will also perform at the programme.
he actor, who is a sports enthusiast himself, has urged people to support hockey and Team India. He took to Twitter to extend his support. Hockey player Manpreet Singh asked SRK via Twitter if he would be a part of the hockey tournament and if the actor would support them.
India's #HeartBeatsForHockey and how! A mesmerising event rolls down depicting the journey of the glorious campaign lead by @nupur_mahajan. #HWCOpeningCeremony #OdishaHockeyWCInauguration pic.twitter.com/iEVQ5w6KTc— HeartBeatsForHockey (@HeartBts4Hockey) November 27, 2018
SRK replied saying he would jump at the opportunity. "I wish you and our team the best. Hockey is the pride of India. We will cheer Chak De India! Thank you for thinking of me. #HeartBeatsForHockey.
Odisha Director General of Police (DGP) Rajendra Prasad Sharma on Monday said tight security arrangements have been made for the smooth and successful conduct of the Odisha Men's Hockey World Cup 2018.
This was made necessary when the Kalinga Sena demanded an apology from Shah Rukh, alleging that his film 'Ashoka' had dishonoured the state's culture and its people by portraying the Kalinga War in a wrong manner. The fringe outfit in Odisha threatened to throw ink on the actor's face for distorting history in his film that was released 17 years ago. It also threatened to show him black flags on his arrival during the inauguration of the Men's Hockey World cup.
(With Inputs from Agencies)
Live Updates
Hockey WC Opening Ceremony Live Updates: And the maestro AR Rahman sways the audience gathered at the Kalinga Stadium with his magnum opus, 'Jai Ho'.

Hockey WC 2018 Opening Ceremony Live: AR Rahman ensemble weave magic on the stage with their soulful music to make this opening ceremony a night to remember.

Hockey WC Opening Ceremony Live Updates: AR Rahman – the global musical icon, is here to enthral us all with his music at the opening ceremony of the Odisha Hockey Men's World Cup Bhubaneswar 2018.

A warm welcome and best wishes to all teams participating in the Hockey Men's World Cup 2018, being held in Odisha. I am sure this tournament will be a treat for sports lovers and will also be an opportunity to discover India's and especially Odisha's culture. @FIH_Hockey

— Narendra Modi (@narendramodi) November 27, 2018